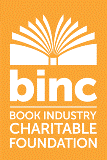 The Book Industry Charitable Foundation, in collaboration with Sourcebooks and the Denver Publishing Institute, has launched a new scholarship opportunity for current booksellers interested in exploring a career in the publishing side of the industry. Applications for the scholarship, worth up to $7,000, to attend DPI in Denver, Colo., are being accepted through February 27. The scholarship includes tuition, room and board, and up to $2,000 to cover travel and lost wages.
The application process--which will go through DPI's admission application--is open to booksellers who are currently employed (full- or part-time) at a bricks-and-mortar bookstore, with a tenure of at least 90 days, and are employed by the bookstore at the time of the program. Booksellers can find out more details and apply here.
DPI is a four-week-long summer program (July 14-August 9 this year) at the University of Denver. It is taught by industry professionals who work for trade, university, textbook and independent publishers throughout the country. Course and lecture topics include book marketing, manuscript editing, copy editing and proofreading, digital marketing strategies, the role of the bookstore and many publishing-specific courses.
Sourcebooks publisher and CEO Dominique Raccah said, "Several of our employees were students of this important program, our senior v-p of editorial, Todd Stocke, attends each year and talks to students, and we're huge fans of all of the booksellers who went to DPI. We're incredibly honored to have the opportunity to collaborate with our friends at Binc on this joint scholarship, and we're thrilled to be a part of a future publishing professional's career path."
Pam French, Binc's executive director, commented: "We are excited to be working with Sourcebooks to offer this publishing specific scholarship opportunity to booksellers for the first time. This new scholarship aligns with our core mission to strengthen the bookselling industry from within. Through providing a scholarship that covers lost wages, tuition, housing and meal plan, and travel to the Denver Publishing Institute, we hope to give a passionate book person a great head start into a career in publishing and the ability to stay in the book industry."
DPI director Jill Smith said, "Over the years, we have recognized that booksellers are among our most successful graduates because they arrive with the passion and experience to immediately apply everything they learn in the classroom. We are delighted to have the support of Binc and Sourcebooks to help another one of our students find that perfect career in publishing."