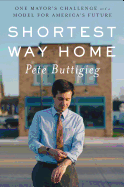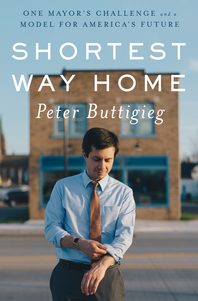 Growing up in South Bend, Ind., Pete Buttigieg never expected to become the mayor of his hometown. But at 37, after a winding journey that took him to Harvard, Oxford and Afghanistan, Buttigieg not only lives in his childhood neighborhood, he works for the place that has shaped him. His memoir, Shortest Way Home, chronicles his own story alongside that of South Bend's post-industrial struggle and its gradual revitalization.
Buttigieg grew up in an intellectually curious household, graduating at the top of his class. At Harvard, his wide-eyed wonder quickly morphed into a hunger to learn as much as possible, through long hours in the library and campus events where he met world leaders and politicians. He touches briefly on his first job as a consultant for McKinsey and his time at Oxford as a Rhodes scholar, but the heart of the book is his on-the-ground political education in the Midwest. First driving through cornfields to knock on doors for Senator Barack Obama, then running for state treasurer of Indiana (and getting trounced), Buttigieg traces his growing interest in holding public office and using any power he might gain to do some good. He recounts his campaign for mayor and the optimism of taking office. But he is also candid about the job's frustrations (no politician can please everyone) and heartbreaks (his grief for local victims of gun violence and recently tightened immigration laws).
A self-confessed data geek, Buttigieg nevertheless knows that "good policy, like good literature, takes personal lived experience as its starting point." Now into his second term as mayor, he tries to keep the real experiences of his fellow citizens in mind, whether he and his team are working on snow removal, attracting new businesses to South Bend's downtown or celebrating the city's 150th anniversary. His warm, thoughtful narrative voice reflects his approach to local politics: seeing people as individuals who are also part of their community and figuring out how to make their lives better.
During a turbulent moment in national politics, it's refreshing to read an account of hope, compassion and plain hard work at the local level. Buttigieg's story is particular to South Bend, but it offers insights for those working to lead cities around the country. His personal journey--as a local boy returning home, a Navy Reserve officer juggling his day job and commitment to his country, and a gay man coming out and finding love while in the public eye--is equally compelling. Shortest Way Home is a meditation on how to govern and live well, and how one man came home "to find belonging by making myself useful there." --Katie Noah Gibson, blogger at Cakes, Tea and Dreams
Shelf Talker: The young, dynamic mayor of South Bend, Ind., chronicles his own story alongside that of his city's gradual revitalization.