The Coretta Scott King Book Awards "are given annually to outstanding African American authors and illustrators of books for children and young adults that demonstrate an appreciation of African American culture and universal human values." On January 28, at ALA Midwinter in Seattle, Wash., the winners of the CSK Author and Illustrator Awards were announced: author Claire Hartfield for A Few Red Drops (Clarion/HMH) and illustrator Ekua Holmes for The Stuff of Stars (Candlewick Press).
---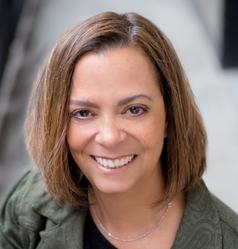 (photo: Brian McConkey)
Claire Hartfield is a children's book author and education leader. A Few Red Drops: The Chicago Race Riot of 1919 (Clarion Books) is her second work for children.
Congratulations! What a fantastic achievement. How are you feeling?
Over the moon! I am so honored to receive this award. And I am so excited to have this opportunity to share this important history with so many new people.
It's always fun to see a nonfiction book receive an award like this. What do you think makes A Few Red Drops shine?
First of all, the story--all of it true--is a page turner with moments of suffering, tenacity, heartbreak, pride, rage and, ultimately, some redemption. Many readers have told me that the story reminds them of lore passed down through the generations of their own families: African Americans who migrated north from the south and immigrants to America from countries around the world. And there is something more: the story of 1919 echoes many of the issues we face today. Knowing our history helps us to avoid repeating the same mistakes and to build upon the good ideas that came from that era so that we can move forward to create a better world.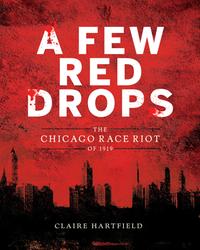 Red Drops is your first work for young readers since your nonfiction picture book Me and Uncle Romie in 2002. Was there a reason for that extended period of time between titles?
Yes. My career has always been about giving young people the tools to lead their best lives. I began working as a school desegregation lawyer to increase equality in schools. Then, when my own three daughters were small, I stopped working outside the home for five years. I read to my kids a lot and I began to see that some stories were not being told. I wrote Me and Uncle Romie about the world-famous African American collage artist Romare Bearden, who used art to tell stories. The book shows children how to tell their own stories through art. Then I went back to work in schools and didn't have time to write. But now I am doing some of both--a perfect mix!
You've spent your career providing underprivileged children with opportunities--does that work influence what you want to write and how you present your material?
Most definitely. I know how important it is for young people of all races and backgrounds to see their own stories, their own histories, portrayed in books and movies and on TV. I am excited to be able to share some of these stories through my writing.
How does it feel to come back to authorship and receive such an incredible response for your book?
Woo hoo!!!
Thanks so much for chatting with Shelf! Is there anything else you'd like to tell our readers?
The future is yours to make!
Congratulations again!
---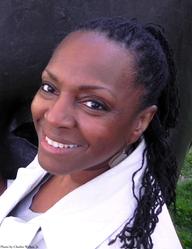 (photo: Charles Walker Jr.)
Ekua Holmes is a native of Roxbury, Mass., and a graduate of the Massachusetts College of Art and Design. She has devoted her practice to sustaining contemporary black art traditions in Boston, as an artist, curator of exhibitions and as an active member of Boston's art community. The Stuff of Stars (Candlewick Press) is her second Youth Media Award-winner; she received a Caldecott honor in 2016 for Voice of Freedom (written by Carole Boston Weatherford, Candlewick).
Congratulations! You've been working as an artist since 2000, but you're still very new to children's literature. What has it been like creating art for others' words?
It has been a wonderful new way of working that considers not just the authors, editors and directors but most importantly the children who will be reading the text and viewing the illustrations.
What is it like to get so much recognition in such a short period of time?
Unbelievable. I am still pinching myself. I don't think about it too much, though. I don't want to be distracted from trying to do my best work.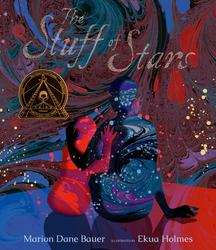 What are your connections to the story being told in The Stuff of Stars? Was there anything about working on this title that was different from previous experiences?
Yes. I wasn't sure I was the right illustrator. But Candlewick editor Liz Bicknell thought I was. In terms of a connection, I am made of The Stuff of Stars--as is everyone I love and cherish!
Is there anything in this piece that you think makes it stand out more than other books you've illustrated? How does it relate to your body of picture book work?
It's very different from anything else I've ever done in children's literature. Its abstract, conceptual, scientific. The human figure plays a supporting role to the unfolding of our universe. I also used a technique, marbleizing, that I'd always been interested in. It turned out to be the right material for this story.
Are you working on anything new?
Yes. A book with a new author, Angela Joy: Black Is a Rainbow Color.
Thank you so much for chatting with Shelf! Is there anything else you'd like to tell our readers?
What I've learned from The Stuff of Stars is to stay open to new challenges. Just like the universe was born by unfurling, zigging, zagging and stretching, so do we grow as artists. Thank you for your thoughtful questions.
Congratulations again!
Thank you Roxbury Sunflowers!!
--Siân Gaetano, children's and YA editor, Shelf Awareness