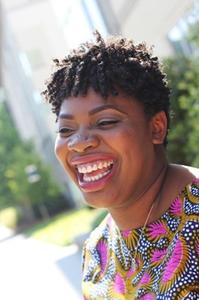 photo: Tina Chang
Breanna J. McDaniel is earning her Ph.D. at Cambridge University. Hands Up! (Dial Books for Young Readers, January 22, 2019), illustrated by Shane Evans, is her first picture book.
On your nightstand now:
A nightstand is a luxury! My books are stacked next to my bed and, until I trip and fall on my way to the bathroom late one night, that's where they'll stay. I'm looking forward to digging into Black Girl Baking: Wholesome Recipes Inspired by a Soulful Upbringing by Jerrelle Guy. I'm trying to ease my way into being a vegetarian, and baking seemed like a good way to start. I'm also reading Brer Rabbit Retold by Arthur Flowers to find my way back into African American folklore.
Favorite book when you were a child:
The first book I ever owned is one of my favorites: The Well by Mildred D. Taylor. A story about grace and community, it never left my heart. Our elementary school librarian, Ms. Sally Benoy, held a book club on Tuesday mornings and we got to keep the books we read. The day I took mine home was glorious--I hadn't just been given the book, I had earned it by reading it and talking about it. My very own, earned book.
Also, The People Could Fly by Virginia Hamilton still gives me chills and makes me cry. The illustrations are flawless and haunting and the stories thrilled me.
Your top five authors:
This is an impossible question! I'll give you the books that are touching my heart right now:
Roll of Thunder, Hear My Cry by Mildred D. Taylor. Taylor's books were the first time I started to see and understand the world around me and to reckon with the social restrictions of growing up in the South. This book will never not be relevant.
Piecing Me Together by Renée Watson. Renée Watson is a prototype of what a contemporary novelist should be. The way her stories require your complete investment in her characters is awe-inspiring.
Unpublished works by Lucille Clifton. Her books are treasures, but I also admire her journey. The archives at Emory University in Atlanta have some of her unpublished work as well as some of the rejection letters that she received for her post-Civil Rights Movement writing, and they are eye-opening.
To Everything There Is a Season by Leo & Diane Dillon. I always thought that the Dillons' illustrations were a little out of reach for me--their beauty is so otherworldly--but after I saw "A Marriage of Artistry: Leo and Diane Dillon," an exhibition at the Eric Carle Museum in Amherst, Mass., I returned to the book. Returning, I found grace and connection in the way these familiar words come together with their illustrations.
Book you've faked reading:
I started reading The Astonishing Life of Octavian Nothing by M.T. Anderson but the dissection of Cassiopeia felt like voyeurism. I couldn't finish it.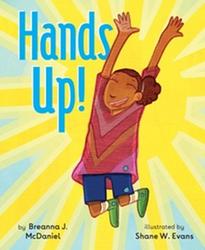 Book you're an evangelist for:
Dragons in a Bag by Zetta Elliott. I was reading it on a short flight and I kept murmuring, "Wow, just wow!" I love that Zetta addresses intergenerational collaboration and gentrification in a world where magic is transformational. She doesn't ignore our world's social issues; instead, she folds them into her fantasy.
Book you've bought for the cover:
My book budget is teeny-tiny right now, so I can't do too much shopping based on the cover. BUT I did take one look at We Don't Eat Our Classmates by Ryan T. Higgins and it went right on the list of books to buy.
Book you hid from your parents:
Probably Flyy Girl by Omar Tyree or The Coldest Winter Ever by Sister Souljah. I haven't read them in years so I can't quite remember why I was hiding them but I know we passed those books around at school. We tore the covers off so that teachers and parents wouldn't know what we were reading. Real talk, don't tell my mom!
Book that changed your life:
Sula by Toni Morrison. I read it when I was younger and Nel's grief about Sula overwhelmed me. I reread it last year and found myself craving friendships that can survive decades of being together and apart. This book beautifully pulls together the complexity of finding your people and struggling through relationships you know you cannot live without, healthy or not.
Favorite line from a book:
"I had never liked T.J., but he had always been there, a part of me, a part of my life, just like the mud and the rain, and I had thought that he always would be. Yet the mud and the rain and the dust would all pass. I knew and understood that. What had happened to T.J. in the night I did not understand, but I knew that it would not pass. And I cried for those things which had happened in the night and would not pass. I cried for T.J. For T.J. and the land." --Roll of Thunder, Hear My Cry
Because some of the tears I cry today are the same ones as Cassie's.
Five books you'll never part with:
Mufaro's Beautiful Daughters, John Steptoe
The Count of Monte Cristo, Alexandre Dumas
The House on Mango Street, Sandra Cisneros
Racial Indigestion: Eating Bodies in the 19th Century, Kyla Wazana Tompkins
A Wrinkle in Time, Madeleine L'Engle
Book you most want to read again for the first time:
Victor LaValle's Destroyer series. I read the first book once, then I read it two more times in a row. Then, I found the rest of the series and I wish I could start all over again.
Bre's five "Bounce Back, Go Big or Go Home" tracks:
"Beautiful Flower," India.Arie
"Be a Lion," The Wiz Original Motion Picture Soundtrack
"Ain't No Stoppin Sunshine," Yoli
"Member of the World Community," Sweet Honey in the Rock
"Wide Open Spaces," Dixie Chicks