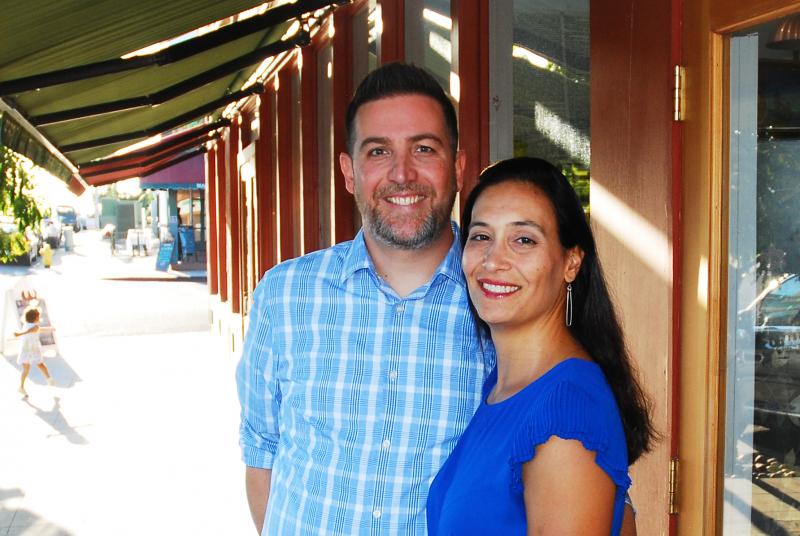 Seth Marko and Jennifer Powell
Sometimes you need a little help from your friends. On January 27, Seth Marko, co-owner of the Book Catapult in San Diego, Calif., and West Coast sales rep for Ingram Publisher Services, underwent open heart surgery two days after experiencing chest pains during Winter Institute in Albuquerque, N.Mex., the San Diego Tribune reported. With his wife and business partner, Jennifer Powell, by his side and their only full-time employee, Vanessa Diaz, sidelined by the avian flu, the bookstore was forced to close temporarily.
That situation was quickly resolved, however, when the Book Catapult reopened January 30, "staffed by unpaid employees of other bookstores. Ever since, volunteers have been greeting customers, making recommendations, ringing up sales for a rival. Some have even provided childcare for the couple's three-year-old daughter," the Tribune wrote. In addition, IPS has assigned all of Marko's accounts to other sales reps while he is recovering.
"I'm just overwhelmed," said Powell, who runs the bookshop. "Everybody has helped us."
When Scott Ehrig-Burgess, manager of the Library Shop at the city's central library, learned of Marko's operation, he called Powell. "This is not something you need to worry about," he told her, referring to running a business. "Just make sure Seth gets better and be by his side."
Then he made some calls, and was soon joined by a long list of volunteer staffers, including Julie Slavinsky, director of events at Warwick's in La Jolla; Marianne Reiner, owner of Run for Cover in Ocean Beach; Tracy Rutherford, a former Warwick's employee; as well as John Evans and Alison Reid, owners of DIESEL in Brentwood.
"Technically we are competitors," Slavinsky said. "But it's such a close community. We're all people and we're all friends." Evans added: "He's an important part of Southern California book selling. He's just a great guy."
"We are fortunate," Powell said. "Both Seth's mom and my dad have been able to come here. That will enable me to get back to the store next week, maybe part time."
In a Facebook update late last week, Marko noted: "This page is almost always my voice, but this time I have a little more of a personal update to share with you. If you've been in the store over the last couple of weeks, you would not have seen me--and most likely not Jen or Vanessa either. But you would have met an impressive cavalcade of bookselling all-stars who have been filling in.... Thanks to an incredible network of friends and family, the Catapult has rolled on in mine and Jen's absence."
A GoFundMe campaign has been set up to help with some of the medical bills.