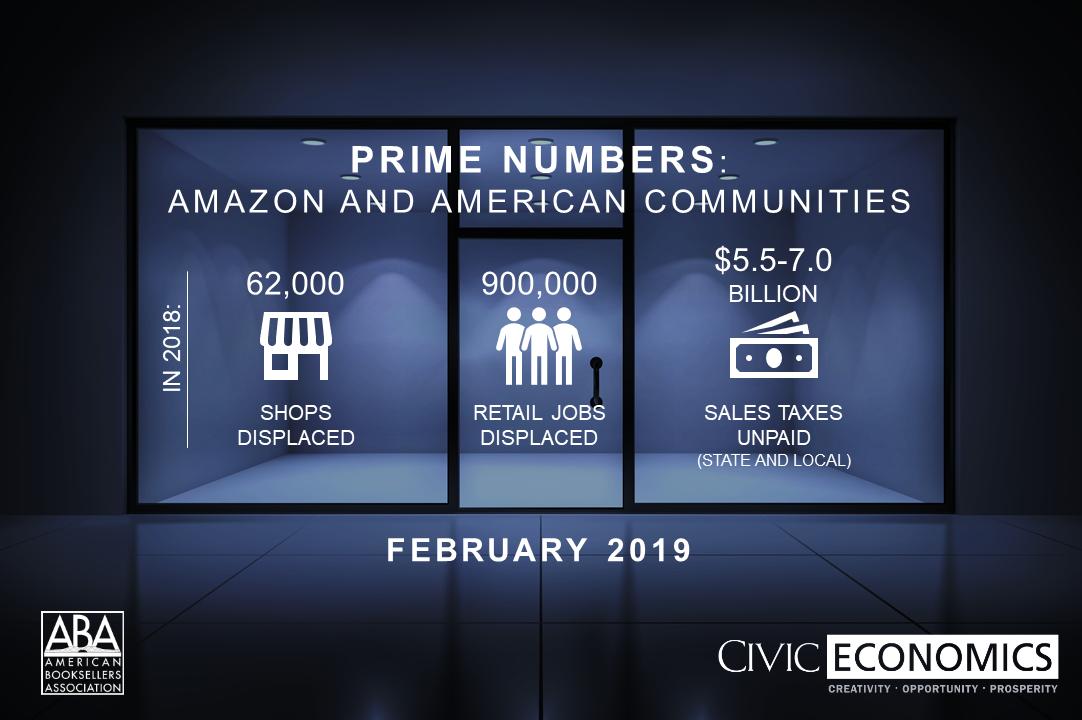 A new report called Prime Numbers: Amazon and American Communities by Civic Economics and the American Booksellers Association explores the economic costs of Amazon's explosive growth over the last few years.
According to the study, Amazon and its third-party vendors sold some $189 billion worth of goods in 2018 alone, and those sales accounted for 540 million square feet of displaced retail space, 900,000 displaced retail jobs and $5.5-$7 billion in uncollected sales tax. The study also estimates that between 2014 and 2018, Amazon's online sales could have resulted in as much as $22.5 billion in uncollected sales tax.
The study notes that even though Amazon finally began collecting and remitting sales tax in all states that collect sales tax back in 2017, it collects taxes on third-party Marketplace sales only in eight states, and Amazon's Marketplace accounts for nearly two-thirds of its retail business.
"We believe that this extensive study by Civic Economics provides an essential resource to both policymakers and citizens as they work to understand and respond to the ongoing and relentless growth of Amazon's online sales," ABA senior strategy officer Dan Cullen told Bookselling This Week. "We hope that this detailed, state-by-state model of Amazon's negative economic impact on Main Streets, overall employment, and tax revenues will help inform a necessary national dialogue, which includes the growing debate regarding massive subsidies to a multi-billion-dollar global corporation and the true cost of Amazon's proliferation into more and more facets of our lives."
The study also provides some insights into the benefits that locally owned, independent businesses have on communities. For independent bookstores in particular, around 28% of all revenue immediately recirculates in the local economy. Amazon, meanwhile, recirculates only about 4% of its revenue locally.
---
In related news, the Institute on Taxation and Economic Policy has found that Amazon won't pay any federal income tax for the second year in a row, even though profits doubled to $11.2 billion in 2018. Moreover, the company is getting a 2018 federal income tax rebate of $129 million, which "works out to a tax rate of negative 1%."
The Institute noted that "the fine print of Amazon's income tax disclosure shows that this achievement is partly due to various unspecified 'tax credits' as well as a tax break for executive stock options."