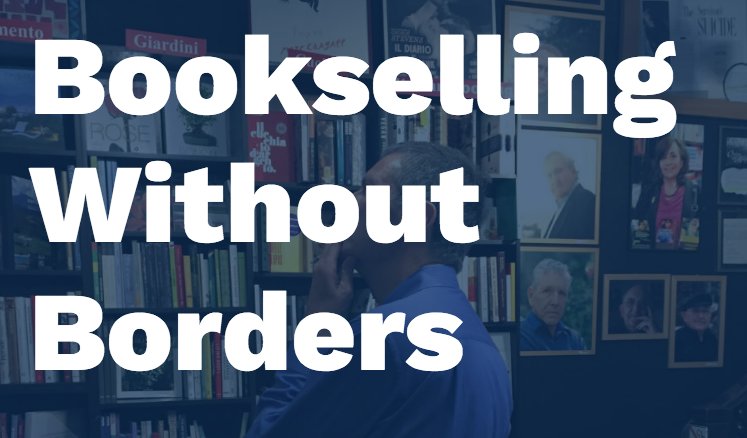 Congratulations! Fourteen U.S. booksellers are receiving Bookselling Without Borders scholarships to visit one of four international book fairs and two international residencies this year.
Each scholarship recipient will take part in a program of specially designed tours, panel discussions and meetings with international authors, publishers and booksellers. Through the program, Bookselling Without Borders aims to connect booksellers to the global literary conversation and through them to widen Americans' perspectives of diverse and international literature. More than 200 booksellers applied for the 2019 scholarships in just two weeks, representing 145 bookstores in 39 states and the District of Columbia.
The recipients, chosen by Bookselling Without Borders' publishing partners and alumni, are:
Bologna Children's Book Fair (April 1-4):
Melissa Posten, The Novel Neighbor, St. Louis, Mo.
Clarissa Hadge, Trident Booksellers & Café, Boston, Mass.
Sarah Hedrick, Iconoclast Books & Gifts, Hailey, Idaho
Istanbul Book Fair (April):
Rebekah Rine, Watermark Books & Café, Wichita, Kan.
Amanda Qassar, Warwick's, La Jolla, Calif.
Natasha Gilmore, Idlewild Books, New York, N.Y.
Turin Book Fair (May 9-13):
Cristina Rodriguez, Deep Vellum Books, Dallas, Tex.
Kelly Justice, Fountain Bookstore, Richmond, Va.
Emilie Sommer, East City Bookshop, Washington, D.C.
Frankfurt Book Fair (October 16-20):
Jonathan Woollen, Politics & Prose, Washington, D.C.
Lesley Rains, City of Asylum Bookstore, Pittsburgh, Pa.
Chris McDonald, Bear Pond Books, Montpelier, Vt. (winner of the Frankfurt Book Fair U.S. Bookseller Prize, funded by the German Foreign Office)
India Seagull Books Residency (January 2020):
Arsen Kashkashian, Boulder Book Store, Boulder, Colo.
Rome Otherwise Bookstore Residency (July/August 2019):
John Francesconi, Bank Square Books, Mystic, Conn.
The winners were naturally delighted. Christina Rodriguez of Deep Vellum Books, Dallas, Tex., who will be going to the Turin Book Fair, said: "The BWB fellowship plays such a vital role in helping teach booksellers to challenge how they read and sell international literature, while creating a dialogue about how to make diversity in literature more accessible. It's such an amazing opportunity and I feel honored to get to be part of it."
Natasha Gilmore of Idlewild Books in New York City, who's going to the Istanbul Book Fair, commented: "My bookstore's mission is to blur our borders and I am looking forward to meeting people from around the world to discover new ways to do this for my customers. Merhaba, Istanbul!"
And Jonathan Woollen of Politics & Prose in Washington, D.C., who will attend the Frankfurt Book Fair, said: "As someone who builds his life as a reader and bookseller around finding and promoting the best writing voices from around the world, this is a dream come true."
Bookselling Without Borders is supported by publishers Catapult, Counterpoint, Europa Editions, Graywolf Press, Grove Atlantic, Melville House, Milkweed Editions, Other Press, Princeton University Press, Rutgers University Press, Seagull Books, Seven Stories Press, Soft Skull, Shambhala Publications and the University of Chicago Press. It's also supported by Ingram Content Group, the German Foreign Office, Shelf Awareness and the participating book fairs.
The international book fair scholarship program was founded by Europa Editions in 2016. That year it sent a bookseller to the Frankfurt Book Fair. The program has grown every year since then.