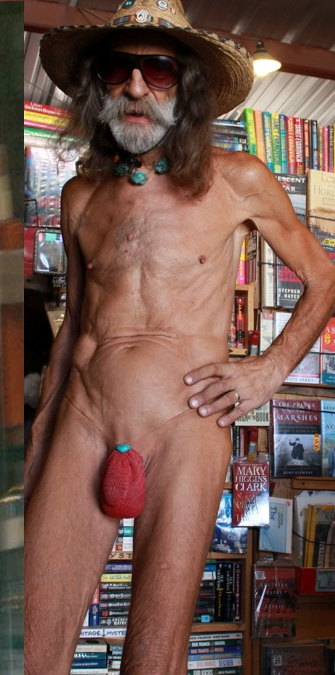 Paul Winer
Paul Winer, the longtime owner of Reader's Oasis Books in Quartzsite, Ariz., who gained international notoriety as the "naked bookseller," died May 7, the Parker Pioneer reported. He was 75. Also known as Sweet Pie, Winer moved to Quartzite two decades ago and "could often be found walking around town nearly nude."
Describing him as one of Quartzsite's "most noted residents," Parker Live wrote that Winer "was well known as the much-loved owner of the Reader's Oasis bookstore, who would usually be seen in the nude with just a little 'pouch' for modesty. As 'Sweet Pie', he was also a boogie-woogie piano player and possibly the first legally nude performer in the United States.
"When Winer became a parent, he settled in Quartzsite, where he sold books and T-shirts at the famous flea markets. He's been there for the better part of 30 years now, with a sprawling 180,000+ title bookstore, including space carved out in the middle for his piano. Lucky visitors to the Oasis Bookstore could be treated to a boogie-woogie performance by Paul, and thousands of them left with photos taken next to him."
Many tributes and photos were posted on the Facebook page for the Desert Messenger, which noted: "Quartzsite has lost a true legend. Our dear friend Paul Winer, aka Sweet Pie, died in his sleep last night, after a lengthy illness. Paul loved our community with all his heart. We send our love, prayers, and condolences to his wife, Joanne. Boogie on, Paul! Thanks for the memories!"