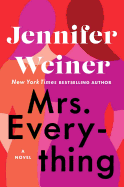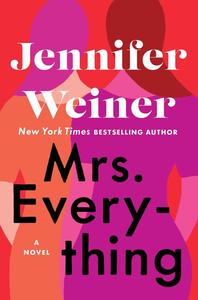 Jennifer Weiner (Good in Bed; Hungry Heart) has created a novel for the ages in Mrs. Everything, which is as impressive as it is ambitious.
Just shy of 500 pages, Mrs. Everything is a skillfully rendered and emotionally rich family saga capturing 70 years of American life as experienced by two Jewish sisters. The novel begins in the 1950s in Detroit, where Jo and Bethie grow up in a Jewish suburb. Bethie is the apple of her mother's eye, while Jo, the oldest and more unconventional in her appearance and interests, clashes with her mother's expectations. Jo realizes from a young age that she's gay, and this sets up conflict not only with her mother, but with society in general, and Jo struggles to fit in. In her early chapters, Weiner crafts a compelling Bildungsroman. The two sisters form an unbreakable bond when their father dies prematurely, leaving their mother in financial hardship. The sisters' relationship is further tested when an uncle begins abusing Bethie and the two girls must form a plan to fight back.
With vibrant descriptive powers and a potent sense of history, Weiner delineates her protagonists' college years. She reveals the 1960s in all their heady psychedelic delirium. Jo becomes a progressive activist and meets the love of her life, Shelley, while Bethie becomes a drug-imbibing hippie and vagabond of sorts. The two sisters take much different paths into the '70s and '80s. Sick of having her heart broken by women, Jo settles down with a husband and raises three daughters. After traveling, emotionally scarred Bethie ends up in a women's commune outside Atlanta. She marries a former classmate, an African American man named Harold, and eventually turns the commune's homemade goods into a business empire, completing a curious arc from hippie to entrepreneur.
Mrs. Everything is an unapologetic feminist novel. In lesser hands, the male characters in the book could come off as villainous clichés. Weiner, however, shows convincing command of her material, fully fleshing out the pernicious effects of patriarchy. There's the aforementioned abusive uncle. There's a rape that takes place in the supposedly free-love culture of the '60s. There's the abortion doctor who slut-shames Bethie. There's rampant sexism, body shaming, clueless cheating husbands and one obstacle after another as the sisters push to define themselves in the new millennium. Weiner risks the narrative collapsing under the weight of so many issues, but she largely succeeds due to her overarching vision and her commitment to the reality of her characters.
That the novel's timeline ends with the 2016 presidential election and the MeToo movement is fitting. Events come full-circle, and Jo's daughters have more options, thanks to the women before them. That doesn't stop Jo from worrying about the pressures placed upon them. "Women had made progress--Jo only had to look as far as the television set to see it--but she wondered whether they would ever not try to have it all and do it all and do all of it flawlessly," Weiner writes.
Mrs. Everything defines a formative period for women in the U.S. Weiner shows that big, expansive social novels are not only still possible in our fragmented society but perhaps necessary. Mrs. Everything is a great American novel, full of heart and hope. --Scott Neuffer, writer, poet, editor of trampset
Shelf Talker: Jennifer Weiner's ambitious and life-affirming novel follows two sisters through seven decades of American history.