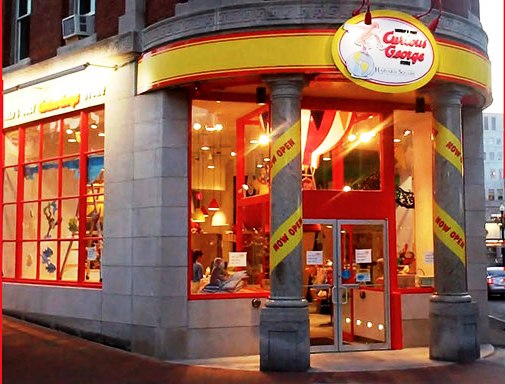 Curious George will be moving next month.
The new owner of the Curious George Store in Cambridge, Mass., is Astra Titus, who will soon be living in upstate New York and will shuttle regularly between her home and the store, according to the Boston Business Journal.
Adam Hirsch, who had bought the store in 2011, said last week that he had sold the store but declined to name the new owner. Since then, Titus contacted the Journal to say that she is the new owner.
The store is leaving its longtime location in Harvard Square by the end of June. Hirsch said it is moving to Central Square, but Titus said she is looking for a site and for investors.
Titus told the Journal that the store will continue to sell books and merchandise related to Curious George but that she also "plans to have free games and activities geared towards building early reading and math skills. Titus said that in wake of threats to independent bookstores over the past 20 years--first from Barnes & Noble, and then Amazon.com--the stores that have thrived are those with interactive features. 'We're really incorporating interactive experience and making it a destination site,' she said." She hopes to attract a café and create a "hangout" for neighborhood mothers.
Titus also told the Journal that she met Hirsch while she was working as a consultant for a childhood literacy project. He will be on her advisory board.
Titus has worked in policy development; this is her first retail position.