photo: Hannah Bjorndal
Christina June writes young adult contemporary fiction when she's not writing college recommendation letters for her day job as a school counselor. She loves the little moments in life that help someone discover who they're meant to become--whether it's her students or her characters. June lives near Washington, D.C., with her husband and daughter. She is the author of It Started with Goodbye, Everywhere You Want to Be and the recently released No Place Like Here (Blink/HarperCollins).
On your nightstand now:
These days, my nightstand exists mostly on my e-reader. I've got some critique-partner books to work through, but when I'm done, I'll be diving into The Everlasting Rose by Dhonielle Clayton, Cold Day in the Sun by Sara Biren and The Truth About Leaving by Natalie Blitt.
Favorite book when you were a child:
I was obsessed with Ramona Quimby, as well as the Baby-Sitters Club and Sweet Valley Twins series. In middle school, I leaned toward the supernatural--I was forever checking out ghost stories, books on the occult, how-to fortune-telling guides--which led me to Christopher Pike and V.C. Andrews. I was even in online fan clubs for those authors in the early days of the Internet. But if I had to choose one? It would be Are You There, God? It's Me, Margaret by Judy Blume. It was the first book where I really felt seen.
Your top five authors:
Queen Judy Blume, obviously. I love Stephanie Perkins and I also love that my books get comped with hers. Alison Weir writes the best Tudor-flavored books, both fiction and nonfiction. I also adore both Walt Whitman and Pablo Neruda--their words have had a big impact on mine.
Book you've faked reading:
Sorry, Mrs. Hailey, but I did not finish Herman Melville's Moby Dick in 11th grade. First of all, that book was a brick--I resented just carrying it around. Second, I could not sift through all the minutiae about whaling to find the actual plot. We read a lot of really great books that year, most of which I did finish and enjoy, but that was, unfortunately, not one of them.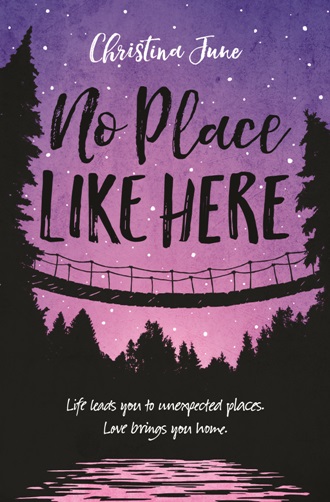 Book you're an evangelist for:
Does a series count? I've been incredibly impressed with Alyssa Cole's Reluctant Royals novels and novellas. Alyssa has created such intelligent heroines who follow their passions, surround themselves with supportive friends and pursue romantic relationships with partners who are great fits. I went through Alyssa's signing line last summer at the RWA national convention and she was incredibly gracious and lovely, and seemingly not put off at all by my gushing.
Book you've bought for the cover:
I would've bought them anyway because the books are brilliant, but I am just in love with the covers of You'll Miss Me When I'm Gone and Our Year of Maybe by Rachel Lynn Solomon.
Book you hid from your parents:
I distinctly remember being on vacation with my parents, circa seventh grade, and reading Flowers in the Attic by V.C. Andrews for the first time. I had the old cover with the little window that showed the kids in the attic, which was very creepy, but thankfully gave zero indication of it being anything more than just a horror novel. I kept the pages close to my face and in a V-shape, so no one could peek over my shoulder and see what I was reading!
Book that changed your life:
Maybe it's a cliché, but The Hunger Games by Suzanne Collins was transformative for me. I was super pregnant in the summer of 2010 and we were at a Fourth of July party where someone's teen daughter was reading it. I'd heard of it but didn't know the premise, so I asked and immediately went out and bought it the next day. I read the sequels while home on maternity leave, willing my daughter to sleep longer so I could keep turning the pages. I love how, even amid the highest of high stakes, Katniss is still a teen trying to figure out her place in her world. That was my gateway to modern young adult literature.
Favorite line from a book:
This one comes from Leaves of Grass by Walt Whitman, from the poem "Whoever You Are Holding Me Now in Hand": "I am not what you supposed, but far different."
When I was in high school, I had a copy of this poem taped up on my nightstand so I could see it right before I went to sleep each night. I think this line really speaks to the things about ourselves we keep close and only share with those we trust.
Five books you'll never part with:
From the Mixed-up Files of Mrs. Basil E. Frankweiler by E.L. Konigsburg--an ode to planning. Claudia Kincaid is a kindred spirit.
Bridget Jones's Diary by Helen Fielding--I was a Bridget fan way before the movies and even had a license plate that paid her homage.
Sloppy Firsts by Megan McCafferty--I re-read this one when I want to remind myself how messy high school can be. McCafferty writes some of the most authentic characters in any genre.
Emily of New Moon series by L.M. Montgomery--Emily's a writer and much darker than Anne could ever be.
Prep by Curtis Sittenfeld--this book is so deliciously snarky, my little sarcastic heart loved it from the first page.
Book you most want to read again for the first time:
The Pact was the first book I ever read by Jodi Picoult. I was so blown away at the ending; the last page completely changed the way I saw the rest of the book. I've reread it several times since then and pick up on new hints I didn't notice before, but yeah, that one was really emotionally explosive. Jodi truly is the master of the surprise ending.