BookBar, one of several Denver businesses "with openness and inclusivity at the core of their philosophy" that were vandalized last Wednesday by a hate group, was attacked again Thursday during its scheduled Drag Queen Storytime. The Denver Post reported that as Miss Shirley Delta Blow read the children's book Just Add Glitter "to a rapt audience filled with dozens of children and parents," she saw "a man in a black T-shirt and black mask sprint up to the window and spray-paint the storefront in Denver's Berkeley neighborhood. Two people inside, along with police officers stationed nearby, chased the man, eventually catching him in an alley." (9News was filming at the event)
BookBar owner Nicole Sullivan told the Post she had never considered canceling Drag Queen Storytime "because then where do you draw the line as a business? You have one person trying to intimidate, but you have an event you feel strongly about doing and a community that is coming out to support you."
As police conducted an investigation outside, Blow continued reading after saying: "Let's take a couple of deep breaths. Now, let's get back to storytime."
Less than five hours after the vandalism occurred and everyone had gone home, Sullivan received a call informing her that a neighbor had come over to scrub the graffiti off her window. "The neighbor just said, 'I love you guys and I wanted to do something to help,' " she said.
On Friday, a block party was held in the neighborhood as "a show of unity against hate," 2News reported.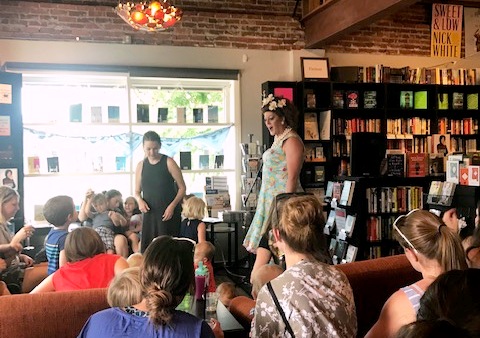 In a blog post Saturday headlined "BookBar's Extremely Official Response to Extremely Negative Comments... with Book Recommendations!" the bookstore noted that it had "received an outpouring of support and kindness from our community. We also received some negative comments via phone messages, email, social media, and in response to the news reporting of the incidents. We took the time to answer your questions and reply to your comments. We're including some book recommendations because we are booksellers and Just. Can't. Help. Ourselves." Some highlights:
Has there been any negative response from your previous Drag Queen Storytimes?
Nope. Nada. Zilch. We host these events quarterly. This event was probably our 5th or 6th one, including the one that was featured on the Opposition Show (be sure and watch this clip as it may answer some of your questions in case we don't hit on some of them here). The only thing that has sparked outrage about Drag Queen Storytime was the one in which we were vandalized by a member of a white supremacist group. Being targeted by nazis somehow sparks anger against drag queens and bookstores....
Why are you using innocent children to force an agenda?
Because grown-ups already have fully formed opinions. We recognize that we really have to start when children are young in order to indoctrinate them to a message of unconditional love and acceptance of everyone everywhere. Grown-ups have already decided whether or not they are going to be meanies and poopoo heads (as evidenced by some of the comments we've received). We like to teach children how to be nice to others (aka not meanies and poopoo heads). We also like to teach children to read at a young age so they grow up to be readers as adults with empathy and understanding of others. Also, you have probably noticed the significant uptick in little boys walking around Denver in dresses, I'm guessing? Oh, wait, you haven't? Hmmm.
We do not want this shoved down our throats
We hear you. K. How about this. The next time we host a Drag Queen Storytime we will not round everyone up and forcibly shove them into the store against their will and make them listen to children's stories. We are all for compromise and will happily make that concession.
We think that what you are doing is disgusting
Cool. Cool. We live in a democracy and you have a voice. You used it. Good for you. Now, can we interest you in an enjoyable beach read?