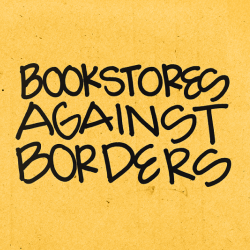 #BookstoresAgainstBorders, the fundraiser aimed at raising money to help immigrants and refugees detained along the southern border of the United States, has raised over $70,000, Bookselling This Week reported.
The fundraiser began with Gretchen Treu, co-owner and manager of A Room of One's Own Bookstore in Madison, Wis., who asked independent bookstores around the country to donate 5%-20% of their sales from the long 4th of July weekend to RAICES (Refugee and Immigrant Center for Education and Legal Services), an organization working to help those detained at the border, including children.
Treu sent out a call-to-action e-mail to booksellers on June 27, and since then roughly 150 other booksellers and publishers joined with A Room of One's Own. As of Wednesday, July 10, the total stood at $70,170 raised from 82 donors, far exceeding the initial goal of $50,000.
And while July 4th weekend is over, booksellers continue to raise money. Bear Pond Books in Montpelier, Vt., for example, will be donating 10% of its sales on Friday, July 12 to RAICES. Booksellers (and others) can still donate to the original Classy.org fundraiser, and learn more about getting involved here.