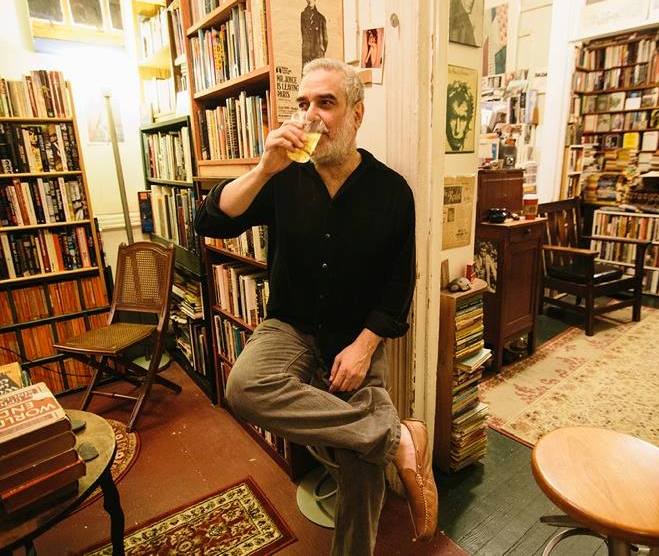 Michael Seidenberg
Michael Seidenberg, owner of the legendary speakeasy-like bookstore Brazenhead Books ("the little shop where time stood still") in New York City, died July 9. He was 64. In a 2008 New Yorker profile, Patricia Marx observed: "To say that Seidenberg's shop is back in business is not quite accurate, for business was never his model. He envisions a hangout, where readers can relax in comfortable chairs with a favorite book. 'I had this idea of telling customers they couldn't buy anything the first time they came,' he said, 'so that they'd believe me when I say nobody is obliged to buy anything.' His wife nixed that idea."
"Michael's stories and the stories that lined the walls flowed into and out of each other for hours at a time," David Burr Gerrard wrote this week in a Lit Hub tribute, adding: "When you were at Brazenhead you became a Michaelized version of yourself; your stories were a little more embroidered, you were a little funnier, you felt more comfortable saying embarrassing things. It was difficult to be buttoned up when the proprietor of the establishment usually had most of his shirt unbuttoned, chest hair protruding."
In 2015, Seidenberg had to move from his Upper East Side apartment to a new space and set up shop again. Brazenhead had been in its old location since 2008 and before that was a more traditional bookstore, which operated at several storefronts in Brooklyn and Manhattan going back to 1979.
"Whatever shape the bookstore takes in the future, Brazenhead has long been in the process of building its own mythology," the Guardian wrote at the time. "It's a tale of a bookstore that has never actually closed, but only reveals itself to the people who seek it out. Those people will be relieved to know that reports of its death have been greatly exaggerated."
Visiting the Upper East Side location in 2015, the New York Times reported: "The tenement building on East 84th Street does not have a sign or a label on the downstairs buzzer for the apartment housing the secret bookstore. But regulars know the correct buzzer, the floor and which nights a certain unlocked apartment door can lead, almost magically, to a literary salon. And everyone inside knows who runs the joint: Michael Seidenberg, there in his regular spot next to a small bar, lighting his pipe, pouring himself a drink and holding court amid an adoring throng of bon vivant literary types."
Untapped Cities described the more recent incarnation of Brazenhead Books as "a one-of-a-kind hidden bookstore that charmed many a visitor who found a way to visit the quirky apartment-turned shop in an Upper West Side walkup. Books were piled high in every conceivable place, down hallways, on the book of doors, in the middle of rooms, stacked on bookshelves, but Michael knew where everything was.... With Seidenberg goes another anchor of idiosyncratic New York City. Brazenhead was a special place, much more than a used bookstore. It was a place where the curious could come knocking, intending to stay for just a few moments, and stay for hours in deep conversation or delving into the myriad of books available."
Gerrard closed his tribute with a line Seidenberg "used in a promotional video, in which he implored viewers to find his hidden location by opening the phone book: 'Come find me and visit me and I'm yours.' For everyone who found and visited Brazenhead, Michael will always be ours."