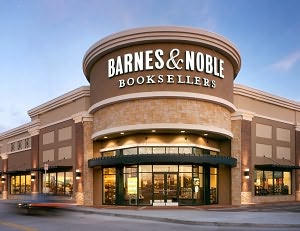 B&N has formally sent shareholders information about Elliott Advisors' offer to buy their shares of the company for $6.50 each, a deal that expires on August 6. When completed, B&N will then become part of Elliott, which also owns Waterstones, the largest U.K. bookselling chain, and will be headed by Waterstones managing director James Daunt.
In filings about the deal with the Securities and Exchange Commission, the company noted that excluding various restricted and performance options, as of July 5, B&N officers and shareholders held some 14.85 million shares of the company that are worth $96,515,522 at Elliott's purchase price of $6.50 per share. The vast majority of the shares are owned or controlled by B&N executive chairman Len Riggio; those 14 million shares are worth $91,339,508. The company noted, too, that including severance agreements, which are "not currently anticipated" to be put into effect, B&N officers will receive almost $18 million in other payments when the deal is completed.
The company gave a detailed accounting of the history of the sale. Highlights in the chronology include:
Between July 2017 and September 2018, B&N received "multiple expressions of interest from parties considering a possible strategic transaction."
"Company X," presumably WH Smith, the U.K. retailer whose withdrawn bid to buy the company in June 2018 led to the abrupt firing of B&N's last CEO, Demos Parneros, initially offered to buy B&N for $7.10 a share, and then increased its bid to $7.40 a share.
Elliott Advisors' first formal interest in B&N came almost a year ago, on August 15, 2018. Initially Elliott was considering combining B&N and Waterstones and taking a minority interest in a merged company.
Len Riggio was among the interested buyers who in February entered into confidentiality agreements with B&N about potential purchase. Besides him and Elliott, potential buyers included "a privately held independent retail company," "a privately held large chain retail company," "a privately held industry participant" and two private equity firms. WH Smith apparently showed renewed interest but dropped out at this point.
In March, B&N received several cash offers of between $6 and $8.50 per share. In addition to a cash offer, Elliott made a bid of $5.50 per share, with 19% equity for current B&N shareholders in a combined Waterstones-B&N. In April, Elliott dropped the combination offer to focus on a cash-only offer, first at $6 a share, then at $6.50 a share, which was accepted in early June by B&N.
In May, Riggio dropped his own offer to take the company private, but indicated he might join with either of two other bidders via an equity rollover. Around the same time, one of the private equity firms dropped out of the running but indicated it would be willing to team up with several of the other bidders.
Also in May, a company officially described as "Company C," the privately held industry participant (identified as Readerlink by the Wall Street Journal), was working with Riggio on a deal. In late May, Company C raised its offer to $6.75 from $6 a share and said that Riggio would roll over shares and make an additional cash investment.
Eventually, however, Riggio withdrew his support for Readerlink, which then made an offer of $7.25 per share. B&N and its advisers ultimately worried that there would be regulatory, technical and financial hurdles involved with Readerlink's offer and stayed with Elliott's full cash offer.