I can still remember Pete Rose, on the top step of the dugout screaming, "F**k you, Shakespeare." --Jim Bouton
Some weeks feel more like time machines than others, and this has been one of those weeks. On Monday, I learned that the Library of Congress had acquired the papers of former Major League Baseball pitcher Jim Bouton. This sparked a wave of memories. I was 19 when his book Ball Four tore the cover off a bunch of myths associated with the game of baseball and its heroes, including a few of mine.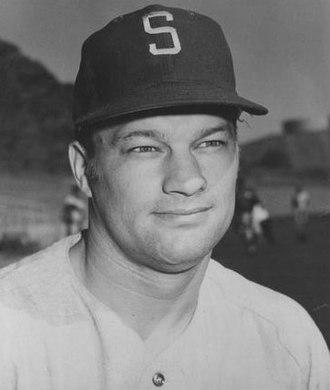 Bouton with the Seattle Pilots in 1969.
"Fifty summers ago, in that year of Woodstock, Apollo 11, and the Mets' improbable World Series championship, a pitcher named Jim Bouton threw a knuckleball and wrote a diary that became a classic of American literature," John Thorn wrote. "He called it Ball Four, and it was a stunning success. Funny, profane and smart, it revealed the sex, drugs, and horseplay of baseball in the era. It sold millions of copies and changed the landscape of sports and journalism in ways that are still relevant. It was also a political work, a milestone in the generational divide that characterized the 1960s."
On Tuesday and Wednesday, I found myself deep-diving into news archives, searching for articles from the period.
And then, yesterday, I woke to the news that Bouton had died at the age of 80, and I recalled finally meeting him about 15 years ago at the Vermont bookstore where I worked. Decades after rocking the sports world, he still displayed a generous dose of the thoughtful, smartass attitude I'd imagined he would.
A decent pitcher in his prime, Bouton achieved relative immortality as a writer with the 1970 publication of Ball Four, which chronicled his 1969 season with the Seattle Pilots and Houston Astros and, more to the point, shared scandalous and controversial tales from his earlier years as a New York Yankee. Next year will be the 50th anniversary of Ball Four's publication, but the summer of 1969, and all that it entails, was the period during which Bouton was scribbling those game-changing notes
I was a late '60s college kid when I read Ball Four. The age of the anti-hero was in full swing. Although I wasn't really shocked by Mickey Mantle's juvenile antics or revelations of amphetamine ("greenies") abuse among players, the book did alter my perspective. A final nail in the coffin of childhood baseball innocence, I suppose, but it was still a great read.
Critical reception was mixed, though controversy, as it tends to, propelled the book to instant bestseller status.
"Jim Bouton has always been a marked outsider in the closed little world of major league baseball players," Newsweek reported. "He reads books in addition to sports pages, plays chess instead of rummy on team buses, and worst of all, speaks out publicly about political and racial issues that ballplayers are traditionally expected to shun."
In the New Yorker, Roger Angell described Ball Four as "a rare view of a highly complex public profession seen from the innermost inside, along with an even more rewarding inside view of an ironic and courageous mind. And, very likely, the funniest book of the year."
Recommending it as a Christmas gift later that year, Robert Lipsyte noted in the New York Times that the "major raps against Ball Four continue to be these: Bouton had no right to betray the confidence of the clubhouse and he had no right to dim the image of some of baseball's stars. Many people who feel this way have never read the book, which is a rather affectionate diary of a season in the life by a man of wit and perception who is losing his grip on the ball."
George Plimpton, who was less impressed, sniffed: "I guess it's a matter of one's own conscience. For me to receive the type of confidences I do and then turn around and besmirch the character of the athletes or their activities, that would be the last book I'd write. Critics talk about an obligation to readers. I don't believe that. My only obligation is to myself and my friends. Violating confidences is the worst sin you can commit."
Mickey Mantle told the Miami Herald that if Bouton "really is selling a lot of books, the only thing I'm disappointed in is that the American public is buying it. I thought the American public was smarter than that."
Ultimately, Bouton got the last laugh: "I wanted to share the fun of baseball, to try and show people as they really are," he once said. "The biggest complaint I heard is that I told everything about everyone and that 500 guys went home and confessed."
Ball Four made the lineup in 1996 for the New York Public Library's Books of the Century list and was named one of Time magazine's 100 greatest nonfiction books of all time. In 1983, Bouton told the New York Times: "I think it did take a new look, an honest look, at some of our heroes. And I guess it questions if heroes are such terrific things. Someone once said, 'don't pity the nation that has no heroes, pity the nation that needs them.' People who don't feel good enough about themselves need to feel good about someone else."
Ball Four altered my perspective on sports and, to some degree, on life. What more can you ask of a book? RIP Jim... and thanks.