Here's a great example of how one author and one bookstore chose to face down Amazon Prime Day: yesterday morning, Shea Serrano, whose books include The Rap Year Book and the upcoming Movies (and Other Things), decided to mobilize his FOH Army with these tweets: "it's amazon prime day so we should find an indie bookstore and just order stuff from them today." And: "someone send me a good indie bookstore that we can direct everyone toward--let's go get some books--literally any books not just mine lol."
Raven Book Store, Lawrence, Kan., checked in: "we went viral a while back explaining why indies are good and Amazon is bad."
Then the fun began.
Serrano: "bang--there it is--Amazon Prime Day is today and tomorrow--their employees are on strike for better pay--let's go get some books from @ravenbookstore today..."
After settling on a goal of 100 books, Serrano began working Twitter: "i'm about to order a book from @ravenbookstore which means we only need 99 other people to do so to hit our goal--be a part of this--it's the tiniest resistance but it's a resistance nonetheless lol."
Serrano kept a running tally as the orders poured in: "lol i went to lunch and by the time i came back we jumped from 81/100 up to 128/100 lol there you go @ravenbookstore--128 orders online--that's the new record--and i'm sure we'll have a few more come in during the rest of the day."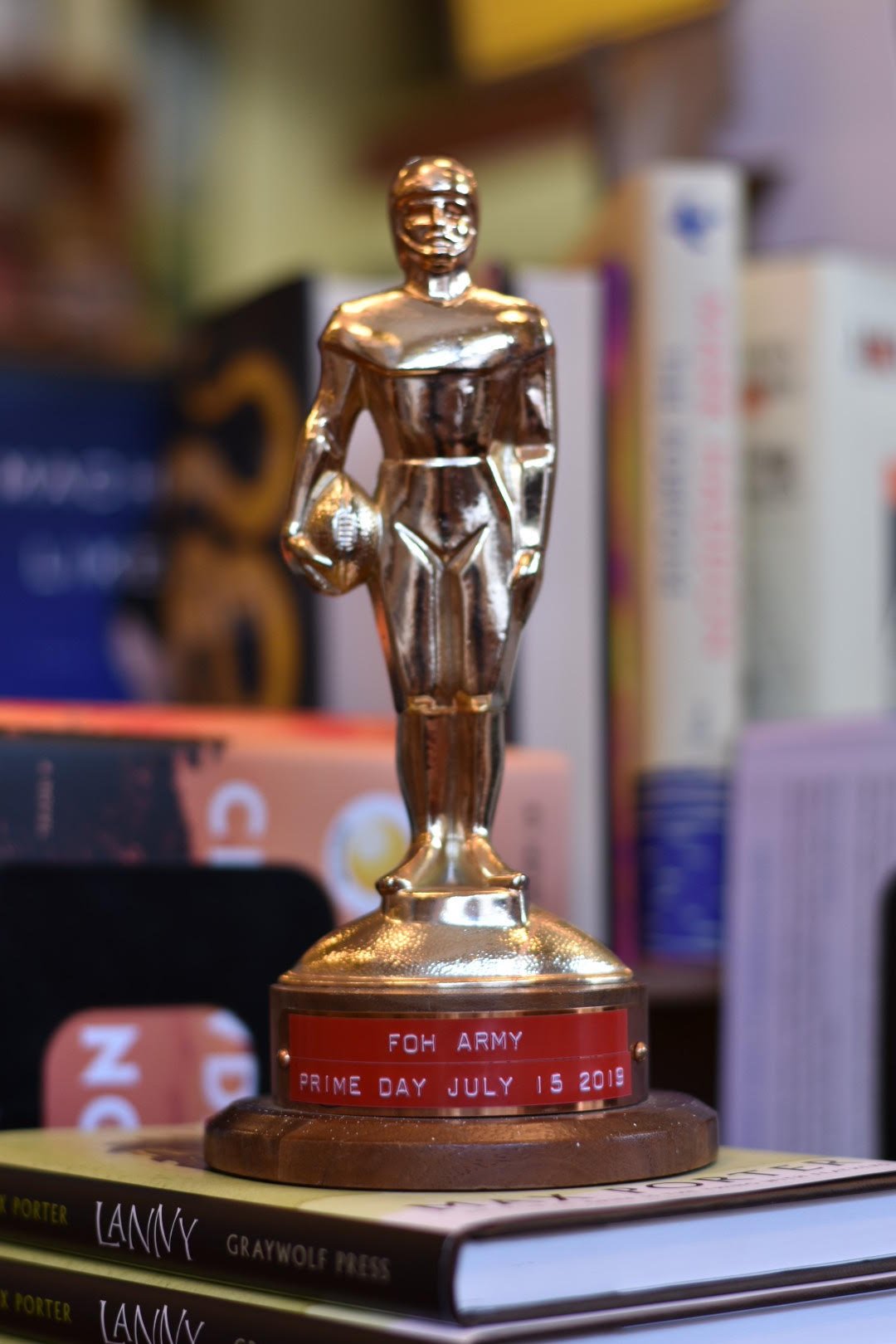 Raven Book Store's FOH trophy
By early afternoon, Raven Book Store tweeted: "We'd like to thank @SheaSerrano and the #FOHarmy for making this the best #PrimeDay ever by smashing our daily record for website orders. As a token of our appreciation, we made a trophy for y'all."
Serrano replied: "we broke the daily record for online orders and they made us the best trophy i have ever seen in my life thank you @ravenbookstore."
Shortly after 3:30 p.m., Raven said the count had reached 265 orders and Serrano tweeted: "bang bang bang 265 ORDERS IN JUST A FEW HOURS BABYYYYYYYYYYYYYYYYYYYY WE REMAIN UNDEFEATED."
Last night, Serrano was already looking ahead: "hell yeah--we might have to run this shit back tomorrow with another indie bookstore for day 2 of amazon prime day lol."

By 9 p.m., the tally had climbed even higher. Serrano: "bang--we were supposed to place 100 orders with @ravenbookstore today but we got a little too pumped and ended up getting 328 orders lol--sorry about that @ravenbookstore--have fun shipping them all out lol."
Raven's response: "better order more tape."