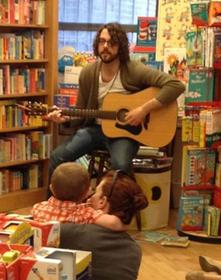 Storytime with Jarrod Annis at Greenlight
Jarrod Annis, manager of the Fort Greene location of Greenlight Bookstores, Brooklyn, N.Y., has won the 2019 Joe Drabyak Handseller of the Year. Sponsored by the New Atlantic Independent Booksellers Association and named in honor of the late NAIBA president and handseller extraordinaire, the award recognizes booksellers who find "the right books for their community as well as the right book for each person who walks in the door."
"Handselling goes far beyond the now standard 'if, then' algorithm a lot of readers have become accustomed to," Annis said. "Handselling offers room for an actual discovery based on a completely analogue person-to-person interaction. It's a sort of improvisation, the key to which is listening. Ask the person what books they've read recently. Ask why they have or haven't liked things, if there's anything they absolutely won't read. Ask them what their favorites are. Listen. Riff off what they're telling you. Recognize and understand when people have opposite tastes than you. All is not lost. It is not the reader's job to make a bookseller's life easier, it's the bookseller's job to make the readers' life better helping them find their next favorite thing."
During his time at Greenlight, which he joined in 2011 as a bookseller, Annis has also has served as an associate editor at Ugly Duckling Presse and as a poetry judge for the Best Translated Book Award. He currently is on the board of the Community of Literary Magazines and Presses. Working with Small Press Distribution and CLMP, he helped establish the Indie Bookseller Council, which works to build community among indie booksellers across the country focused on selling small press poetry, literary fiction and works in translation. At Greenlight, Annis was able to parlay his interest in small press literature into the curation of a dedicated display space, which has become a destination for many of Greenlight's customers.
Annis will receive the award at the Awards Banquet at NAIBA's fall conference on Wednesday, October 16, in Cherry Hill, N.J.