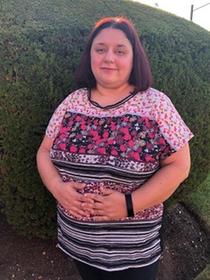 Melissa Grecco
Melissa Grecco of Chronicle Books has been named Kristin Keith Sales Rep of the Year by the New Atlantic Independent Booksellers Association.
"I love what I do and feel incredibly lucky to work with many of the best bookstores in the world," said Grecco, who has been with Chronicle since 2013. "I truly believe in what booksellers do each day; it's an honor to play a small role in that work."
Grecco has always worked in the book industry: prior to joining Chronicle, Grecco was Metro NY field rep at John Wiley & Sons, where she started her career as an in-house sales coordinator. And in college Grecco worked at several Barnes & Noble locations throughout Long Island.
Her favorite part of the job, Grecco said, is the sales call. She explained: "I consider myself super lucky; I get to travel to different places every day, meeting interesting people, talk about products I genuinely love."
Booksellers Rebecca Fitting, co-owner of Greenlight Bookstores in Brooklyn, N.Y., and Suzanna Hermans, co-owner of Oblong Books in Rhinebeck, N.Y., praised Grecco for her reliability, enthusiasm and dedication to the job. Grecco will receive her award at the annual Awards Banquet October 16 during NAIBA's fall conference in Cherry Hill, N.J.