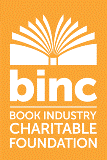 The Book Industry Charitable Foundation and Macmillan Publishers have announced the winners of the Macmillan Booksellers Professional Development Scholarship, which was created in 2017 to provide professional development opportunities to booksellers traditionally underrepresented in the industry. The nine winners will each receive a $500 scholarship to help cover the cost of attending their fall regional booksellers association show. The winners are:
Applicants anonymously submitted answers to short essay questions, which were evaluated by a panel of judges. A winner was chosen from each of the nine regions represented by independent booksellers associations. The judges included Malati Chavali from Macmillan, Jeanne Costello of Maria's Bookshop and Binc's program committee, and Ken White of Query Books and Binc's Board of Directors.
"We were incredibly impressed by the quality of applications for this year's scholarship," said Chavali. "It is heartening to see the passion our applicants have for bookselling and spreading acceptance and tolerance in their communities."
Pam French, Binc's executive director, said: "We are happy to work with Macmillan to bring this opportunity to booksellers for the third year. This popular program not only furthers individual booksellers' careers by helping them attend their regional trade shows, the program promotes a more inclusive and diverse industry by giving an opportunity to individuals who are traditionally underrepresented at the shows. Congratulations to all the scholarship recipients. We hope you enjoy attending your regional trade show."