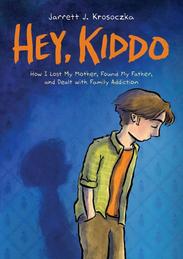 Hey, Kiddo: How I Lost My Mother, Found My Father, and Dealt with Family Addiction by Jarrett Krosoczka (Graphix) has won the New Atlantic Independent Booksellers Association's Carla Cohen Free Speech Award. NAIBA called Hey, Kiddo "a profoundly important memoir about growing up in a family grappling with addiction, and finding the art that helps you survive." The book was a National Book Award finalist.
Calling the Carla Cohen award "a profound honor," Krosoczka said, "When I wrote my graphic memoir, I knew I needed to approach it with an unflinching honesty. The book is filled with difficult truths that are mirrored in the lives of so many of our young readers. Thank you for validating my and their experiences!"
Krosoczka will be given the prize at the awards banquet on October 16 during the NAIBA Fall Conference in Cherry Hill, N.J.

---

Robert Macfarlane won the 2019 Wainwright Golden Beer Book Prize, which celebrates the best books about nature, travel and the outdoors, for Underland: A Deep Time Journey. The winner receives £5,000 (about $6,130), a keg of Wainwright Golden Beer and a full set of the latest Wainwright pictorial walking guides.
Chair of judges Julia Bradbury commented: "Robert has been shortlisted for the prize four times now, so, it feels right that this book, which we all considered to be his best book, has finally won. He writes in a beautiful, lyrical style and this book is a claustrophobic thriller of sorts. He takes his subject, and excavates it comprehensively."