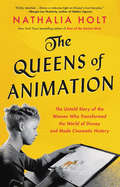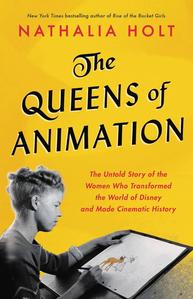 Sports, science, finance, entertainment--if followers of current events didn't know better, they would be sorely tempted to conclude that there is no field in which female workers haven't been shortchanged. Nathalia Holt's Rise of the Rocket Girls: The Women Who Propelled Us, from Missiles to the Moon to Mars did yeoman's work in the area of score settling, and now she delivers another reckoning: The Queens of Animation: The Untold Story of the Women Who Transformed the World of Disney and Made Cinematic History.
In the 1930s, a woman seeking employment at Walt Disney Studios beyond its pink-collar-ghetto Ink and Paint department was apt to receive the company's stock rejection letter: "Women do not do any of the creative work in connection with preparing the cartoons for the screen, as that task is performed entirely by young men." Change had to start somewhere, and Holt devotes The Queens of Animation to the iconoclastic women who got in early at the House of Mouse. Among her five principal subjects are English-born Sylvia Moberly-Holland, who through her work on Fantasia's "Waltz of the Flowers" became Disney's first female story director; plucky Retta Scott, who through her work on Bambi became the studio's first credited female animator; and the legendary Mary Blair, a painter who brought a refreshingly modern look to Disney animation and was a bona fide art director by the time she worked on Peter Pan.
The Queens of Animation covers the women's particular, personal challenges (Blair suffered miscarriages and an abusive husband) and their shared trials, especially their male co-workers' resentment and predatory ways. Among the sketches reproduced in Holt's exhaustively researched book is a shattering one by scriptwriting and storyboarding ace Grace Huntington: it shows an outsize Mickey Mouse-like figure preying on a female worker.
The Queens of Animation does double duty as the story of Disney's animation studio, which was in debt for years and continually seeking financial relief through new technologies. Holt, foremost a science writer, is awfully good at describing how innovations like Technicolor, the optical printer and xerography work. Her book takes readers through the studio's early 21st-century switch to CGI, which finally obliterated the need for cripplingly costly hand-drawn animation. Of course, the irony is that in the studio's financially unstable golden era, when its male employees thought it beneath them to draw fairies, it was movies about women--a princess here, a Poppins there--that reliably saved Piglet's bacon. --Nell Beram, author and freelance writer
Shelf Talker: This incisive look at the first women to work at Walt Disney Studios also tells the story of the animation department's years of struggle to make ends meet.