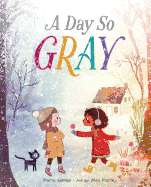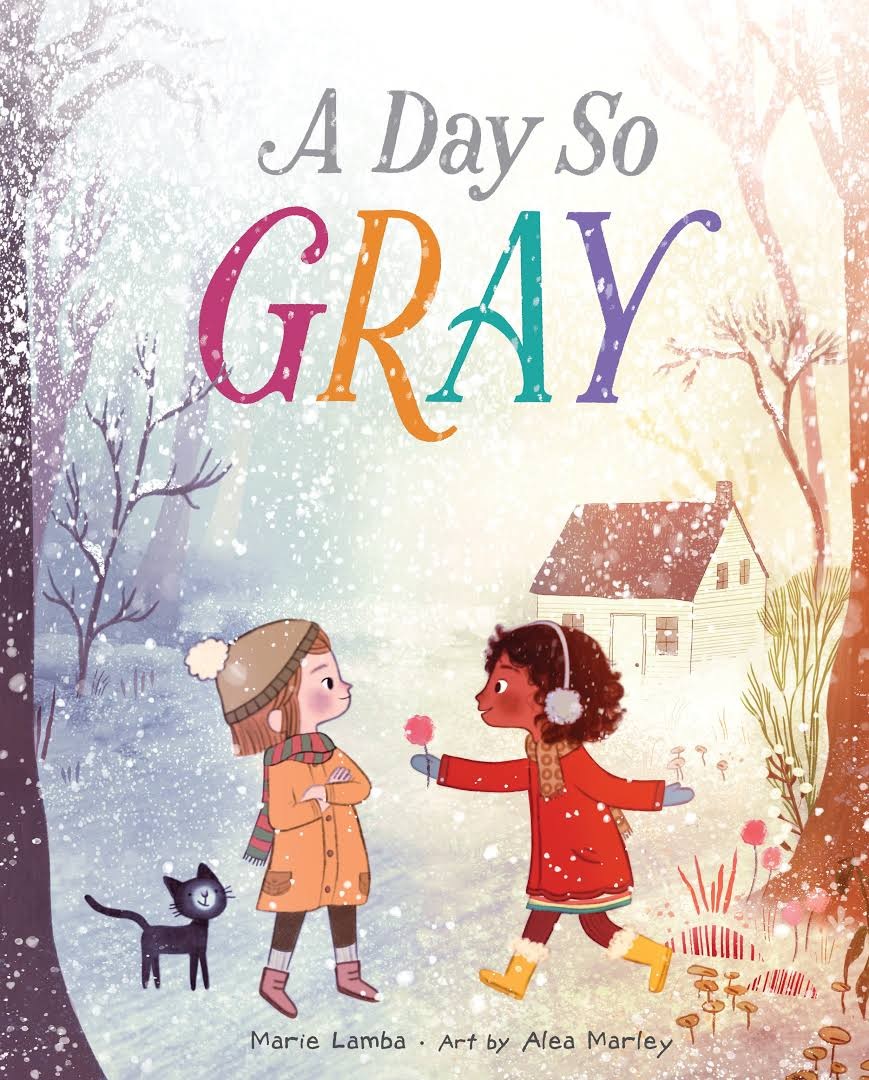 A friend with a bright outlook turns a gloomy day into a smorgasbord of colorful detail in this cozy picture book from writer Marie Lamba (Green Green: A Community Gardening Story) and illustrator Alea Marley (The Many Colors of Harpreet Singh).
Gazing out a wooden window frame, a little girl with a straight blonde bob and pale, pink-spotted cheeks proclaims, "This day is so gray." At her side, another girl with a head of dark, smudged curls and a brown, ruddy-cheeked face begs to differ. After venturing out into the softly blurred white snowfall, the second girl splashes through a puddle and points out the "deep soft brown" of the fanning tree branches and the silver and blue of the water as it splashes across her yellow boots. Unconvinced, the first girl tries to hold onto her dispassionate attitude, declaring a field "blah brown" and the snow "boring white." Her light-hearted counterpart corrects the complaints with an artist's eye for the subtlety of natural colors. She finds "dots of orange" and "sticks of licorice red" in the field's winter flora and "stomps of green" where their boot prints broke the crust of snow. She also soothes the blonde girl's anxiety about a "bad luck" black cat by pointing out the animal's pink toes and "eyes glowing yellow-green." Her buoyant charm slowly loosens the other girl's stiff posture and helps her relax into a comforting evening as girls and cat curl up by the warm hearth for cocoa and a sunset the former naysayer describes as "purple and tangerine."
Lamba's words encourage readers to seek out the tiny scraps of beauty that brighten life's doldrums. Through a combination of scanned and digital illustrations, Marley creates an enchanting soft-focus winterscape drenched in light. She also effectively uses her appealing main characters' appearances as visual clues to their attitudes. The gloomy child has flat hair and wears somber colors, her sharp nose pointed upward as she insists on seeing the world as unexceptional; the optimistic girl and her rose-red coat seem to glow with warmth, her loose curls an emblem of her creative spirit. Although the brief text and clear illustrations have definite group read-aloud potential, sharing A Day So Gray's subtle beauty as a colors look-and-find could create a lovely one-on-one bonding time for caregivers and children ages four through seven. Whenever a day is gray and lonely, this cozy reminder to look on the colorful side will invite smiles and lift spirits. --Jaclyn Fulwood, youth services manager at Main Branch, Dayton Metro Library
Shelf Talker: In this ethereal, wintry picture book, a cheerful little girl teaches her glum companion that color and beauty lie in the smallest details.