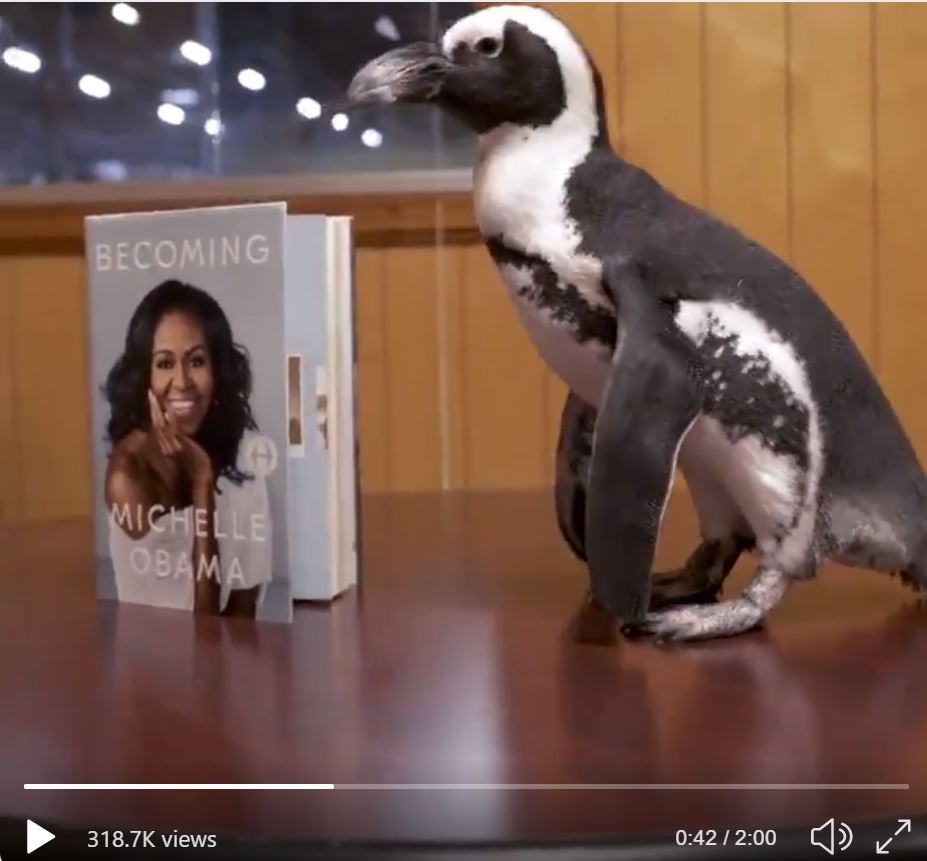 "A real penguin 'interned' at our book distribution center! Thanks to @MarylandZoo for letting us borrow one of their animal ambassadors," Penguin Random House tweeted yesterday, adding: "As part of the collaboration w/ @MarylandZoo, @penguinrandom is donating to their conservation efforts to protect African penguin habitats. The African penguin population has declined by 90% in the last 100 years. Join in."
During the summer, PRH's distribution center in Westminster, Md., welcomed two penguins and filmed "their (safely monitored) adventures as part of a video project spearheaded by the Consumer Marketing Video team. The concept: A penguin's internship at Penguin Random House."
"We were originally thinking of bringing penguins to our New York office, since our team is based here, and releasing it in time for World Penguin Day back in April," said John Clinton, v-p and director of digital video. "But we quickly ran into two issues: 1) Ironically, penguins are not allowed in the building, 2) Do penguin actors even exist? If so, where could we possibly find them?"
After researching the possibilities, an answer emerged. The Maryland Zoo in Baltimore maintains the largest colony of African penguins in North America, and has a small group of "penguin ambassadors" that travel outside of the zoo for school, media and educational appearances.
"Putting this together at the PRH distribution center seemed like a natural fit--not only had we worked with the fantastic team in Westminster before, but the zoo was also only a short drive away," Clinton said. "We pitched the idea to both groups and they loved it.... They're amazing animals, and an endangered species! My hope for the video is trifold--1) Showcase our distribution center and the PRH brand 2) Raise penguin awareness, and 3) Bring some fun to our readers."