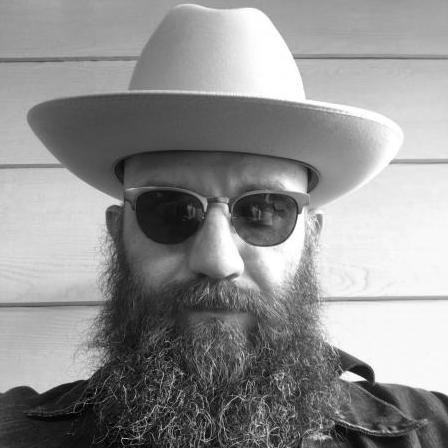 A lifelong resident of Texas, Keaton Patterson began working at Houston's Brazos Bookstore in 2012, where he is now the lead buyer. When not reading or bookselling, he can be found spending time with his family, listening to records or going on about horses to whomever will listen.
On your nightstand now:
As a buyer, I'm almost always reading several upcoming titles at once from various sections you'll find at Brazos Bookstore. My stack includes (but is not limited to) the following:
A Fortune for Your Disaster by Hanif Abdurraqib
The Undying by Anne Boyer
Big Wonderful Thing: A History of Texas by Stephen Harrigan
Animalia by Jean-Baptiste del Amo, translated by Frank Wynne
An unpublished manuscript by Mark Haber, author of Reinhardt's Garden
Favorite book when you were a child:
My mom gave me Jack Prelutsky's Nightmares: Poems to Trouble Your Sleep when I was nine, and it had a profound effect on making me the reader I am today. Specifically, it was my first introduction to poetry and horror--both still lifelong obsessions of mine. And the illustrations are just to die for. Thirty years later, I still have that same copy. Only now it haunts my son's bookshelf.
Your top five authors:
Off the top of my head, I'll go with James McBride, Joy Williams, Greil Marcus, Henry Miller and Cormac McCarthy.
Book you've faked reading:
I b.s.'d my way through Les Misérables in junior high. Not because it's a bad book, but sometimes dense classics are thrust upon readers at far too young an age. Having kids read beyond their years is great and all, but you don't want to suck all the joy out of books, either.
Book you're an evangelist for:
The Son by Philipp Meyer is the quintessential Texas novel, in my opinion. I put it in the hands of everyone looking specifically for fiction about Texas or just a damn good book in general. It's an epic saga that really gets at the complex heart and history of my home state. It should have won the Pulitzer in 2014.
Book you've bought for the cover:
I have 11 different versions of Frankenstein, or the Modern Prometheus that I've bought almost exclusively by cover design. It's a special novel for me, an obsession really. It manages to resonate with a kind of universal humanity in myriad ways, while also being a groundbreaking work of literature. Not to mention it's just cool as hell.
Book you hid from your parents:
Sex by Madonna.
Book that changed your life:
Sex by Madonna.
Favorite line from a book:
"The mind is its own place, and in itself can make a heaven of hell, a hell of heaven." --Paradise Lost by John Milton
Five books you'll never part with:
Frankenstein by Mary Shelley
The Master and Margarita by Mikhail Bulgakov
2666 by Roberto Bolaño
The Odyssey by Homer (either the Fitzgerald or Wilson translation)
Invisible Man by Ralph Ellison
Book you most want to read again for the first time:
I wish I could read Frankenstein before seeing any of the films.