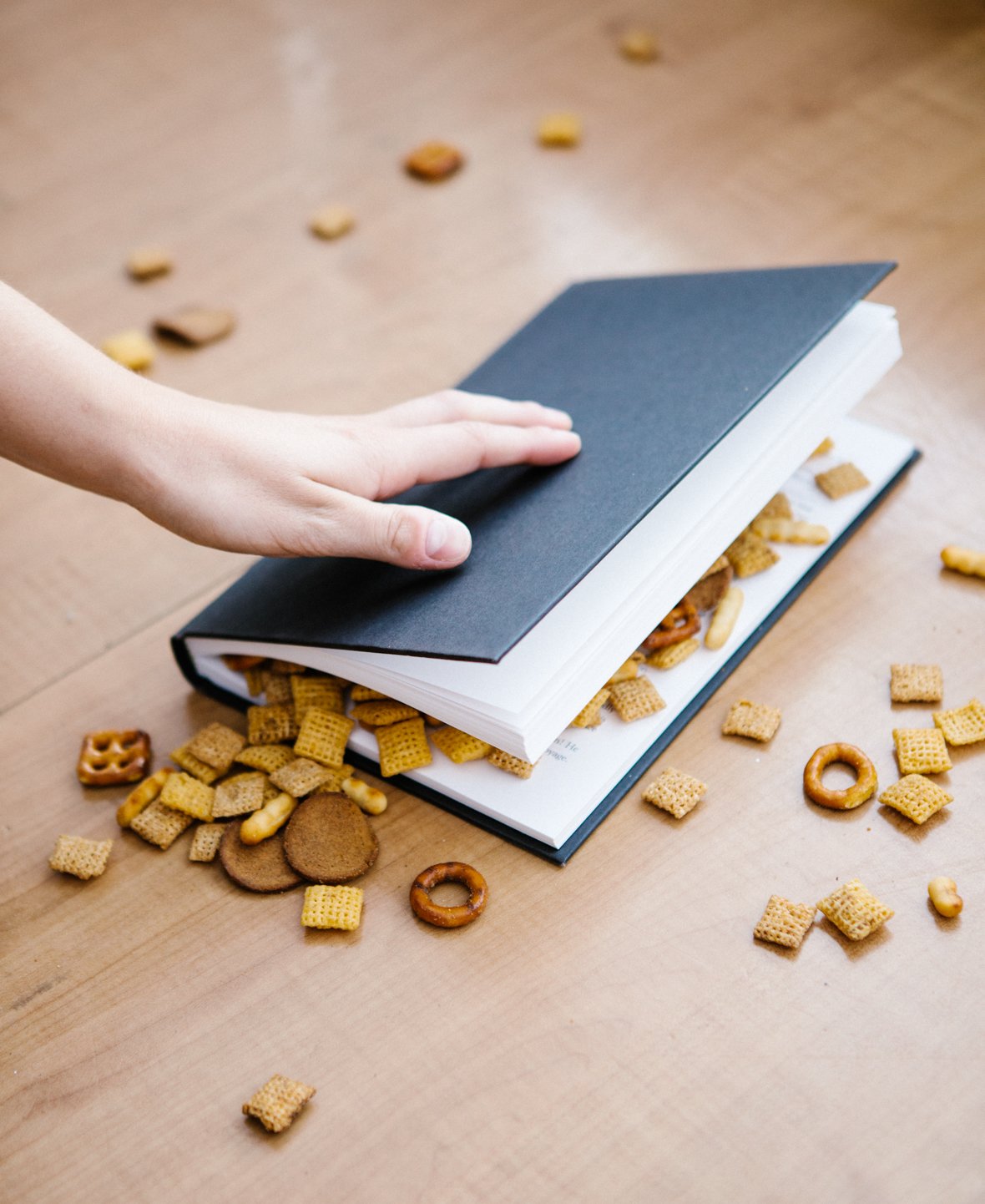 Last week, Chex Mix tweeted a pic of its product scattered across the pages of an open book and wrote: "Don't have a bookmark? Try using Chex Mix instead."
Twitter being Twitter, the response was instantaneous, ranging from corporate copycats (Oreo, Vitaminwater, Little Debbie) to justifiably angry booksellers like the Strand in New York City ("Don't have a bookmark? Use literally ANYTHING BUT FOOD OR DRINK, YOU MONSTERS."); Raven Book Store, Lawrence, Kan. ("Don't have a bookmark? Ask your local indie bookstore because they'll probably give you one for free and don't you dare mash food inside a precious book you idiots."); and Porter Square Books, Cambridge, Mass. ("Please let us give you a free bookmark instead.").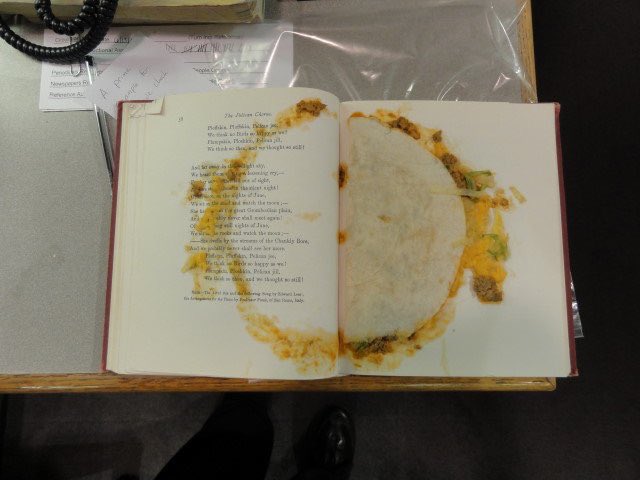 When I noticed that a librarian had shared an older photo of a "meat-filled taco flattened in the center of the book, ringing the two adjacent pages with an awful cheese corona," I started pondering infinite variations on a theme of book-related crimes, including Amazon "showrooming" and the breaking news Monday about a box full of hard drugs that was accidentally sent to a Vancouver bookstore.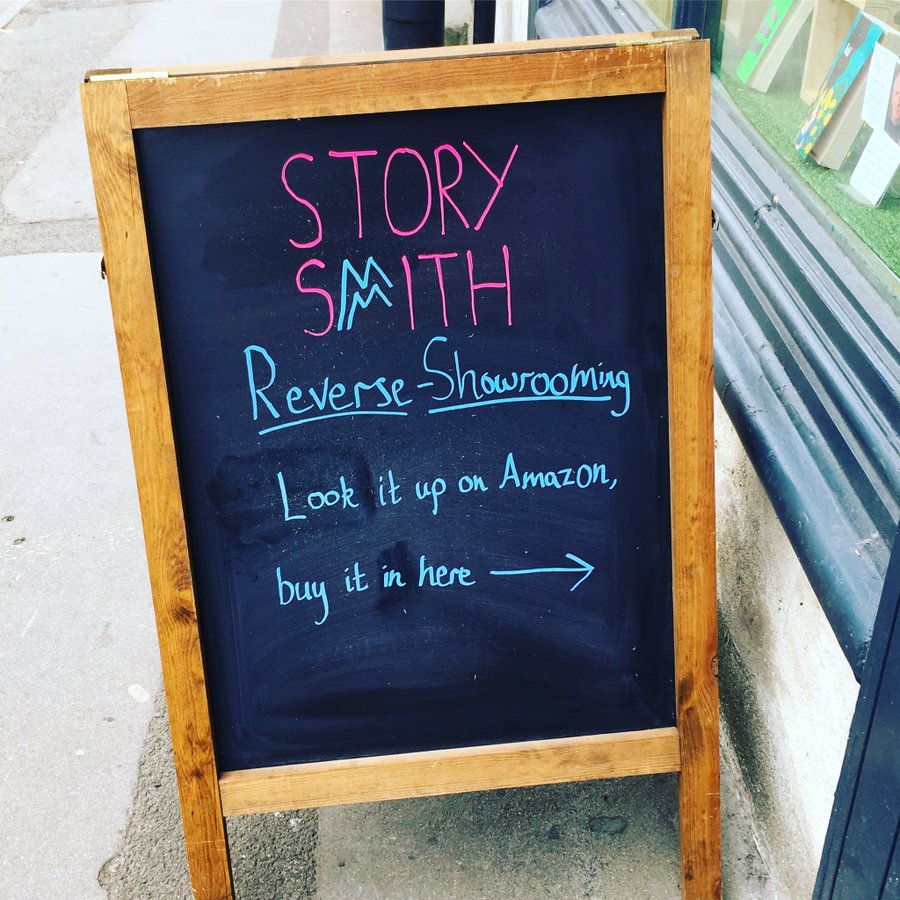 At Storysmith Books, Bristol, England
CSI Bookstore. "Book 'em, Danno" (apologies to later generations for the Hawaii Five-0 reference). Imagine some cynical, seasoned bookseller--a cross between Philip Marlowe and Harry Bosch--investigating bookstore crime scenes, though without the chalk body outlines or yellow caution tape (except for Banned Books Week displays).
The Palm Beach Daily News reported recently that Raptis Rare Books, whose inventory includes a 1632 Second Folio collection of the plays of William Shakespeare, has installed a high-tech security system designed by SelectaDNA and marketed in the U.S. by CSI Protect. An advanced forensic marking spray coats book thieves with a synthetic DNA-like material that police can use later to identify perpetrators and help build a case against them.
"We have had thefts. There's a reason why we're doing this. This is another level of protection for us," said owner Matthew Raptis, who already had security, including a network of cameras. Signs in the bookshop warn "DNA criminal tagging system in use to prevent theft." Maltis added: "Our whole focus is prevention. When potential thieves see it's in use here, they'll go elsewhere."
What about book dealers stealing from each other? I'm glad you asked.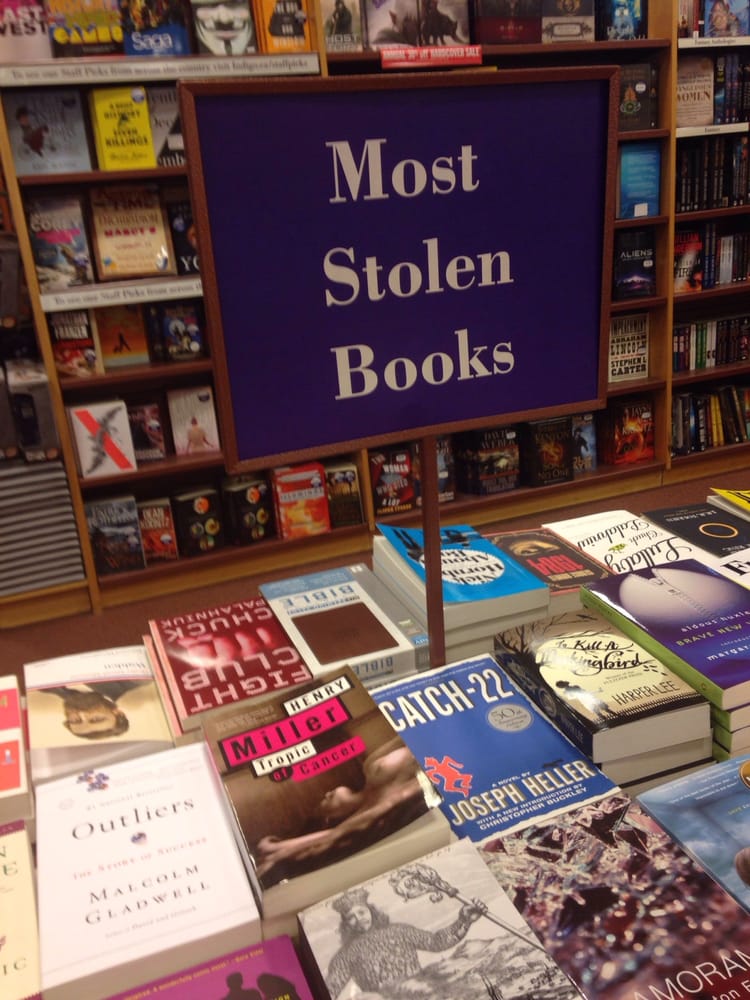 Display at Chapters in Ontario (via)
In 1880, James T. Ford sold "a lot of fine books" to New York bookdealer Henry Miller. The American Bookseller reported that Ford "represented himself as a bookseller doing business at 13 North Fifth Street, Philadelphia." After a few more attempts, Miller's suspicions were triggered and eventually Ford was taken into custody. Miller observed that if his fellow booksellers, when they miss a lot of stock, "would immediately notify the trade in other cities, book stealing would soon become one of the lost arts."
This did not turn out to be the case. In 1969, Cy Rubin, president of Bookmasters, one of New York's biggest chains, told the New York Times that "at least 90% of our shoplifting losses either come from professionals who have been sent out by [fellow] dealers with specific orders to steal specific books or by professionals who know which dealers are in the market for which books.... The amateurs, they don't make much of a dent."
George A. Hecht, general manager of the Doubleday Bookshops, added: "I agree that unethical book-dealers who buy stolen goods are a very real problem for us. In a way, the dealer is a lot more dishonest than the thief. At least the thief has a real need for money."
Rubin said he knew other bookdealers were using pro thieves as a regular source of supply partly because "there was no other reason why a person would try to steal 10 or 12 copies at a time of a book like Portnoy's Complaint.... For example, we buy Portnoy's Complaint for about $4.17 and sell it for $6,95, a markup of $2.78. A dishonest dealer can pay the shoplifter $1.50 for the same book and have a markup of about $5.50."
While most booksellers don't have Shakespeare folio editions to protect, inventory "shrinkage" has always been a key challenge to the bottom line. So what's an honest bookseller to do? Expensive security systems? The theory is that ubiquitous buzzing gates near POS "keep honest people honest," but the bad guys are almost always a step ahead and will get their share. Alert staff? I have to admit that, for all my skills as a bookseller, I made a lousy shoplifting cop.
Perhaps a medieval book curse is your best option: "For him that stealeth, or borroweth and returneth not, this book from its owner, let it change into a serpent in his hand & rend him. Let him be struck with palsy & all his members blasted. Let him languish in pain crying aloud for mercy, & let there be no surcease to his agony till he sing in dissolution. Let bookworms gnaw his entrails in token of the Worm that dieth not, & when at last he goeth to his final punishment, let the flames of Hell consume him for ever." Book 'em, Dante.