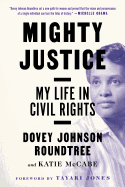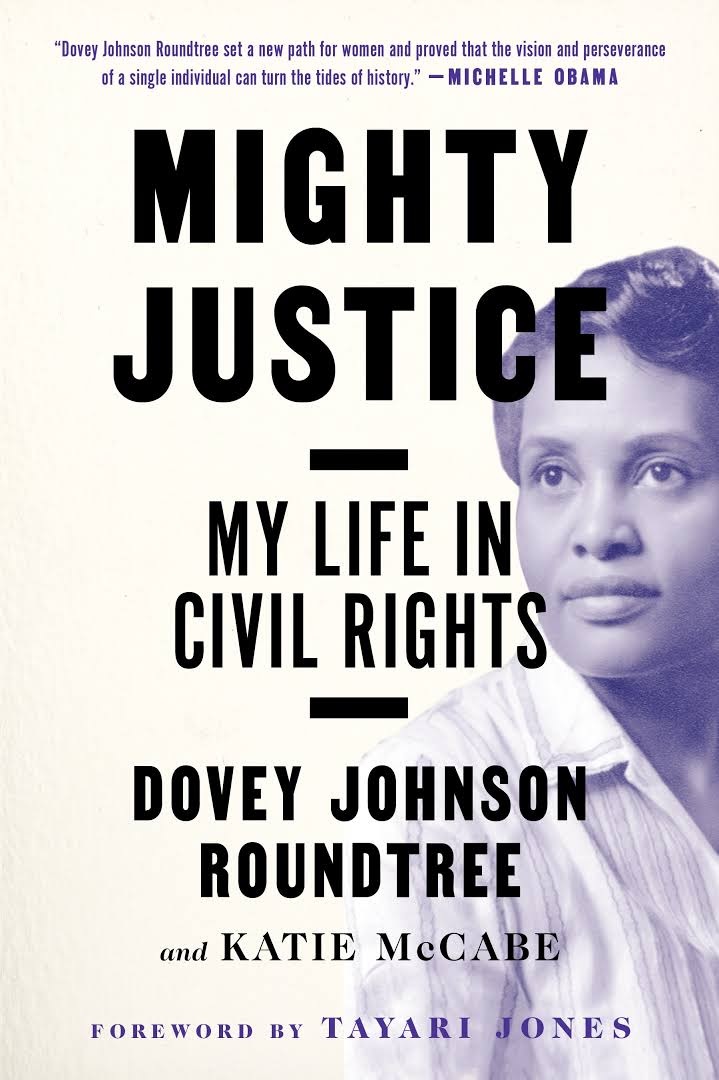 In this apparent golden age of memoir, some stories shine brighter than others. Mighty Justice: My Life in Civil Rights is one lucent example of the brighter variety.
After her father dies in the flu epidemic of 1919, five-year-old Dovey Johnson Roundtree moves with her sisters and mother into the Charlotte, N.C., home of her maternal grandparents. The adults, while poor, see to it that the girls get college educations--"the 'way out' for black people," Roundtree writes. In 1938, she graduates from Spelman, Atlanta's historically black college for women, with a dream of becoming a doctor but without funds for medical school. She takes a job as a schoolteacher in South Carolina and finds it less than fulfilling: "I couldn't long remain in the cocoon of that tiny town, tucked away in my classroom while the world charged forward."
In 1941, Roundtree heads to Washington, D.C., making use of her well-connected grandmother's acquaintance with Mary McLeod Bethune, adviser to President Roosevelt. Bethune is in charge of enforcing Roosevelt's ban on racial discrimination in hiring, including in the military. Feeling obliged to support the cause, Roundtree is among several dozen black women who enlist in the newly formed Women's Army Auxiliary Corps. After the war ends, she still wants a career in medicine, but goes to Southern California to make "conversion speeches" on behalf of Roosevelt's Fair Employment Practices Committee. In California, she meets the trailblazing black feminist lawyer Pauli Murray, who tells Roundtree that "the answer for black people... lay in the law."
Roundtree enrolls at Howard University School of Law in 1947, when a female law student was such a rarity that a clerk asks her, "Are you registering for your husband or your brother?" Upon graduating, Roundtree and a black male colleague open a practice in D.C., where "a black lawyer had to leave the courthouse to use the bathroom or eat a meal." Robertson and Roundtree start out drafting wills, but soon get cases through the local NAACP branch. Mighty Justice devotes individual chapters to Roundtree's most significant cases, like the desegregation powder keg Sarah Keys v. Carolina Coach Company.
In her afterword, coauthor Katie McCabe reports that she began trailing Roundtree when the lawyer was "an eighty-two-year-old diabetic with arthritis and failing eyesight who navigated the courtrooms and streets with a walker." Mighty Justice, which Algonquin Books is giving a second life following its 2009 publication with a university press, is the product of McCabe's decade-long collaboration with Roundtree, who died in 2018 at age 104, no doubt convinced that her work wasn't done. The awe-eliciting Mighty Justice makes an airtight case that Roundtree accomplished more than enough. --Nell Beram, author and freelance writer
Shelf Talker: This memoir by pathbreaking black attorney Dovey Johnson Roundtree deserves a spot alongside works by and about Pauli Murray and Barbara Jordan.