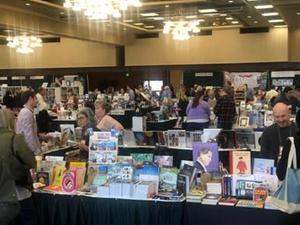 On a rainy morning in Portland, Ore., with the scent of maple syrup hanging heavy in the air, more than 150 booksellers gathered at large draped tables in a Red Lion banquet hall for the highly anticipated Authors Over Easy breakfast event, part of the Pacific Northwest Booksellers Association Tradeshow. Author Emily St. John Mandel, after joking with the crowd that it was "very nice to be here not talking about Station Eleven," expressed her general gratitude to the audience, saying, "Without independent booksellers, no one would have read my first three novels." YA crossover novelist Ruta Sepetys, whose new book is The Fountains of Silence, echoed St. John Mandel's sentiments, telling the room that without booksellers, she would be "nowhere." Referring to Salt to the Sea, she explained: "I really doubt anyone runs into a bookstore yelling, 'Quick! Give me a book about 9,000 Prussian refugees on a sinking ship!' "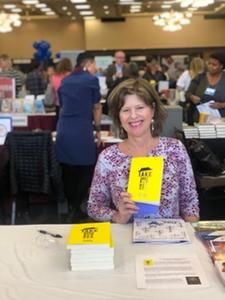 Kathryn Trueblood, author of Take Daily As Needed
PNBA bookkeeper Larry West estimated that 86 stores each sent an average of three booksellers to the show this year. "I like to judge 'by feel' rather than by numbers, which are a general guide but rarely capture anything significant," PNBA executive director Brian Juenemann added. "Officially, we had a slight increase in attendance this year. By the feel test, the show was spectacular."
With 96 featured authors, most of the ticketed events sold out, and the tradeshow floor was buzzing from opening to closing on Monday. Most attendees had full schedules, many of which were followed by offsite drinks. Random House sales rep David Glenn, while passing out the annual bourbon and doughnuts at the PRH booth, called the show "consistently and gratifyingly busy."
The show began with a day of educational sessions--the first half of the day was dedicated to events primarily run by booksellers, while the latter half was for authors and publishing sales reps to share upcoming titles. PNBA show director Greg Holmes commented that the education sessions were up by 20-30 people from last year, and Kim Hooyboer, manager of Third Place Books Seward Park in Seattle, Wash., said that Education Day was "especially fantastic this year and the sessions had really practical application." Hooyboer found the Sideline Merchandising & Small Store Display session particularly informative; at it, Kate Stone, a designer at Oni Press, explained sideline merchandising through easily applicable graphic design concepts.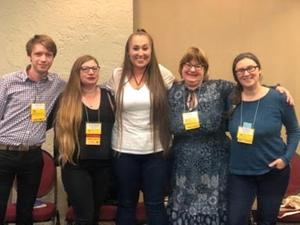 The awards committee (from l.): James Ganas of Third Place Books; Ariana Paliobagis of Country Bookshelf; Alexa Butler of Beach Books; Charlotte Glover of Parnassus Books and Gifts; and Hana Boxberger of Village Books.
On Monday evening, the PNBA Book Awards Committee advocated for a number of titles in front of a crowded room. The titles that got more than one mention were Sharma Shields's The Cassandra and Pete Fromm's A Job You Mostly Won't Know How to Do. Also mentioned by the committee were Tess Gallagher's Is, Is Not, Karl Marlantes's Deep River, Lauren Kessler's A Grip of Time and Ted Chaing's Exhalation, among others. As they do each year, after the awards committee members shared their chosen titles, they opened up the floor, and a number of other titles were mentioned. The shortlist will be announced in October, and the winners are announced in January.
Also at the show, Just in Case You Want to Fly by Julie Fogliano, illustrated by Christian Robinson (Neal Porter Books/Holiday House) was voted the BuzzBooks contest winner. (Some 200 punch cards were given to attending booksellers and librarians who visited seven exhibitors for quick pitches from publishers in a variety of genres and then voted on their favorite picks.) Just in Case You Want to Fly, recommended as "an inspirational book for anyone--parent or child--looking for support when facing a new challenge," will be displayed by many PNBA members this fall and be a featured title of the Give Books holiday catalog campaign.
PNBA's Brian Juenemann noted that following the fall show, publishers have the option to donate any remaining finished copies and ARCs to the Scappoose Public Library, the library selected by Oregon author Willy Vlautin through Rural Library Project. Colin Rea, who has directed the program for the past 13 years, will pass the program on to Fern Ridge Library colleague Caitlin McMahon starting in 2020. --Emma Levy