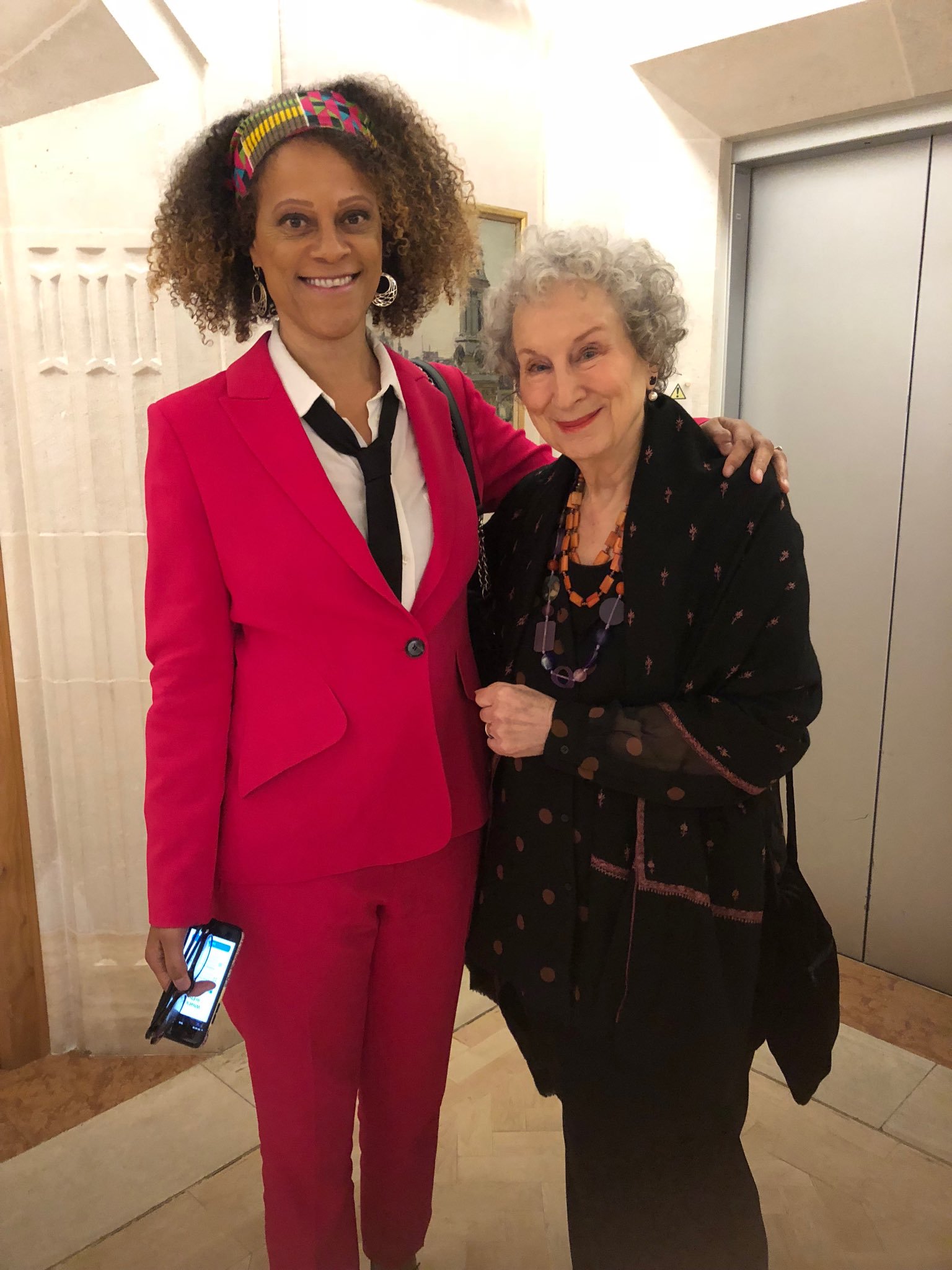 Bernardine Evaristo and Margaret Atwood (via)
In a striking move, the judges of the 2019 Booker Prize ignored the organization's rules against having more than one winner and awarded this year's prize jointly to Margaret Atwood for The Testaments and Bernardine Evaristo for Girl, Woman, Other. The two will split the £50,000 (about $63,170) award.
For Atwood, this is her second Booker, following The Blind Assassin in 2000. The Handmaid's Tale was shortlisted in 1986. At 79, she is the oldest Booker winner, and Evaristo is the first black woman to win the Booker.
The Booker has been awarded to two authors only twice before, in 1974 and 1992. After 1992, the rules were changed to block having two winners.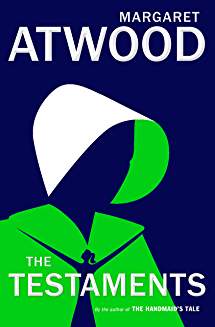 According to the BBC, after the prizes were announced in London last night, Atwood and Evaristo "stood arm-in-arm on stage and Atwood joked: 'It would have been quite embarrassing for me... if I had been alone here, so I'm very pleased that you're here too.' "
Evaristo said, "It's so incredible to share this with Margaret Atwood, who's such a legend and so generous. A lot of people say, 'I never thought it would happen to me,' and I will say I am the first black woman to win this prize, and I hope that honour doesn't last too long. I hope other people come forward now."
Chair of judges Peter Florence said that the five judges had deliberated for five hours, and "the more we talked about [the two books], the more we found we loved them both so much we wanted them both to win." After revealing the news to Booker Prize organizers, they were told to pick one winner. "We tried voting, but it didn't work," Florence said. "There's a metaphor for our times. And equally, today of all days, when rebellion is in the air, maybe we were a little moved by that." The judges held firm on having two winners, and after some conversations with the organizers, the split decision was accepted.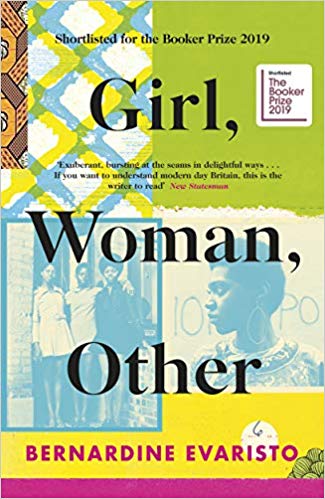 The judges said that Girl, Woman, Other "follows the lives and struggles of 12 very different characters. Mostly women, black and British, they tell the stories of their families, friends and lovers, across the country and through the years. Joyfully polyphonic and vibrantly contemporary, this is a gloriously new kind of history, a novel of our times: celebratory, ever-dynamic and utterly irresistible."
Florence said that there is "something utterly magical" about the book's characters. "They give a wonderful spectrum of black British women today. There are stories there of people who haven't been visibly represented in contemporary literature, and in that sense this book is groundbreaking, and I hope encouraging and inspiring to the rest of the publishing industry."
The Testaments, of course, is a sequel to The Handmaid's Tale, and Florence said that the book "does massively more than follow the single story that we had from Offred. This is beautiful in its depth and exploration of the world of Gilead. As [Atwood] has said, it might have looked like science fiction back in the day, although all of the extremities are rooted in fact. Now it looks more politically urgent than ever before."