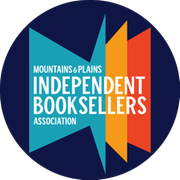 There was a moment at MPIBA's FallCon 2019 in Denver that I'll never forget. It occurred during the Writing the West Breakfast on Saturday, when horse trainer Ginger Gaffney, author of Half Broke (Norton, Feb. 2020), introduced herself.
"I'm a very introverted person," she said. "I didn't speak until I was seven. I could have, but as a child I thought it was a dangerous occupation to talk.... What I ended up doing was just witnessing the way humans moved and that's how I ended up being in the world. So when I'm in a space like this I spend more time looking at you than listening because it's the way inflection goes on a face, the way hands move, the way people walk. That's got a lot more language than actual words. And that makes me a very good horse trainer.... Language is movement."
As booksellers, publishers and writers, we are people for whom words matter. We are also often keen observers of human behavior, an essential trait for a gifted handseller (and we are all, to some extent, handsellers). With Gaffney's words echoing in my mind, I found myself observing the interactions among book people in a different light, and thinking that while language is most definitely movement, it's also brilliantly multi-faceted.
"It was a memorable show, and I left with so many more books than I have in recent years," Nicole Magistro of the Bookworm of Edwards, Edwards, Colo., observed. "The number of authors in attendance was astounding, and it felt more holistic than ever before. Booksellers in the same conversations with publicists, sales reps, authors, nonbook vendors and service providers made it feel like it was possible to get so much work done in Denver. The children's breakfast is always a major highlight for me."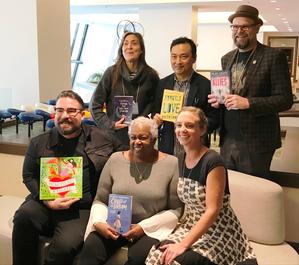 Children's Author Breakfast: (back row, l.-r.) Rebecca Stead, David Yoon, Alan Gratz, (front, l.-r.) Isaac Fitzgerald, Sharon Robinson, & Lauren Casey of Second Star to the Right Books
While indie booksellers were praised lavishly by visiting authors, a couple of moments resonated at the Children's Author & Illustrator Breakfast.
"Books build empathy," said Alan Gratz, author of Allies (Scholastic). "Empathy leads to compassion, and compassion brings change. Books can change the world. And that's where you come in. As booksellers you are in the incredible position to put just the right book in the right hands at the right moment.... All during this trade show you'll be hearing about how amazing things start at independent bookstores and it's true. That happens every time a kid walks into your bookstore and finds exactly the right book at exactly the right time. That is what you do. That is the superpower of an exceptional bookseller."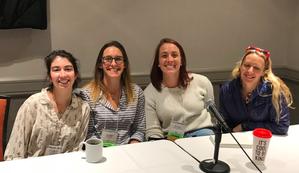 "Handselling Outside Your Comfort Zone" panelists: (l.-r.) Maya Aurichio & Sara Knight of Maria's Bookshop, Sam Foster of Tattered Cover Book Store, & Julia Buckwalter of Back of Beyond Books
"You guys are not just booksellers or bookstore owners, as incredible as the stores are. You are really community activists," Sharon Robinson, author of Child of the Dream: A Memoir of 1963 (Scholastic), noted before leading a morning audience of bleary-eyed booksellers in a heartfelt rendition of "This Little Light of Mine," the children's gospel song. "As we talk about the importance of children finding their voice, I want them to know this was one of my favorite songs during the movement period and I want to share that with them."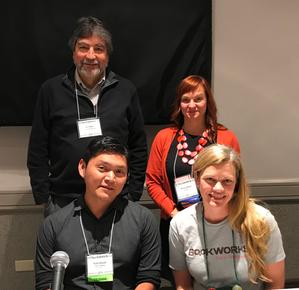 "Marketing Your Store as a Safe Space" panelists: (clockwise from top left) Matt Miller of Tattered Cover Book Store, Nicole Sullivan of BookBar, Amanda Sutton of BookWorks Albuquerque, & Kirbie Bennett of Maria's Bookshop
Many of the sessions in FallCon's program this year focused on sparking dialogue among booksellers, publishers and/or writers, including Conversations with Colleagues: Round Table Discussions; Women's Voices Author Luncheon; Authors for Breakfast; PubLunch: Booksellers & Publishers Chat; and YA Lit Lunch.
"I love the new programming," said Valerie Koehler of Blue Willow Bookshop, Houston, Tex., "Having the opportunity to hear so many authors from so many genres was great. Their short pitches gave the perfect hook for all the booksellers. The trade show floor is intimate but not cramped. I found a few gift items I had not seen before. This new format should encourage more stores to bring more frontline booksellers, which is what I plan to do next year. The MPIBA folks are true friends and colleagues. It's a relaxed atmosphere with plenty of time to chat, network and problem solve store procedures and policies."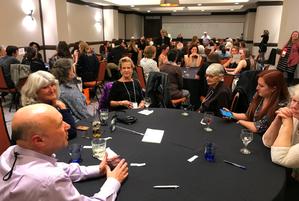 The stakes and spirits were high at Literary Trivia Challenge
"Generosity" was the key word for Catherine Weller of Weller Book Works, Salt Lake City, Utah. MPIBA's FallCon is "an event that the board, the advisory council, and the volunteers all work very hard to put on. They don't do it for themselves, nor do they do it in a vacuum. Publishers, BINC, the booksellers who contribute to BINC, and friends all make the MPIBA show like a homecoming of sorts. Some of my best friends don't live in Salt Lake City. But they're in the book industry so I see them once or twice a year. We became friends because we came together at MPIBA shows not just because of a shared passion for books, but in a spirit of mutual respect and mutual aid. There were a lot of young booksellers at this year's FallCon. I watched them step up to podiums, speak up in rooms, and form their own collegial relationships that will hopefully serve them as well as mine have served me. Evolution is pretty cool."
After the show, MPIBA's marketing & communications manager Jeremy Ellis observed: "I'm extremely proud to have a hand in growing the FallCon. It was amazingly gratifying to see so many of our colleagues come to Denver and enthusiastically participate in all the programs. As a bookseller, I took for granted the amount of planning and effort required to pull off a successful trade show. Hearing booksellers respond positively to the authors and education sessions was a thrill. I can't wait to do it again."
At MPIBA's FallCon 2019, Ginger Gaffney's "language is movement" theory seemed right at home among its language kin--reading, writing and conversation.