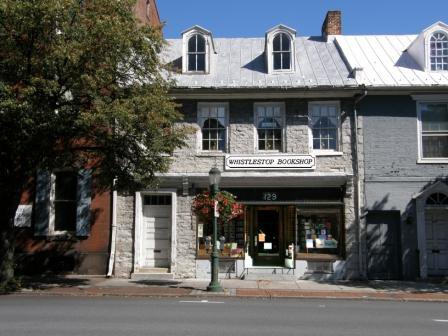 On Halloween, a powerful rain storm hit the Whistlestop Bookshop, Carlisle, Pa., and led to a leak in the roof that caused several thousand dollars' worth of damage to the store's inventory, as well as to the roof and ceiling.
On Facebook, owner Jeff Wood posted: "It's only happened once before in 34 years. The rain came down so hard and so fast that a major breach opened above the general fiction section. Mulan and I moved as fast as we could. Hundreds of books have been destroyed. Conservative estimate of some thousands of dollars gone.... I am heartsick of doing triage on my handpicked books. I have been here for 12 hours, and it has been a sad Halloween. Thank you in advance for understanding the challenges in the days ahead."
After sharing the news on social media, however, "his business was flooded with customers and online orders," PennLive reported.
With plans to be out of town over the weekend, Wood used the Facebook post to let customers know why several shelves were suddenly empty, and "the next morning, volunteers were already lining outside, hoping to be of assistance--or at the very least, make a few purchases," PennLive added.
"I know that people can have an emotional connection [to books], because I've done this for a long time," Wood said. "But I didn't expect that extremely fast reaction on the part of our customers. Literally the next day, there were people outside in their work clothes, wanting to come in and help. I had to sort of fight them off very nicely, and say thanks, there's nothing left to clean up! All day, apparently, that happened. People came in and bought madly."
His post ultimately went viral, and he had a new problem: keeping up with the new business: "It touched a nerve and created a huge response," he said. "That gave us a year's worth of orders on our website in two days. And it caused my poor wife, who was minding the store on Saturday, to feel like a tidal wave had struck her.... To get a year's worth of orders in two days is astonishing. It's very touching."
Wood is now confident the store will bounce back from the loss: "We've been stubborn for 34 years, and we're not about to stop because of a little water. We own this building, we're intensely in love with this building. Books can be replaced. Some of that stuff that has gone out of print, that can't be replaced and that breaks my heart. But everything else can be replaced."