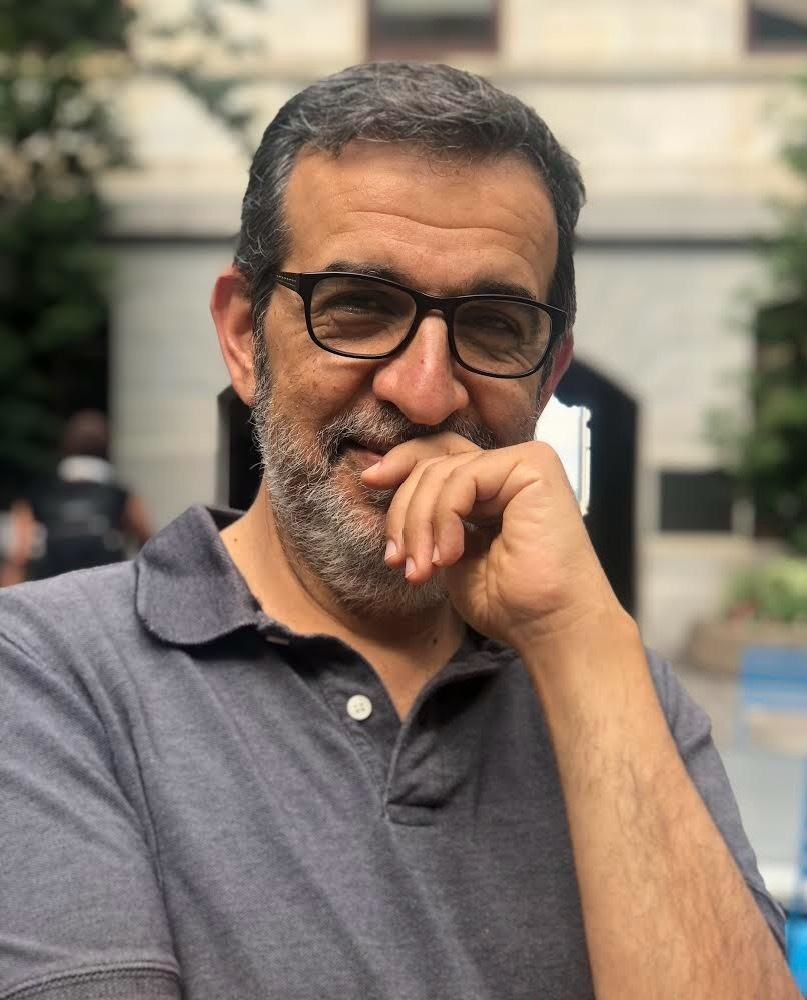 photo: Basama Youssef
Ezzedine C. Fishere is a writer and a Middle East political insider who worked as an Egyptian diplomat and for the United Nations and now teaches at Dartmouth College. Fishere is the author of seven novels in Arabic, two of which have been nominated for the International Prize for Arabic Fiction. The thriller The Egyptian Assassin (Hoopoe/AUC Press) is his second to be translated into English.
On your nightstand now:
The Blood Journey by Egyptian author Ibrahim Eissa (author of The Televangelist). It is about the genesis of violence in the name of Allah. This novel is the only literary work I have seen that humanizes--and demystifies--the prophet, his wives, his companions and the Quranic text. I'm surprised it didn't get the wrong attention often reserved for "sacrilegious" writing. It is a very long novel; this is why it is still on the nightstand--otherwise I wouldn't have put it back before finishing it.
The other book is The Ottoman Empire, 1700-1922 by Donald Quataert, which also has a lot of killings--including fratricide. I don't know, maybe I am in a "bloody" season--maybe it is the influence of my own The Egyptian Assassin!
Favorite book when you were a child:
It was a detective series in Arabic called The Five Adventurers, where five kids from Cairo come across a crime and endeavor to solve it. The series represented a perfect world; the kids were nice to each other--a real team, with caring parents and a faithful, smart dog. They were loved by everyone, including the police commissioner, and lived in a safe environment where the crime--which they inevitably resolved--was the only aberration. These books were published each month, and I can't begin to describe the excitement of getting the new one--and the laborious effort to fundraise its price, as well as the total immersion in its world, until the last sentence brings me back to mine.
Your top five authors:
The first one is easy: Margaret Atwood, without hesitation. Selecting the next four is hard because there are so many great authors (none compete with Atwood, though). Without particular order: Paul Auster, Yusuf Idris, Amin Maalouf and A.B. Yehoshua. But for each one of these four I can add four others from classic writers like Leo Tolstoy and Anton Chekov to contemporaries like André Malraux, Naguib Mahfouz, Philip Roth and Romain Gary, but I was told not to do that so I won't.
Book you've faked reading:
Be My Knife by David Grossman. The woman I was desperately in love with when the book was published had read it and told me it reminded her of us, so I started reading it. I loved the beginning but couldn't make it past the first 50 pages. I knew it was my fault, my lack of something, but I just couldn't finish it. And the more I tried the less I managed. So, I hope she is not reading this.
Book you're an evangelist for:
The Blind Assassin by Margaret Atwood. I don't think I need to explain why. I don't think anyone should even try and explain why this is a brilliant book. People should just read it. This is how evangelist I am about it; don't ask questions--just read the book!
Book you've bought for the cover:
A Brief History of Seven Killings by Marlon James. I still have to read it (on a pile next to the nightstand).
Book you hid from your parents:
The Summoner by Yusuf Idris. I read it by mistake--I wasn't supposed to see the book, and the opening scene was so graphic I knew immediately I should continue reading it in hiding. It is amazing how kids know these things--and get attracted to them.
Book that changed your life:
Bertrand Russell's A History of Western Philosophy. I think literature saved my soul, and this book saved my mind. I read it at an early age--14, I think--and it spared me dogmatic thought and fanaticism of all kinds. It didn't recruit me to any philosophy--not even the version Russell advocated. Instead, it instilled in me a sense of intellectual skepticism that helped me develop my intellect while avoiding ideologies and their consequences.
Favorite line from a book:
Believe it or not, this was the hardest question in the list. I have none. I felt so bad about not having a favorite line that I contemplated going back to one of my favorite novels and picking some decent line (something witty, smart and deep). But the truth is I have none. I am not sure I even like the idea of a favorite line. I sometimes see people quoting "lines" from my own novels (usually in Arabic--haven't made it thus far in English yet). And it alienates me; these were not meant to be "lines"! They were just sentences. Probably I have deeper issues to deal with.
Five books you'll never part with:
The Blind Assassin (no explanation needed--see above). Mr. Mani by A.B. Yehoshua, which I think is the best novel about Jerusalem. Children of the Alley by Naguib Mahfouz--a phenomenal novel. Leo Africanus by Amin Maalouf, which is probably the best novel written about identity struggles and trappings. And "The Human Condition" (aka Man's Fate) by André Malraux.
Book you most want to read again for the first time:
The Glass Bead Game by Hermann Hesse (while listening to J. Sebastian Bach for the first time).
Your most desired achievement in life:
Get hosted on Fresh Air by Terry Gross or on The Author's Voice by Deborah Treisman.