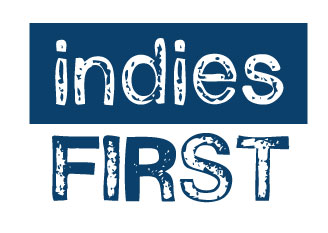 Saturday was the seventh annual Indies First celebration and 10th annual Small Business Saturday, marked across the country by many independent bookstores with events ranging from authors working as booksellers and author signings to raffles, snacks and beverages and passport programs that rewarded readers who traveled to participating bookstores in their area.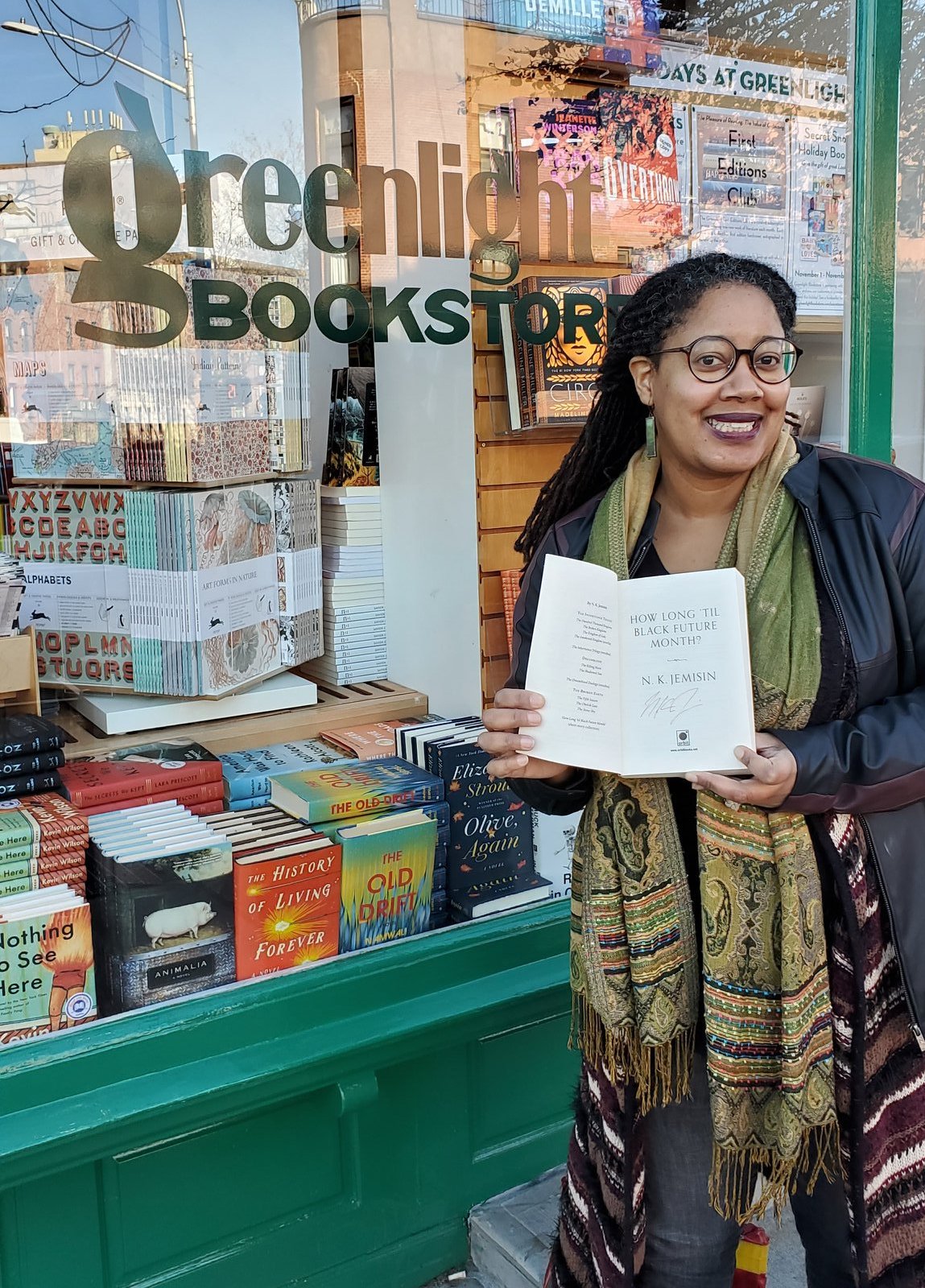 N.K. Jemisin
On Saturday, science fiction and fantasy author N.K. Jemisin, the 2019 spokesperson for Indies First, left signed copies of her books at Greenlight Bookstore, WORD Bookstore and Café con Libros in Brooklyn, N.Y. Jemisin also tweeted regularly leading up to the event and made a video promoting Indies First.

Stores around the country reported enthusiastic crowds and solid business.
Books & Books in south Florida had "a wonderful Small Business Saturday," social media coordinator Caroline McGregor reported. "In addition to SBS swag and unveiling recently signed books from the Miami Book Fair, we held a book themed scavenger hunt that resulted in some very happy #ShopSmall customers."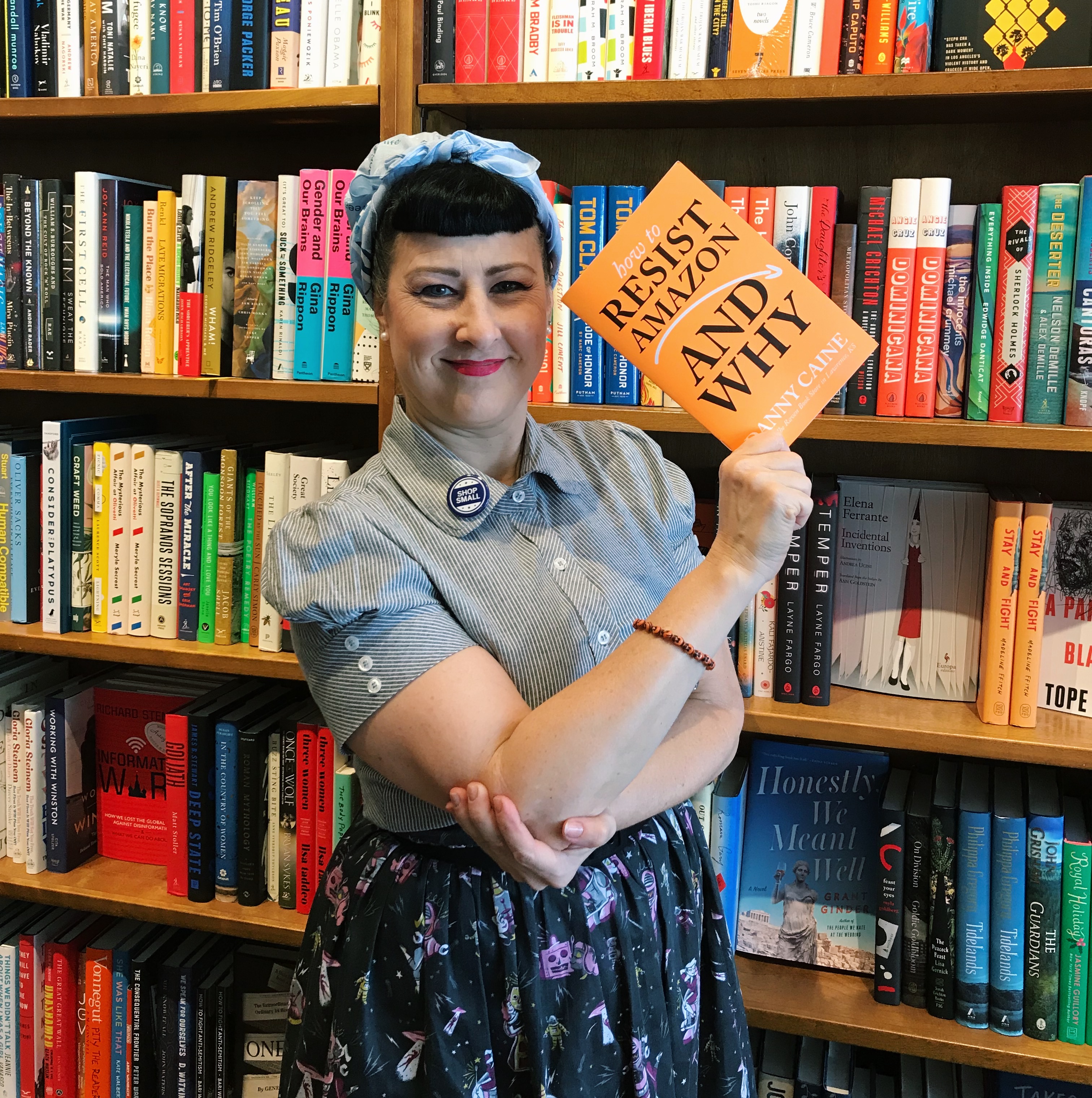 Katherine Wakefield, manager of Books & Books' Coconut Grove store, shares a message.
The Bookworm in Omaha, Neb., celebrated just about every possible indie-related event of the holiday weekend, beginning with Plaid Friday, "the relaxing and enjoyable alternative to the big box Black Friday." Customers who came in on Friday and wearing plaid received 10% discounts on regularly priced items, and those who donated canned food for the Food Bank for the Heartland received 10% discounts on one item--up to five cans and five items. In addition, purchases for two book and toy drives were discounted 10%.
Indies First and Small Business Saturday events included two storytimes and raffles for $50 gift certificates based on purchases and posting pictures taken at the store on social media. Today, Cider Monday, customers at the Bookworm can get a free cup of warm cider.
The store reported that "we had a blast" on Saturday and thanked customers for their "love & support--from buying every book here to stopping in when you're home for the holidays once every other year, and every way in between--we have felt it and we are grateful."

Created by Willard Williams of the Toadstool Bookshops, Keene, Peterborough and Nashua, N.H., Cider Monday is "an antidote to Cyber Monday." As Williams puts it: "Stop in for a free cup, maybe a snack, see some real people and have a good time checking out what's in our stores. It's sure to be a heartwarming experience. We can promise no crashing websites, our 'servers' won't be overloaded and we bet they will even smile at you!" The event has attracted some 15 bookstores across the country as well as other small businesses.
Eight Cousins, Falmouth, Mass., is celebrating Cider Monday in two ways: customers who visit the store can sample hot cider from Maison Villatte while shoppers online can receive an Eight Cousins sticker with their orders. On Small Business Saturday, local author Christina Laurie signed copies of The Lobsters' Night Before Christmas.
After opening in late spring, Reads & Company, Phoenixville, Pa., celebrated its first Indies First/SBS, reporting "big shopping going on at PXV's beautiful first-class independent bookstore... on our way to our best day ever!" The store stayed open later than usual, until 9 p.m., and continued with extra hours on Sunday.
Another relatively new bookstore, Run for Cover, San Diego, Calif., which opened about a year ago, wrote Saturday night on Facebook, "What a day this Small Business Saturday was! You came, you shopped, you brought your smiles, your kindness, your adorable children and cute dogs and you showed us once again that when we all band together to support an indie bookseller this bookstore can have a chance. You all are part of this indie's story. Let's keep writing it together."
At Skylight Books in Los Angeles, Calif., five local authors, including Liska Jacobs (The Worst Kind of Want), Sarah Gailey (Magic for Liars), Brandy Colbert (The Revolution of Birdie Randolph), AJ Dungo (In Waves) and Steph Cha (Your House Will Pay), volunteered as guest booksellers for the day. General manager Mary Williams reported a busy Indies First and, somewhat unusually, a busy Black Friday as well. Williams added that a book of the season has yet to emerge, but Jia Tolentino's Trick Mirror continues to sell extremely well.

In Chicago, Ill., Unabridged Bookstore had its biggest Small Business Saturday ever and the third busiest day in store history, dating back to the store's opening in 1980. Co-owner Patrick Garnett reported that local artist David Lee Csicsko was on hand for more than three hours to greet customers and sign copies of his book The Skin You Live In and the new tote bags he designed for the store.
Libro.fm is offering several specials today, which the digital audiobook platform is calling Real People Monday. New members can get four audiobooks for the price of one and current members can receive two free audiobooks for each friend beginning a membership via the Real People Monday offer. Throughout the day, Libro.fm is highlighting partner booksellers and will "share what they love about selling books, their bookstore, and their audiobook must-listens."