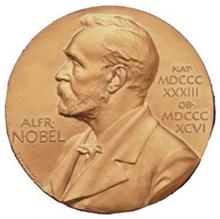 In the latest round of turmoil involving the Nobel Prize for Literature, two members of the five-member "external committee" have quit, one citing the slow pace of reforms and the other citing the award of the prize this year to Austrian author, playwright and translator Peter Handke. Handke has been widely criticized for supporting the late Yugoslavian and Serbian president Slobodan Milošević, who was accused of genocide and war crimes following the collapse of Yugoslavia in the 1990s.
In an article in the Svenska Dagbladet, Kristoffer Leandoer said he was resigning because he has "neither the patience nor the time" to wait for the committee to make its reforms, according to Reuters (via the New York Times). "The Academy and I have a different perspective on time, one year is far too long in my life and far too short in life of the Academy."
Gun-Britt Sundstrom said in a statement in Dagens Nyheter that the choice of Handke "had been interpreted as if literature stood above politics and she did not share that view," Reuters wrote.
In response to the two resignations, Mats Malm, permanent secretary of the Swedish Academy, said, "We are grateful for the significant effort they made during the year and we are now reviewing how the work of the Nobel Committee will be organized for the 2020 Nobel Prize in literature."
The crisis at the prize began in late 2017 with accusations of assault by 18 women against French photographer Jean-Claude Arnault, who was married to Academy member Katarina Frostenson. After a series of protests and resignations, the Academy didn't have enough members to elect new members.
The Academy postponed the 2018 award (it was awarded in October to Polish novelist and poet Olga Tokarczuk, at the same time the 2019 award went to Handke). It also announced a series of reforms involving governing statutes, organizational structure and working procedures--and the addition of five external members, including Leandoer and Sundstrom.
But with the award of the 2019 prize to Handke, the Swedish Academy created a new controversy that detracts from its efforts in trying to overcome the ongoing crisis.