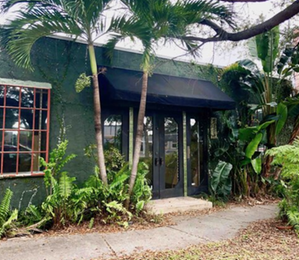 The courtyard entrance to Tombolo Books.
Tombolo Books, which debuted as a pop-up shop in St. Petersburg, Fla., in 2017, is opening a permanent store location this Saturday.
The 1,550-square-foot bookstore, in the Grand Central District, at 2153 First Ave. South, will carry some 7,000 titles across a wide array of genres and for all ages. In addition to stocking classics and bestsellers, co-owners Alsace Walentine and her wife, Candice Anderson, plan to highlight books from emerging and marginalized voices, books in translation and books from small and independent presses.
"The time is right for a specialty bookstore like ours in St. Petersburg," said Walentine. "In talking to customers at our pop-ups, we've seen there's significant demand for a place that brings all types of people together, with the common bond being a love for reading."
Their event plans, meanwhile, include book clubs for both teens and adults, author events and more. The first scheduled author event is a book launch for Florida author Sterling Watson, whose novel The Committee is being published by Akashic in January.
Before moving to St. Petersburg, Walentine worked at Malaprop's Bookstore/Cafe in Asheville, N.C., for more than 15 years, where she managed the store and oversaw its events program. During Tombolo's two years as a pop-up shop, the store sold more than 4,000 books.