The holiday season ended solidly, according to a sampling of booksellers around the country, who noted a range of bestsellers--but no single blockbuster--trouble with late shipments, particularly via FedEx, a short holiday season following a late Thanksgiving and a growing appreciation of shopping local by customers.
At DIESEL: a bookstore, Brentwood, Calif., sales were "about flat" with last year, which was a good year, "so we're not complaining," said co-owner John Evans. The late Thanksgiving didn't have as much of an impact as expected, but "it's always tricky when Christmas and Hanukkah are close together."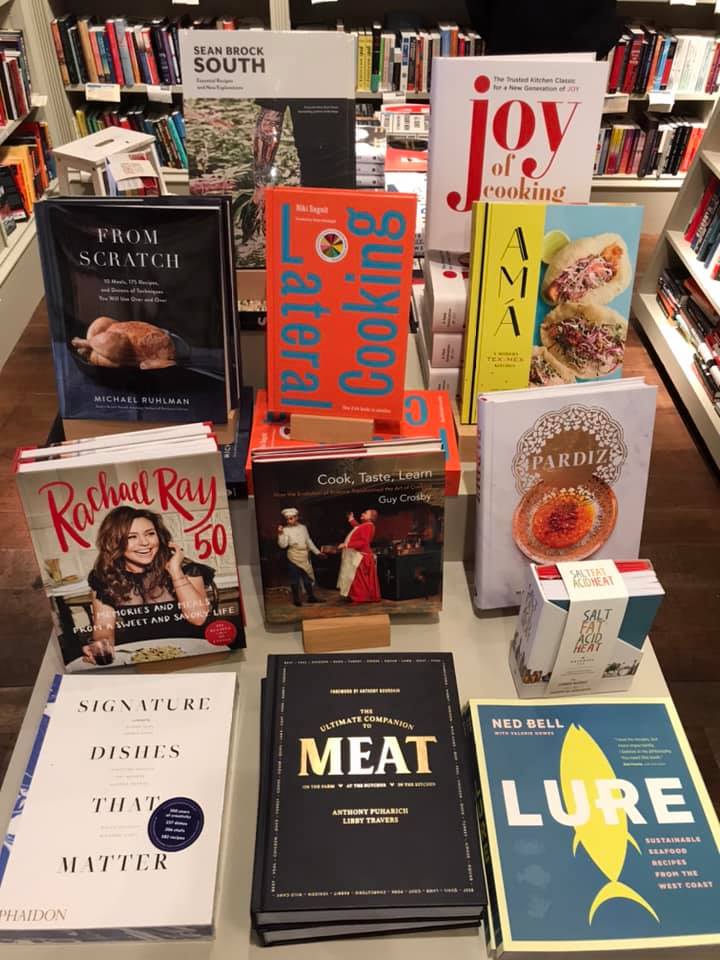 Cookbook suggestions from Diesel
DIESEL expected some delivery and supply problems, "which is not a good sign," and missed Baker & Taylor. Evans gave a special shout-out to Penguin Random House and Macmillan's MPS for their "outstanding" turnarounds of orders.
There were few surprise titles, although Evans said that DIESEL "wasn't ready for" The Boy, the Mole, the Fox and the Horse by Charlie Mackesy, which went out of stock quickly.
DIESEL's new store in San Diego, which opened in November, has been "welcomed with open arms and enthusiastic support, with greater sales than we had anticipated," Evans said, noting that customers appreciate the store in and of itself but also as "an alternative to Amazon, who they have become very uncomfortable with, especially with regard to books."
The mood of customers was high, Evans added, "because the stores are a refuge, a relief and a revelation."
At Fountain Bookstore, Richmond, Va., customers "seemed happy, and most made a point to say shopping with Fountain was a deliberate choice," said owner Kelly Justice, adding that the short season "made everything seem concentrated and hectic, but it also made everything more fun." The store had fewer customers making larger purchases, and wrapping, including Hanukkah wrapping, was more popular than in previous years. Operations manager Carl Kranz added that customers' comments about shopping at Fountain were a sign that "the public is becoming more educated on how they spend their money and where it goes."
Fountain had delivery problems: "Virtually everything delivered by every shipping method from most companies had delays this year," Justice said. "Some were extreme."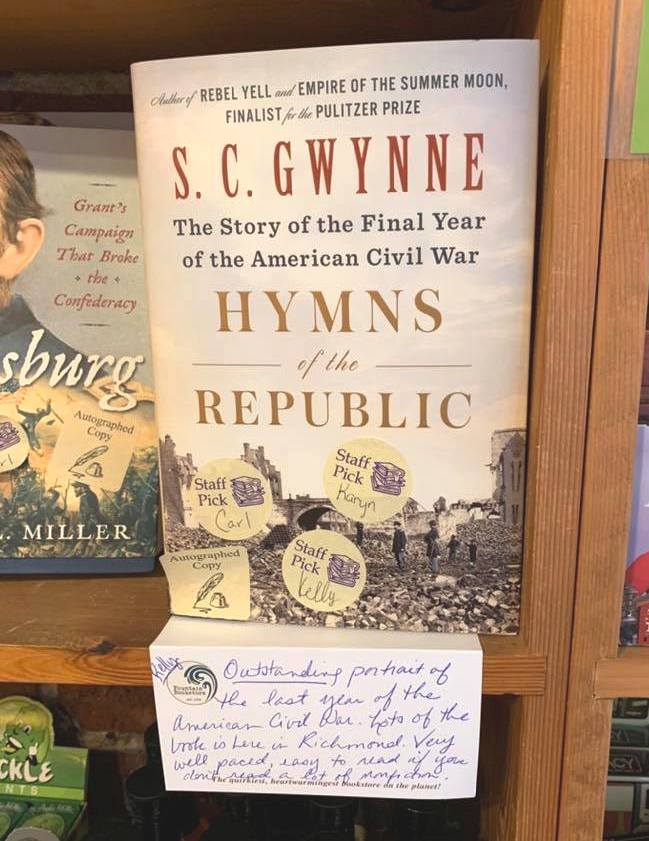 Staff picks outsold major bestsellers, and history titles were in demand, Kranz said, and these included two staff picks: Vicksburg by Donald L. Miller and Hymns of the Republic by S.C. Gwynne. "2018 had a couple clear winner big-ticket books that we had no connection with but, in general, people seemed to be a lot more willing to be led around the store and more likely to go with staff recommendations," he added.
A strong regional title was a revised edition of 60 Hikes Within 60 Miles of Richmond by Phil Riggan. Fountain also sold "a tremendous amount of gift items," including temporary tattoos for adults by Tattly and "Bless Your Heart" stickers from Good Southerner, as well as Christmas Cow Bells by Mollie Cox Bryan and Drink Like a Geek by Jeff Cioletti as stocking stuffers.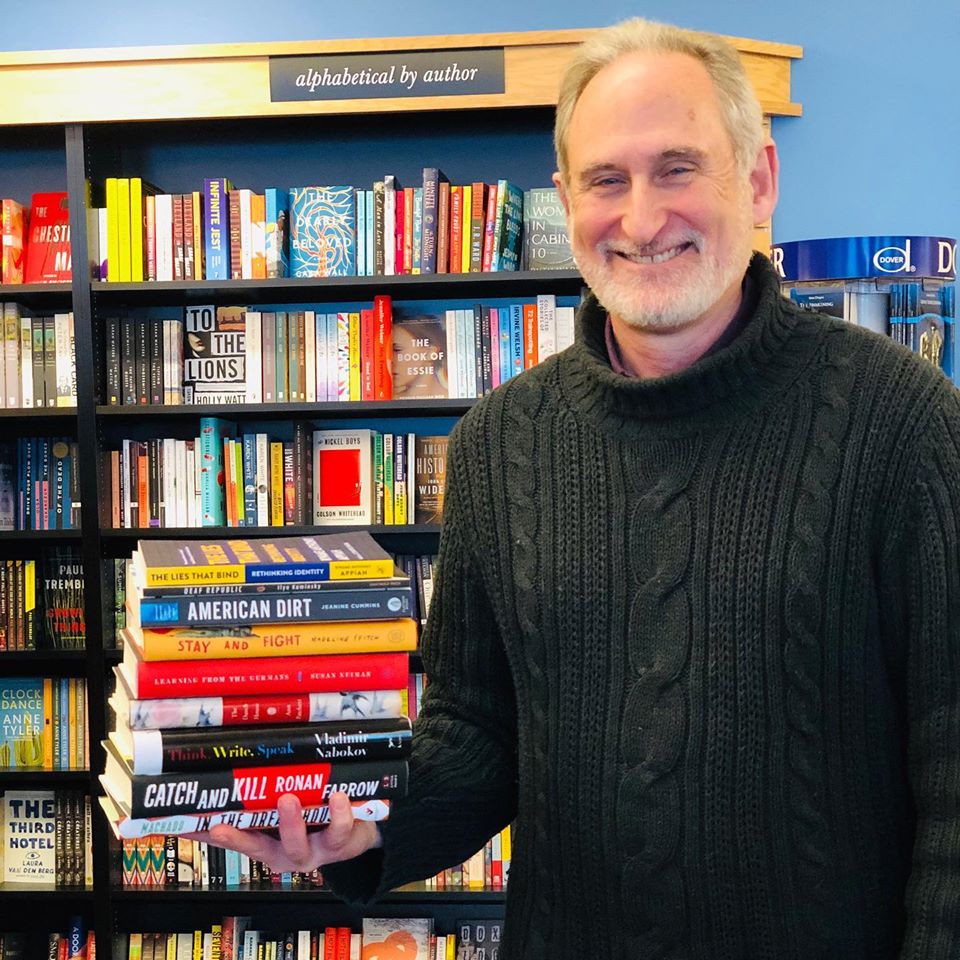 Michael Herrmann with favorite current and upcoming books.
At Gibson's Bookstore, Concord, N.H., sales were "solidly flat, and we'll count that as a win," owner Michael Herrmann said. He attributed the results to a relative lack of events in November and December compared to the same period in 2018. The compact season made the store more vulnerable to bad weather, which included "rain from start to finish" on one key Saturday. Still, Herrmann reported, "the mood of shoppers was good. People were out and about and they were not stingy."
There were no surprise bestsellers or runaway bestsellers like Michelle Obama's Becoming in 2018. The Dutch House by Ann Patchett was "the clear winner for fiction, with Erin Morgenstern's Starless Sea a strong second." Richard Powers's The Overstory did very well for a paperback. "It's pretty hefty and gorgeous to look at, so it played the role of a hardcover gift for many shoppers," Herrmann noted. Where the Crawdads Sing by Delia Owens and Educated by Tara Westover had "surprisingly strong second Decembers." A strong regional title was New Hampshire's 52 with a View: A Hiker's Guide by Ken MacGray.
The most popular nonfiction titles were Bill Bryson's The Body and Running with Sherman by Chris MacDougall. "Malcolm Gladwell underperformed maybe by a little but was still in the expected range of sales, and ended in a tie with David McCullough, which is pretty good in any year," Herrmann said.
Popular non-book items included several Trump-related items from the Unemployed Philosophers' Guild, especially its "impeach-mints."
Herrmann described the in-stock situation this holiday season as "better than in recent memory. Even the titles we had the most trouble getting were in stock for something like 22 of the 24 days in December, including The Overstory and Brilliant Maps for Curious Minds by Ian Wright." But, he emphasized, deliveries were a problem. "FedEx was consistently two to three days behind on Ingram shipments for most of the month, and that made it very difficult to keep promises on special orders and to predict what would be need to be ordered every morning. We did okay, but the anxiety level was pretty high." He added a sentiment that many booksellers would likely applaud: "We hope that Ingram's discussions with their carriers will be breathtakingly vivid and frank."
At Prince Books, Norfolk, Va., deliveries were a problem early in the holiday period but improved, owner Sarah Pishko reported. "After the two Ingram/FedEx hiccups in early December, we had no more problems with the Hagerstown FedEx facility."
She noted, too, that in general, "Ingram did a pretty good job of staying stocked with the popular titles." Still, Nothing Fancy by Alison Roman was difficult to obtain, and The Dutch House and Blue Zones Kitchen by Dan Buettner ran out. Pishko praised Simon & Schuster and Ingram for "staying on top" of Salt, Fat, Acid, Heat by Samin Nosrat (which was hard to find a year earlier), saying "we sure sold a lot of copies of that the week before Christmas." --John Mutter