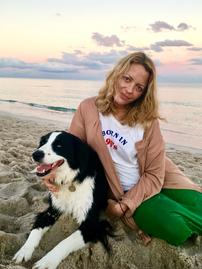 Elizabeth Wurtzel
Elizabeth Wurtzel, whose 1994 memoir, Prozac Nation: Young and Depressed in America, "won praise for opening a dialogue about clinical depression and helped introduce an unsparing style of confessional writing that remains influential," died January 7, the New York Times reported. She was 52. Writer David Samuels, a friend since childhood, said the cause was metastatic breast cancer. After her diagnosis, Wurtzel became an advocate for BRCA testing--something she had not had--and wrote about her cancer experience.
Writing about her final illness was a natural choice for Wurtzel, "who had for a quarter-century scrutinized her life in relentless detail, becoming a hero to some, especially to many women of her generation and younger, but also drawing scorn," the Times noted.
"Lizzie's literary genius rests not just in her acres of quotable one-liners," Samuels said, "but in her invention of what was really a new form, which has more or less replaced literary fiction--the memoir by a young person no one has ever heard of before. It was a form that Lizzie fashioned in her own image, because she always needed to be both the character and the author."
Wurtzel's other books include More, Now, Again: A Memoir of Addiction (2002) and Bitch: In Praise of Difficult Women (1998).
In the afterword for the 1995 edition of Prozac Nation, Wurtzel wrote: "If Prozac Nation has any particular purpose, it would be to come out and say that clinical depression is a real problem, that it ruins lives, that it ends lives, that it very nearly ended my life; that it afflicts many, many people, many very bright and worthy and thoughtful and caring people, people who could probably save the world or at the very least do it some real good, people who are too mired in despair to even begin to unleash the lifespring of potential that they likely have down deep inside."
Ronan Farrow tweeted: "I met Lizzie in law school. She started mid-career as I was starting young. We were both misfits and she was kind and generous and filled spaces that might have otherwise been lonely with her warmth and humor and idiosyncratic voice. She gave a lot to a lot of us. I miss her."
In an Atlantic tribute headlined "The Glorious, Messy Life of Liz Wurtzel," Deborah Copaken observed that Prozac Nation "forever changed the literary landscape. It redefined not only what women were allowed to write about, but when they were allowed to write about it: their messy, early decades in medias res. Mental illness was no longer something to be hidden or shameful. It was a topic like any other, to be brought out into the light.... I find myself wishing, right now, that Liz could send us a missive from the beyond, one last word to let us know she made it there safely, that the music was just meh, and that she was already asking everyone not how they died but how they lived, helping each to find, without shame, the humor, pathos, and humanity in their narrative arcs."