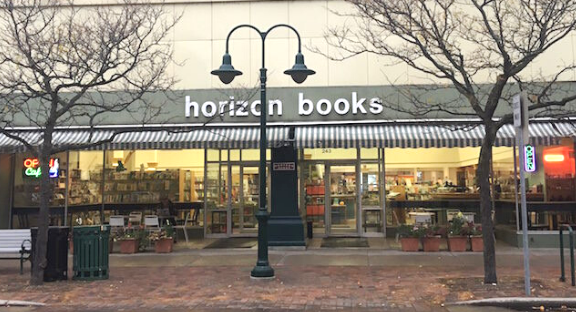 Horizon Books in Traverse City, Mich., will close after 58 years in business. The Record Eagle reported that Horizon was founded in 1961, "and over the years the company has operated bookstores in Traverse City, Petoskey, Beulah and Cadillac. The Beulah store closed in the 1980s, the Petoskey store closed in 2017 and for the time being, the Cadillac store will remain open." The owners posted an announcement on Facebook yesterday.
"For all that time we've tried to do one thing. And that's be the best bookstore we could possibly be. This was a very hard decision, but it's time," said Amy Reynolds, co-owner with her husband, Vic Herman. "This was my first job out of college. This sounds funny in these 'Me Too' times, but I fell in love with my boss. And we've been married for 28 years." She added that they are not in a hurry to close, but plan to be out of the book business sometime in 2020.
Retirement will give them the opportunity to spend more time together and do more traveling, said Herman, who stepped back from daily management of the store several years ago. "Book people are just so enjoyable to be around. And I'm very saddened to have to quit doing this. I never got into it for the money, I got into it because I loved it. Our sales are down, but we could survive financially. We're just getting to a point in our lives where we want to do some other things."
The Traverse City flagship store has been on Front Street for most of its five decades, moving to the current 22,000-square-foot, three-level location in 1993.
Reynolds told the Traverse Ticker: "When we moved here, we weren't the only big bookstore in the country. There were a lot of them, like Borders. It was the golden age of bookstores. That model is still healthy, and there are a lot of stores opening, but the new stores now are more like 2,000 square feet. We're at 22,000 square feet."
She has experienced "a lot of hugs and tears" since word of the closure spread. Reynolds and Herman are now focused on finding the right buyer for the property, with a preference not to sell to a retail store or restaurant, but instead to see the space used culturally. "We're in some verbal talks for the building," she noted. "Nothing's been put on paper yet, but we hope to come out with an announcement in a month or so."
Selling Horizon Books itself is not an option. The Ticker wrote that the owners "have essentially been floating the bookstore as property landlords, charging below-market rent to the business to keep it sustainable."
"We haven't really had income from the business other than we've collected rent," she said. "It's not a business model (that's transferable)... you'd have to triple or quadruple the rent. There's also a certain pride of ownership; it'd be very hard to let go of." Once the right buyer is secured, the store will likely host a community party to commemorate its closing, Reynolds noted, adding: "We feel a responsibility to downtown. We've been here for 58 years. We've seen good times and bad times, and we feel a responsibility to the community for what it will become."