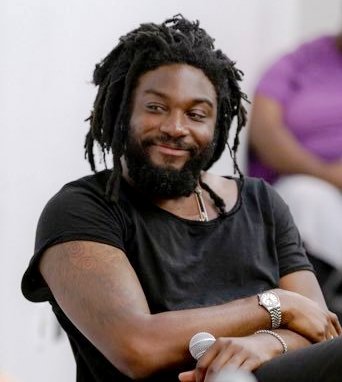 Jason Reynolds
Jason Reynolds has been named the National Ambassador for Young People's Literature. Yesterday morning, Librarian of Congress Dr. Carla Hayden appeared with Reynolds on CBS This Morning with Gayle King to make the announcement. The Library of Congress, the Children's Book Council and Every Child a Reader established the program in 2008 to "emphasize the importance of young people's literature." Reynolds, the seventh ambassador, succeeds Jacqueline Woodson, who served from 2018 to 2019.
Reynolds is the author of the National Book Award finalist Look Both Ways: A Tale Told in Ten Blocks, the Newbery and Printz-honored Long Way Down and nine other titles for middle-grade and teen readers. During his two-year term, he hopes to use his platform, "GRAB THE MIC: Tell Your Story," to "redirect his focus... by listening and empowering students to embrace and share their own personal stories." As he tours the country, he will partner with the nonprofit organization StoryCorps, which "celebrates the stories of everyday Americans," to record interviews with students and "create a true story archive of America's children."
"I can't even begin to describe how excited I am to embark on this opportunity as ambassador," Reynolds said. "I don't expect it to be easy, but I'm certain it will be fruitful. My mission is to take a different approach: instead of explicitly encouraging young people to read, my goal is to get them to see the value in their own narratives--that they, too, have a story, and that there's power not just in telling it, but in the opportunity to do so."

Reynolds served as spokesperson for Indies First for two years, in 2018 and 2019. At BookExpo, he received the Indie Champion Award, presented by independent booksellers.
An inauguration ceremony will be held on Thursday, January 16, at 10:30 a.m. at the Library of Congress in Washington, D.C. --Siân Gaetano, children's and YA editor, Shelf Awareness