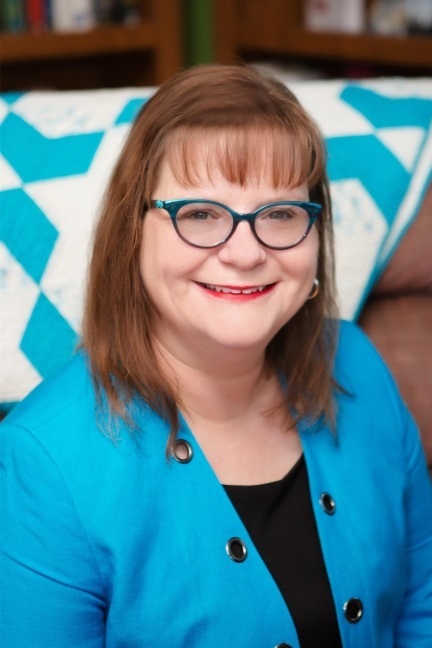 photo: JP Ball Photography
Jess Montgomery is the author of the Kinship Historical Mysteries series, set in 1920s Appalachia and inspired by Ohio's true first female sheriff. The newest title is The Hollows (Minotaur, January 14, 2020). The series has garnered awards including a Montgomery County (Ohio) Arts & Cultural District (MCAD) Artist Opportunity Grant; an Individual Excellence Award in Literary Arts from the Ohio Arts Council; and a John E. Nance Writer-in-Residence appointment at Thurber House (Columbus, Ohio). Montgomery is also a newspaper columnist, focusing on the literary life, authors and events of her native Dayton, Ohio, for the Dayton Daily News.
On your nightstand now:
I'm reading Pachinko by Min Jin Lee. This sweeping, multi-generational tale follows a poor Korean immigrant family in Japan. I'm so awed by how Lee masters the omniscient point of view with intimacy and ease, giving me empathy with each character--so far. (I'm only a fifth of the way through, and I'm anxious for several of the characters!) Next up for me in fiction will be Circe by Madeline Miller. A re-imagining Greek mythology from a woman's point of view--yes, please!
In nonfiction, I'm reading, a bit at a time, because I wish to savor each entry, Fierce by Alice Connor. The subtitle says it all: "Women of the Bible and their Stories of Violence, Mercy, Bravery, Wisdom, Sex, and Salvation." She humanizes each woman in a believable and empathetic way. Next up in nonfiction will be Bad Feminist by Roxane Gay. Yes, I'm behind on the reading curve!
I also always have a deep stack of mysteries that I'm longing to read. That stack includes: Lady in the Lake by Laura Lippman, Jar of Hearts by Jennifer Hillier, The Vanishing Man by Charles Finch, The Last Place You Look by Kristen Lepionka, This Tender Land by William Kent Krueger and A Deadly Divide by Ausma Zehanat Khan.
Favorite book when you were a child:
I have a two-book tie for favorite book as a child. Harriet the Spy by Louise Fitzhugh, which I re-read 13 times in a row in seventh grade. (I credit that book with my surviving junior high!) The other is Mystery on Hopkins Island (originally titled Turn Around Twice) by Elisabeth Ogilvie, which was already obscure by the time my Grandmother Lou found it in the "Save the Children Federation" secondhand store where she worked and sent it to me. But the novel's premise involves a young writer winning an island off the coast of Maine in an essay contest, visiting said island, solving a mystery and finding her first love. Of course, I loved it at age 13 or so! And I think it very much shaped my imagination both as a burgeoning young writer and about the possibilities that life offered outside my family and home.
Your favorite authors:
John Steinbeck, Sue Grafton, William Kent Krueger, Mary Oliver.
Book you've faked reading:
War and Peace by Leo Tolstoy. But I will read it all someday, for real. I promise. Really.
Book you're an evangelist for:
Winter's Bone by Daniel Woodrell. I adore this novel for so many reasons: the poetic yet spare language, the deep conflict not just between characters but between community expectations and individual needs (a theme I always love), the evocation of setting. I fell in love with this book before it was adapted to film, but I also love the film. The novel runs deeper, however--and the title and the opening line capture the whole of the novel with such apparent ease that I'm left breathless with awe, both as a writer and a reader.
Book you've bought for the cover:
The Hidden Life of Trees by Peter Wohlleben. To be fair, the title is as compelling as the cover.
Book you hid from your parents:
I can't think of a particular book that I hid. I had so many, either purchased or from the library, that I think controversial titles hid themselves amongst the acceptable titles. But I definitely hid my "teeny bopper" heartthrob magazines, featuring all the swoon-worthy boy bands and singers, between my box spring and mattress.
Book that changed your life:
The Christian Agnostic by Leslie D. Weatherhead. A wise Methodist minister gave me this book when I was in my 20s, after I had just left my conservative home and was struggling with many questions. I'd go so far as to say this book not only changed my life, but also saved it.
Favorite line from a book:
"The most difficult thing to read is time. Maybe because it changes so many things," from The Night Circus by Erin Morgenstern. This novel is such a mastery of structure, and thematically centers in part on the concept of time, so I believe this quote captures the heart of the story. I also love this line because I think a great deal about how both individual and cultural perceptions toward people and events can change over time.
Five books you'll never part with:
The Grapes of Wrath by John Steinbeck. The Illustrated Man by Ray Bradbury. Man's Search for Meaning by Viktor Frankl. On Writing by Stephen King. Tao Te Ching by Lao Tzu. A Thousand Mornings: Poems by Mary Oliver.
Book you most want to read again for the first time:
The Pearl by John Steinbeck. I re-read it every year or two, but always with a bit of longing for that exquisite first time of experiencing the sheer poetry and beauty of the language and story.
Books from a genre that you love that might surprise people:
Somehow, people are surprised that I love science fiction and fantasy, particularly several contemporary authors: John Scalzi, Kameron Hurley, N.K. Jemisin.