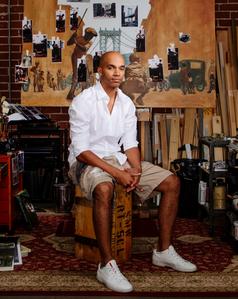 Kadir Nelson
(photo: David Walter Banks)
Earlier this week, Kadir Nelson won both the Coretta Scott King Illustrator Award (which goes to an illustrator who demonstrates "an appreciation of African American culture and universal human values") and the Randolph Caldecott Medal for The Undefeated, written by Kwame Alexander (Houghton Mifflin Harcourt).
Congratulations! You received both the Coretta Scott King Illustrator Award and the Caldecott Medal for The Undefeated. (The book also received a Newbery Honor!) Like all of your books, this really shows how a picture book can be a work of art. How did you approach illustrating this work?
I created the paintings with vignettes set against the blank page, similar to some of the covers I've painted for the New Yorker featuring Nelson Mandela and Dr. Martin Luther King, Jr. I liked the juxtaposition of images against stark white backgrounds. I initially thought that painting the images without backgrounds might speed the process, but I was mistaken because they took just as long but, coincidentally, I loved the way each image sat on the page, and it gave the book a different look than all of my other books.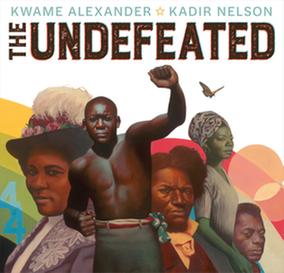 What drew you to this book? Why did you want to illustrate it?
I loved the power and conciseness of the text. Kwame is a master with words, rhythm and storytelling. And The Undefeated was immediately attractive to me as an artist. Illustrating The Undefeated was a no-brainer. It fits squarely within the work that I do and aspire to do.
The Undefeated is extremely powerful. Do you think that's why it is resonating with readers? Is there more that draws readers in?
I think the marriage of text and art in this book is just the right mix. The spaces between each work well together. Poetry leaves a lot of white space on the page, and so does the art. It was a serendipitous alchemy and, fortunately, readers have responded positively to it.
You are no stranger to accolades from the CSK: in 2004 you received an Illustrator Honor for Thunder Rose and again in 2005 for Ellington Was Not a Street; you received the 2007 Illustrator Award for Moses and, in 2009, you received both the CSK Author Award and Illustrator Honor for We Are the Ship. You did this again in 2012, receiving both the CSK Author Award and Illustrator Honor for Heart and Soul. And then, in 2013 and 2014, you received two more CSK Illustrator Honors for I Have a Dream and Nelson Mandela. To ask the most general of questions (I apologize), how does it feel to be winning this award now? Does your history with the award or the stage of life you're currently in affect how you approach it?
I'm grateful to receive the CSK award each and every time. Even though I put everything I have into each work, accolades like this are not guaranteed, so I'm thrilled to receive this honor and I will enjoy every moment it brings.
You received a Caldecott Honor in 2007 for Moses and another one in 2008 for Henry's Freedom Box. Now, a little over 10 years later, you're receiving your first Caldecott Medal. Again, general, but how does it feel to become a Caldecott Medal winner? And to win for this book?
I'm still shell-shocked by the news, but tremendously grateful to all the librarians and professionals who supported and heralded this book. Not sure if it will all ever sink in, but I'm cherishing this moment. I'm very proud of The Undefeated and happy that more readers will have access to it.
Is there anything else on your mind after these exciting events?
A three-year national tour of the original artwork from The Undefeated will begin on February 1 at the Calvin Art Gallery at Calvin University in Grand Rapids, Mich. The exhibition is free and open to the public, and these paintings will be on view for the public to see in person, so I'm excited that the new accolades will further elevate the book and the accompanying artwork! --Siân Gaetano, children's and YA editor, Shelf Awareness