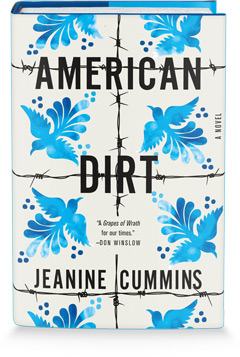 Commentary on American Dirt continues, particulary since Flatiron Books canceled Jeanine Cummins' bookstore tour.
In a Washington Post story called "Threats against the author of 'American Dirt' threaten us all," Ron Charles lamented that threats of physical violence had caused the tour to be cancelled. "More than 30 years after the Ayatollah Khomeini issued a fatwa demanding the assassination of Salman Rushdie for writing The Satanic Verses, here we are terrorizing one of our own novelists."
He called the book "a melodramatic thriller tarted up with flowery ornaments and freighted with earnest political relevance. The book might have fallen unremarked into the great vat of sentimental suspense fiction that New York pumps out every year, except for an unprecedented collision of promotion and denunciation."
A major problem, he wrote, was the publisher's decision to make the book "the defining novel of the immigrant experience--an emotional story powerful enough to galvanize the sympathy of a nation," the kind of effort, however flawed, that has a powerful history: "It's worth recalling an earlier melodramatic thriller tarted up with flowery ornaments and freighted with earnest political relevance by a white woman named Harriet Beecher Stowe. We can debate how egregiously Stowe appropriated the lives of black people and exploited their suffering, but President Abraham Lincoln said that Uncle Tom's Cabin sparked the Civil War. If American Dirt similarly motivates some Americans to fight against this country's immoral immigration actions along the southern border, then more power to Cummins. And once engaged in that struggle, these readers might move on to better books."
He ended: "The best critics of American Dirt are clearly motivated by a desire to defend the integrity of Mexican culture and the humanity of our most vulnerable residents. But in today's toxic atmosphere, those valuable critiques have been drowned out by a cowardly chorus of violence."

---
In a statement, the National Coalition Against Censorship focused on the how the tour cancellation hindered discussion of a variety of issues that might have taken place in bookstores. "Threats that are made in an effort to force the cancellation of an author's appearance at a bookstore threaten freedom of speech and the open exchange of ideas. Debate is essential in a free society, and bookstores play an integral part in the process by which ideas are disseminated and debated. An author appearance does more than provide customers the chance to meet the person behind the book. It gives them the opportunity to ask questions, express their own opinions, and even to disagree...
"Given that some of the stores had sold as many as 300 tickets for these events, it is likely that thousands of people were denied an opportunity to hear Cummins. This does more than disappoint the book's fans. Readers critical of the book have lost public forums to express their views as well. Some might have wanted to peacefully protest in front of the store.
"The cancellation of the American Dirt tour is a lost opportunity to discuss immigration--one of the most fraught issues in American life today--as well as other important subjects, including who gets to tell what stories, whose voices are prioritized in our cultural spaces and how the lack of diversity in publishing impacts the stories and authors given platforms."

---
The Guardian noted that booksellers are handling sales of the book in a variety of ways. City Lights, San Francisco, Calif., is not selling the book while Green Apple Books, also in San Francisco, is displaying copies of books by Latinx authors next to American Dirt.
Cellar Door, Riverside, Calif., is donating 20% of the store's profits from American Dirt to RAICES (the Refugee and Immigration Center for Education and Legal Services).
---

In Slate, Laura Miller spoke off the record with "several editors at Big Five houses [about] what went wrong in the publication of American Dirt, how it might have been avoided, and how the landscape has changed--if at all."
"Some of this is generational," a white assistant editor told Miller in discussing how such a book could have be published. "I would have spoken up 100% about how problematic the book was."
An editorial director of an imprint seconded the generational aspect, saying, "Over 50 it's just white people who went to Harvard, but the pool of people under 35 is much more diverse."
Positioning was a key problem in the American Dirt controversy, Miller wrote: " 'From what I've heard,' said one senior editor, 'it's a really quick, pacey, dramatic read, and there's a whole coterie of people who will say that to their friends, and word of mouth will move across the country like wildfire.' In other words, the novel is a work of commercial fiction, much like Where the Crawdads Sing and other titles that sell in large numbers while generally flying under the radar of cultural critics and political commentators. Where Cummins' publisher went wrong, in this formulation, was to present American Dirt as if it was also, in the senior editor's words, 'a contribution to a vital understanding of this issue,' with the implied claim of representing the issue accurately rather than using it as a backdrop for an entertaining suspense story. 'It's a commercial book that was mispositioned as literary,' another senior publishing executive observed."
Miller pointed to several examples of somewhat similar books positioned differently. A recent one is Don Winslow, "a white author who writes bestselling thrillers about Latin American drug cartels in which the characters are arguably just as much stock figures as those in Cummins' novel, yet his work is not presented as social commentary, with all the heightened attention such pretenses bring with them."
The book, still the bestselling fiction title in the country, will not be hurt by the controversy. Miller wrote: "No one I spoke to expected the controversy over American Dirt to harm the novel's commercial prospects. 'The consumers don't care. They. Don't. Care,' said one editor with exasperation. 'If it does register, they'll just write it off as PC.' While one source said he was sure the incident is 'humiliating' to Cummins, her publisher, and other people associated with the book, you can wipe your tears away with money.' "
In conclusion, Miller quoted a publisher on how the controversy might affect publishers. "I don't see this leading to a decision not to acquire a book that we would have acquired in the past at all. But I do think that in cases where there's a mismatch between the identity of the character and author, the value of those books over books where the author is a member of the community being written about will be more closely scrutinized. There's a fine line between free expression--which can mean publishing books that not everyone on the staff likes--and publishing responsibly, ethically, and with proper due diligence."

---
In one of the funnier, pointed commentaries on the controversy, McSweeney's published "As a 28-Year-Old Latino, I'm Shocked My New Novel, Memoirs of a Middle-Aged White Lady, Has Been So Poorly Received" by Carlos Greaves.
It reads, in part, "When I set out to write this novel, which takes place in Iowa and centers around 46-year-old Meradyth Spensir and her 8-year-old son Chab, my goal was to shed light on the struggles that white middle-aged women in America face--struggles that I, a 28-year-old Latino man, don't know much about but I would imagine are pretty tough. And as far as I'm concerned, I freaking nailed it....
"Despite... minor cultural inaccuracies, I still think Memoirs of a Middle-Aged White Lady captures the essence of what it means to be a middle-aged white woman in America. I admit that, when the idea first came to me, I was worried that, as a non-woman, a non-white person, and a non-middle-aged person, I wouldn't be able to do this story justice. But the question I kept asking myself was: if not me, then who? Who was going to write about the middle-aged white woman experience in this country? Middle-aged white women? Can middle-aged white women even type? I'm seriously asking this because, again, I didn't actually talk to any when I was working on this novel, so I would genuinely like to know."