I am not a robot.
We have to check that box most days just to get on with our digital lives. I did so twice yesterday; it worked both times. Whew. But I also suddenly realized that if they ever go to a voice-enabled Siri/Alexa/etc. version of this security feature, I won't be able to get it to work because I can't say "I am not a robot" out loud and not sound robotic. Try it. You'll see. We're doomed.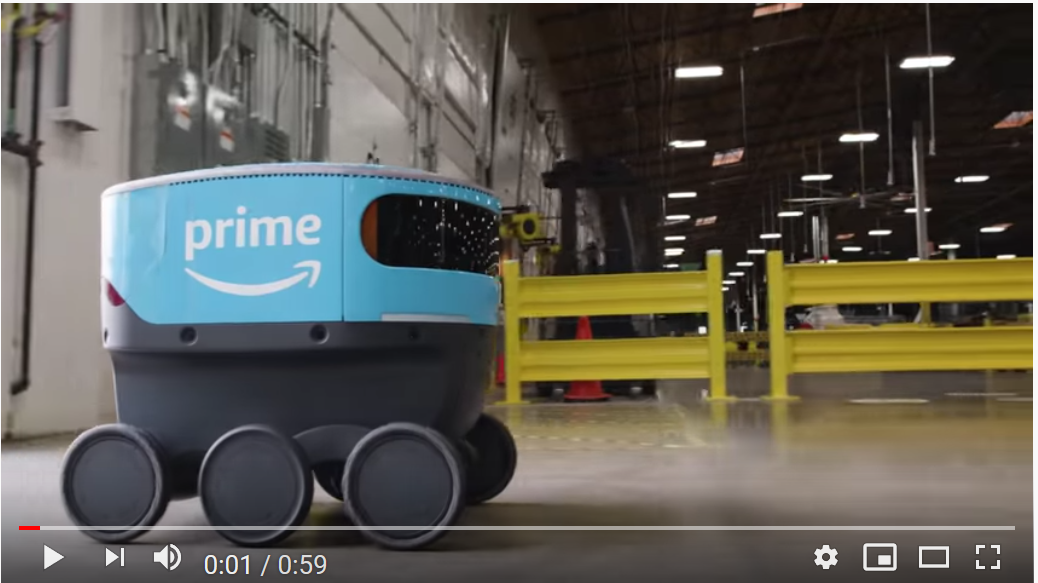 Perhaps all is not lost, however, because our old nemesis Amazon tells us robots are our friends (Hmm, where have we heard that one before?) and even released a Valentine's Day-themed ad this week to prove it. In the video, two warehouse robots fall in love, dine together (How does that even work?), go to the movies and finally "have a moment" gazing at a lake from the dock.
Then the corporation known for its "all's fair in love and war" mission statement pulls the plug on the (presumably) young lovebirds: "Robots don't fall in love... but people do." The algorithmic retail/cloud overlord adds: "Every day at Amazon, incredible employees come together to deliver magical experiences for customers. And some of these employees found more than a job at Amazon--they found love. Check out some of our favorite heartwarming love stories from across Amazon Operations, featuring our very own adora-bot Amazon Scout."
The video ends with a link to amazon.com/findinglove, which eerily, maybe presciently, takes us to an error notice ("Sorry, we couldn't find that page. Try searching or go to Amazon's home page."), along with a "Meet the dogs of Amazon" link. Plot twist? Rabbit hole? Escape room?
On its blog, Amazon shares some of the company's "favorite heartwarming love stories." I don't know any of these folks, of course, or how all this came together. They seem like nice people. We'd probably get along just fine. I wish them well, especially on Valentine's Day.
But... I'm a writer and a reader and an editor, so I worry about turns of phrase, even in the blog post's header: "The love behind your order. From Euclid, Ohio to Coventry, U.K, read how associates across the globe found their perfect partner." A sampling:
Adrianna & Diego "began dating the same way Scout and the Amazon Robotics device began their relationship--with a love letter delivered at Amazon."
Brandon "worked secretly with some of his fellow colleagues to propose to Kevin during an All Hands Meeting, where they were surrounded by the people who watched their love grow at Amazon."
When James & Samantha "worked in the call center together, James says they enjoyed seeing each other throughout the day and loved being able to take lunch breaks together when their schedules lined up."
Fish & Ernest "met on the outbound shipping dock at the Amazon fulfillment center in Phoenix, Ariz., in 2012."
My favorite part, though, is an Amazon Valentine's Day found poem I discovered while cutting and pasting the blog post over to my Word document. All those sweet pics of couples in love dissolved into descriptive words, like captions for nonexistent photos. Consider this a Valentine's Day love poem from "our very own adora-bot Amazon Scout":
The Love Behind Your Order
A man and woman embrace, a close up item is blurred in the image.
Two men stand together, one has his arm around the other man's shoulder.
A man smiles at the camera. Behind him, his wife leans in with a smile.
A woman stands in an Amazon fulfillment center, with a smile on her face. To her left, a man stands.
A woman stands next to a man. A clock hangs behind them, on the wall.
A woman and man sit on a bench in front of a lake.
A man and woman sit with their child and three dogs.
A woman and man stand together, smiles on their faces.
A brunette woman and brunette man sit together on a sofa, slight smiles on their faces.
No fan of robot rom-coms, Forbes offered a headline of its own: "Amazon wants its employees to know they're not robots, so it made a valentine video with robots." Noting that it is not uncommon "for certain brands that have no relation to Valentine's Day to hop on the V-day bandwagon to get a little free publicity," Forbes said "Amazon's attempt is just... weird."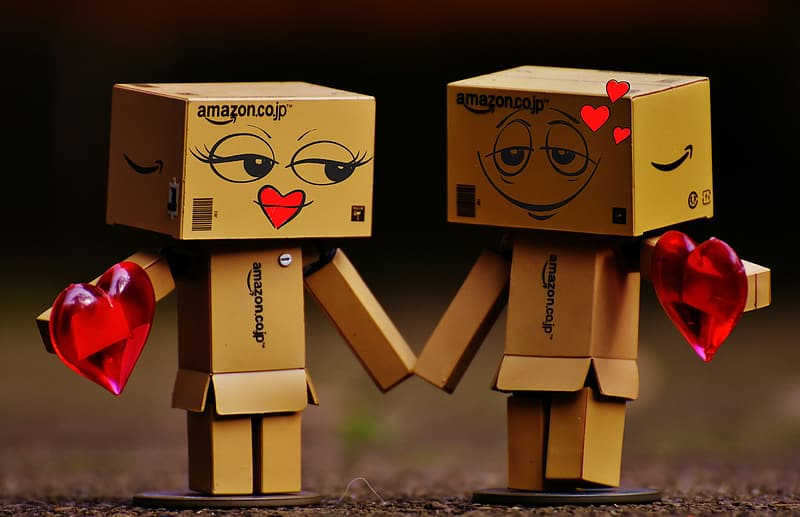 And what about those poor robots? Although the video sets the stage for a Hollywood ending, "Amazon gets their hopes up and pulls the rug right out from under them," Forbes wrote. "That's not even to mention the irony of Amazon creating a video of their warehouse robots falling in love and then showing how their human warehouse workers actually do, considering Amazon has come under fire in the past for treating their human warehouse workers like robots."
Just in case this hasn't made you feel bad enough, Digital Trends offered some really unhelpful advice to the lovelorn: "Valentine's Day doesn't need to be lonely this year. You have Alexa, and even though Amazon's virtual assistant isn't a real person, there are a lot of ways Alexa can help you through this February 14."
Maybe those robots in Amazon's video could get counseling from Alexa to reprogram their forbidden love.