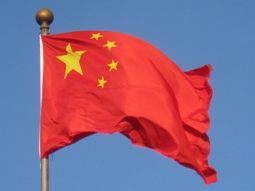 In addition to its tragic impact on the health of people in China and elsewhere in the world, the coronavirus (covid‑19) outbreak is also affecting the book trade. Yesterday Shelf Awareness shared news of how the disease has effectively shut down business for Chinese private booksellers. In addition, a children's book publisher subsequently told us, the printing of a particular title "is looking like it will be delayed," though they cannot know for certain yet.
The latest e-newsletter from the New England Independent Booksellers Association explored how the coronavirus is hitting book supply chain. In a Notes from the Advisory Council column headlined "Only Time Will Tell," Cindy Raiton, president of sales at Bookazine, wrote: "Sometimes, while getting caught up in the minutiae of the bookselling world, we can overlook world events and how they can have an effect on the supply chain in our own industry. Right now everyone is rightly focused on the media attention over the coronavirus; how to prevent a real pandemic from taking place, necessary precautions to make sure that it does not continue to spread, etc....
"There are so many global circumstances happening that it took a while until a light bulb went off and it came to mind that the publishing industry is so heavily reliant on new books being manufactured in and imported from China, especially children's books--a constant and rapidly growing genre--and high end, full color art and design books that have such nice price tags.
"Nobody knows what the true fallout of this scary situation will be, considering the Lunar New Year holiday break was extended into February in many cities and schools & factories may well stay closed in China until March. Several important and long-standing book events such as the Taipei Book Fair have already been postponed, and only time will tell if any Chinese participants will make it to the London Book Fair in mid-March. We'd sure love to see our friends and colleagues there if it's possible and safe for them....
"Publishers are scrambling to figure this all out right now, and it will take some time before we truly learn anything. We all have our fingers crossed that folks will be as safe as they can and that our industry can remain as steady as possible in these trying times."
---
With whole provinces in China on lockdown, "several printers who work with Chinese plants are having severe delays because of the outbreak, and now the first effect on comics have been announced," the Comics Beat reported. In a note to partners, Iron Circus Comics said that several titles scheduled for the winter and spring 2020 seasons have had their release delayed.
"We first thought only the earliest titles would be affected but as the situation worsens, nearly every title will miss its original pub date," publicist Jesse Post noted. "We don't want to commit to new dates until we get solid word from our vendors that they are safe and healthy and able to return to work. But most Iron Circus titles originally slated for release between February and July will move to later in the season."