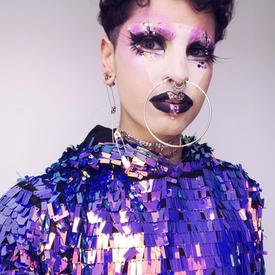 Juli Delgado Lopera is a Colombian writer and historian who lives in San Francisco. Delgado Lopera is the author of Quiéreme and the illustrated, bilingual oral history collection ¡Cuéntamelo!, which won a 2018 Lambda Literary Award and a 2018 Independent Publisher Book Award. They are the recipient of the 2014 Jackson Literary Award and have received fellowships from the Brush Creek Foundation of the Arts, Lambda Literary Foundation, Yerba Buena Center for the Arts, the SF Grotto and an individual artist grant from the SF Arts Commission. Their work has been nominated for a Pushcart Prize and has appeared in Eleven Eleven, Foglifter, Four Way Review, Broadly and TimeOut, among others. Delgado Lopera is formerly the creative director of RADAR Productions, a queer literary nonprofit in San Francisco. Their novel Fiebre Tropical was recently published by Amethyst Editions/Feminist Press.
On your nightstand now:
Who Put This Song On? by Morgan Parker and Nuevas Lecciones de Histeria de Colombia by Daniel Samper Pizano. Both are books I'm reading as research for a new novel I'm writing. One is a memoir of a teenager, the other is a lesson on Colombia's history. Both are irreverent, honest and funny--everything I love in a book.
Favorite book when you were a child:
Encyclopedias about dogs! I was obsessed with dogs then. I had magic powers and could speak to the stray dogs that lived on my block. The librarians at my all-girls Catholic school in Bogotá would save all the dog books for me. I'd take meticulous notes and file them.
Your top five authors:
Pedro Lemebel--my sissy literary mother (although I never met him). Pedro Lemebel blew the world of language open for me with his maricón rococo tucu-tucu. He had no interest in clean, straightforward language, no interest in following the (masculine) tradition of Latinamerican voice, but rather in the embellishment of story like it's a bolero singing from the page. His use of Chilean slang is precious.
Rita Indiana--Rita taught me about rhythm. How do you write a novel that reads like a merengue? A novel that you can feel echando paso as you read? That's Rita.
Alison Bechdel--I discovered Bechdel's Dykes to Watch Out For as an undergrad while procrastinating in the stacks of UC Berkeley's library. I wanted to be a dyke to watch out for! Bechdel's complex--and hilarious-- lesbian world was everything I needed at a crucial time in my life when I wanted my experience echoed back. Here's is a cartoonist who brings the heart of every character with a just few strokes. And her dialogue! Like what? Lesbians can be this funny?
Miriam Toews--A Complicated Kindness is one of my favorite books. Toews writing feels like a spiral. You're taken on this hilarious emo trip until you realize it is dark, eerie and you're depressed--I love it.
Joseph Cassara--The House of Impossible Beauties wins on voice y punto. Cassara elevates the potential of queer slang to another level. The writing in that book is so delicious, I literally wanted to eat it up. The voices of the characters are so strong, so precise, full and big that I remember them chatting it up in my head long after I had put down the book.
Book you've faked reading:
Les Misérables by Victor Hugo. Anna Karenina by Leo Tolstoy. I tried! But could not finish (or even begin).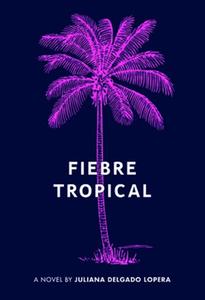 Book you're an evangelist for:
Anything by Lynda Barry. I love the way she breaks down our relationship with the imagination, how intensely she advocates for us to return to our imaginative child roots. Lynda Barry breaks down the wall of adulthood by giving us permission to dream, imagine, doodle as part of engaging and connecting with life.
Book you've bought for the cover:
I'm such a cover junkie. Meaning, I care deeply about aesthetics. Bogotálogo by Andrés Ospina is a "dictionary" of slang use specifically in Bogotá, which is where I was born and raised. With incredible sass, Ospina maps the world of language that birthed me. The cover is a woman behind a typewriter giving us 1950s Criolla Secretaria Realness.
Book you hid from your parents:
Most of them! I grew up with very religious parents.
Book that changed your life:
Adiós Mariquita Linda by Pedro Lemebel. Lemebel is a genius, and if he didn't get as much international praise when he was alive, it was only because the literary establishment is, well, white and straight. This book is a collection of "crónicas" from his sissy life. Personal, political and juicy.
Favorite line from a book:
"Aloneness was like riding a bike. At gunpoint. With the gun in your own hand. Aloneness was the air in your tires, the wind in your hair. You didn't have to go looking for it with open arms. With open arms, you fell off the bike: I was drinking my wine too quickly." --Bark by Lorrie Moore
Five books you'll never part with:
Ariel by Sylvia Plath (hello, angsty teenager)
The Essential of Dykes to Watch Out For by Alison Bechdel--I collect Bechdel's comics.
Papi by Rita Indiana
All of my Pedro Lemebel books
Beloved by Toni Morrison
Book you most want to read again for the first time:
Anything by Lorrie Moore.