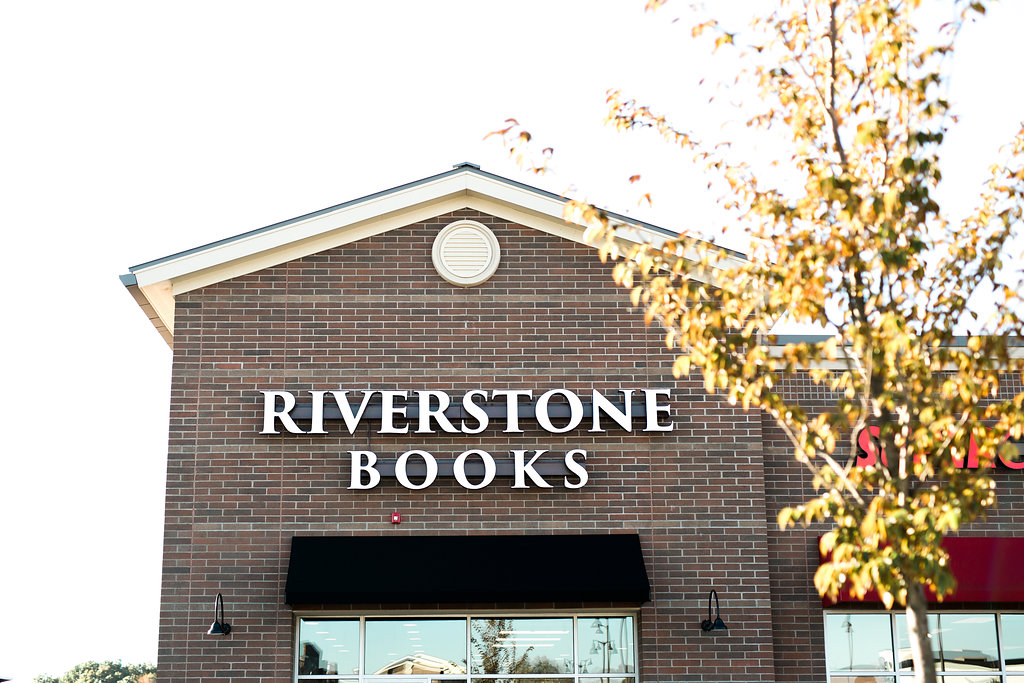 Riverstone Books in Pittsburgh received an exemption from Pennsylvania Governor Tom Wolf's order that all non-life-sustaining businesses shut down at 8 a.m. Monday. Riverstone owner Barbara Jeremiah had applied for the exemption so the store could continue to fill phone/online orders as well as offer curbside and home deliveries.
The governor's office wrote, in part: "In response to your request for an exemption from the applicability of the COVID-19 Orders,... it has been determined that your business, to the extent described in your application, plays a critical role in the manufacture and supply of goods and services necessary to sustain life, and may continue to operate at the physical location identified in your application."
---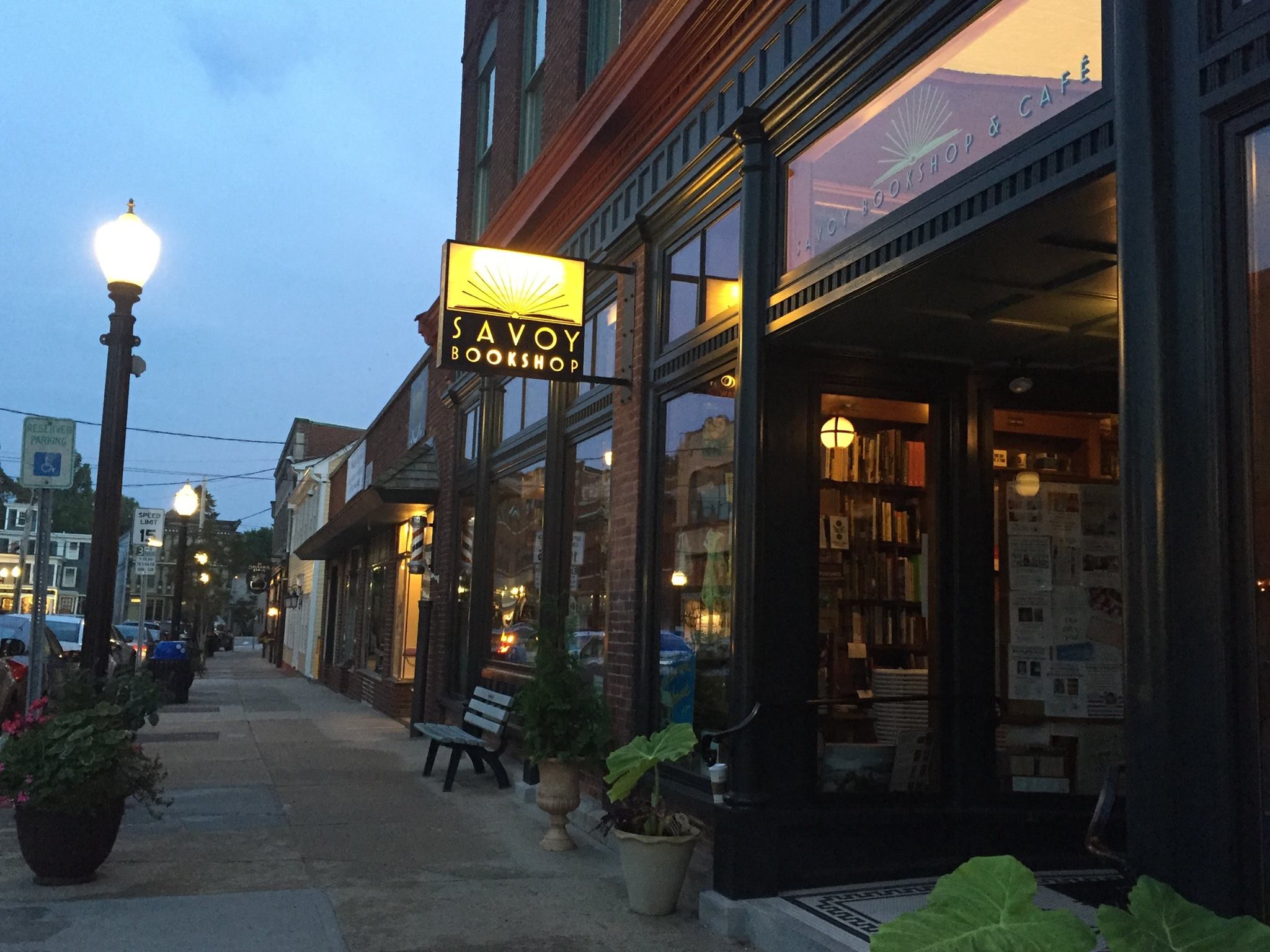 Independent booksellers across Rhode Island "are trying to adapt to a changing world, where community and author events that have long been the hallmark of local bookstores are now restricted by public health officials trying to prevent the spread of COVID-19," the Providence Journal reported, adding that many indie bookstores "are working to keep business flowing by transitioning to online selling and trying to preserve their local touch, even if they can't have a physical storefront."
"I think the hardest thing for bookstores across the country is that we've worked so hard to build this reputation as community spaces," said Annie Philbrick, owner of the Savoy Bookshop and Cafe in Westerly and Bank Square Books in Mystic, Conn. "To shut down and operate in virtual reality, it's pretty dire." She closed both stores last week. Business was strong, but there were too many people in the shops and she worried it was becoming a public health hazard. She has had to furlough 32 employees.
Events had to be canceled as well through the end of April. Philbrick's stores coordinated more than 300 events last year, a principal source of revenue. "That's what bookstores do for the community--support these authors, let people get to know them, let them read," she added. "Amazon doesn't do that."
Twenty Stories in Providence canceled a reading last Friday, then moved it online to Instagram Live, where more than 100 people tuned in. Co-owner Alexa Trembly said, "I think it's still possible to stay in touch with your community during this time, but whether or not that will translate into sales, I guess, is the question."
---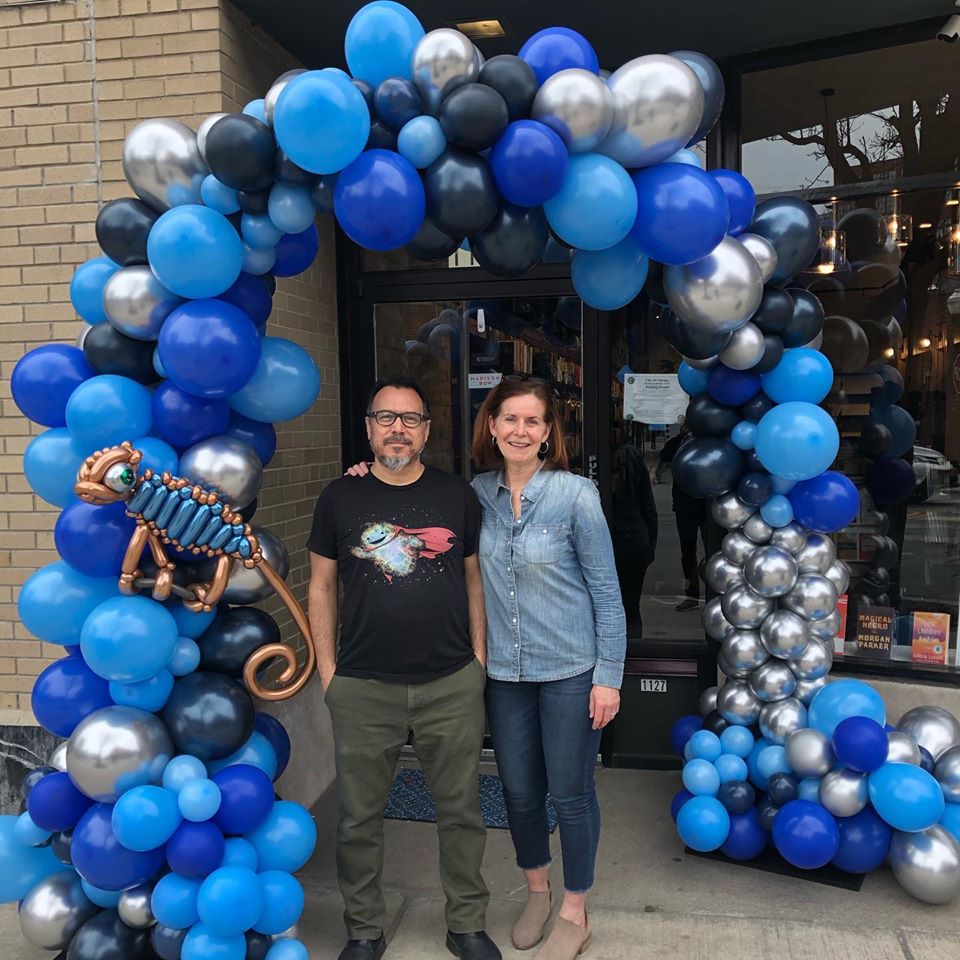 Javier Ramirez and Mary Mollman at Madison Street Books.
Mary Mollman and Javier Ramirez "threw a grand opening party on March 14 for their new store, Madison Street Books, complete with a balloon arch and a morning-to-night roster of activities. Two days later, they--like countless other Chicago businesses--shut down temporarily 'in consideration of the health of our neighbors, patrons, employees and friends' during the COVID-19 outbreak," the Tribune noted to introduce a q&a with the co-owners. Among the highlights:
How are you handling the fact that you've invested so much in opening a business, only to have to temporarily shutter it almost immediately due to the coronavirus?
Mollman: Needless to say, it's a bummer, but the health and safety of all our patrons, neighbors and fellow citizens is what's most important. That said, I am grateful for the support we have had from customers with online orders. Our Web store information went up on social media, and the response has been overwhelming. It warms my heart.
Parents face the demand of how to keep their kids entertained while schools are closed. I see you're still having your Wednesday Toddler Jams--"a place for kids to let loose and parents to connect"--but virtually. Are virtual events going to be the way to go for a while?
Mollman: Virtual Toddler Jam with Miss Dawn-Marie was amazing today. We had 87 viewers! We'll start doing virtual recommendations at 5 p.m. nightly, and a rotating recommendation display each morning at 11 a.m. on social media. We had originally planned a PJ Story hour on Tuesday nights at 6 p.m. and will most likely start doing that virtually as well.

---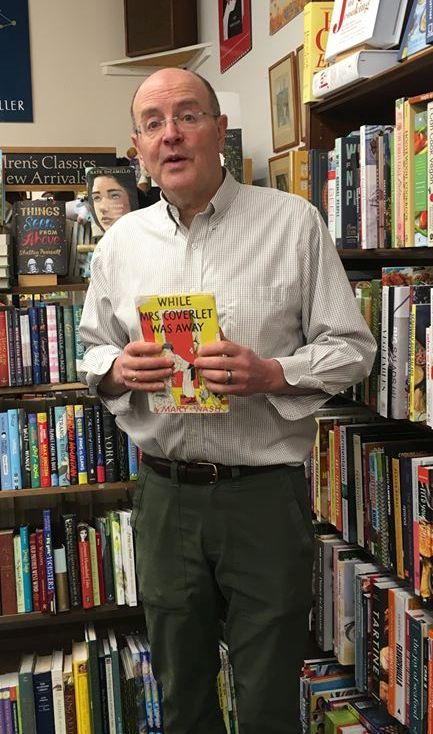 Kenny Brechner
Kenny Brechner, owner of Devaney, Doak & Garrett Booksellers in Farmington, Maine, reported that his store is closed for browsing and running on slightly reduced hours for curbside pickup and delivery. Customers have been making use of curbside pickup in a "giant way," and Brechner said sales have actually not yet been impacted, but he feels as if he's working "five times as hard for the same bottom line," and that he's "never been so tired" in his life. He plans to look into things like virtual story times and other online events, but he said he needs to "whittle down my four-alarm fire punch list a little farther" before tackling that.
On the subject of his staff, Brechner said they're in good spirits, and they are all of the opinion that living in an historic moment "is both more and less than one might have imagined." He explained that he's been able to keep paychecks "close to status quo," thanks in part to his assistant manager, who is immune compromised, coming into work only in the morning before the shop starts doing curbside pick-up.
Brechner added that for more than 20 years, he's been "kind of the Bernie Sanders of independent bookstore e-commerce, advocating for it as a means to support our store narratives," and noted that this crisis has been an opportunity to make use of those online platforms "in a really meaningful way." One popular example he pointed to was a series of three-book bundles, all organized around a theme and discounted by 15%, that he and his team have created.