Emily Louise Smith, an associate professor of literature at the University of North Carolina Wilmington, is director of UNCW's Publishing Lab and publisher of Lookout Books and Ecotone magazine. As the Covid-19 pandemic moved classes online earlier this spring, she and her students looked into creative ways to make video conference classes more engaging and to protect student privacy.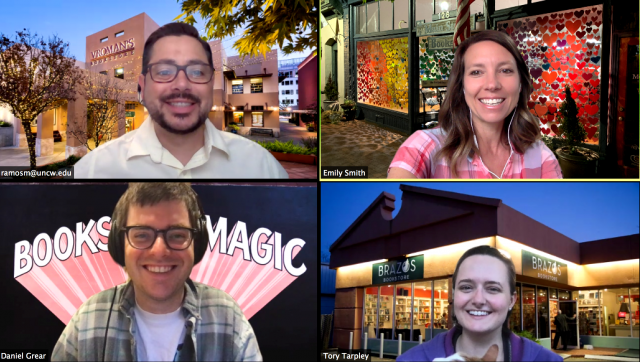 Faculty and staff of the UNCW Publishing Lab using virtual backgrounds from Vroman's, Main Street Books, Books Are Magic and Brazos.
And so, the free indie bookstore-themed virtual background was born. They reached out to some beloved independent bookstores, which "graciously came through with these beautiful, inspiring (free!) backgrounds, available in high-resolution by clicking the thumbnail images below. Whether the next few weeks and months find you virtually attending or teaching classes, joining a book-club conversation, chatting with Grandma, or sitting through your hundredth Zoom meeting, we hope that these images will lift your spirits."
Smith said that at the first class meeting after posting the photos, nearly everyone used a bookstore background, "and it was kind of magic to see our Zoom grid covered in indie storefronts and shelves of books. It immediately offered a layer of privacy, of course, but also much-needed joy in the midst of a challenging and emotionally taxing semester for students and faculty. For other students, my hunch is that working on this project helped raise their awareness of and sensitivity to differences in living situations, and helped them better understand how essential bookstores are to the lifecycle of a book--not only to sales, discoverability, and promotion, but also to creating conversations and community. In one of our final classes, I remember someone saying, 'I'm definitely going to buy some books to support my local indie now!' "
Looking to the future, Smith would love to feature more stores and plans to continue updating the site. "I don't see us returning a world without video conferencing anytime soon," she noted. "At UNCW, for example, all summer courses (May-August) are taking place online, and I'm sure that at least some aspects of our teaching and publishing work will continue online into the fall semester. Not everyone we reached out to was able to participate initially, and several people wrote back to say that they didn't have photos readily available or that their stores have been taken over by boxes and shipping/receiving stations lately. As stores begin to reopen, we'd love to include more options for download, including more photos of kids sections for younger students. We have only one kids section on the site now, and we'd like to remedy that."
Indie bookstores interested in taking part in the project can e-mail lookout@uncw.edu.