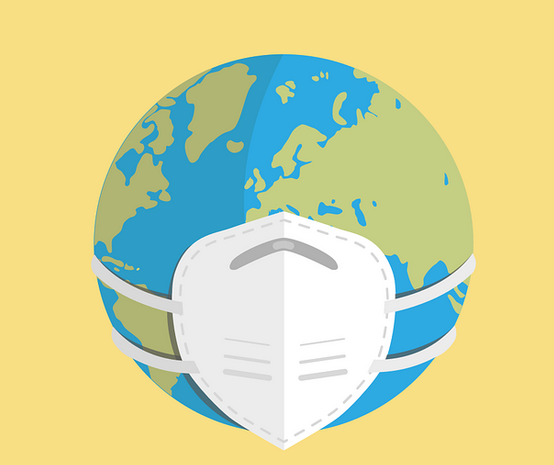 My first coronavirus-inspired mask dream occurred last weekend. I was at a book conference, waiting on the sidewalk outside the venue for a shuttle bus to an offsite event. Everyone around me wore a mask and I realized mine was back in the hotel room. The usual dream drama ensued. Were they aware I wasn't masked? Did I have time to go back for it and still make the bus? What if I just pulled the neck of my sweater up over my mouth and nose?
Although January seems like another era altogether, I recall that on my flight home from Baltimore after Wi15, the guy sitting near me (we had an empty seat between us) went through an impressive pre-flight routine, using wipes to disinfect everything within range. I thought he was a little nuts at the time, but since then not only haven't I flown, I barely leave the house, and when I do I wear a mask.
At Wi15, there were no keynotes on how to cope with a global pandemic; no roundtable discussions about transitioning to full-time online operations with delivery and curbside pickup; no education sessions on reopening after governmental stay-at-home orders were relaxed. When Ryan Raffaelli discussed his white paper, "Reinventing Retail: The Novel Resurgence of Independent Bookstores," this was not what he had in mind.
No Shirt, No Shoes, No Mask, No Service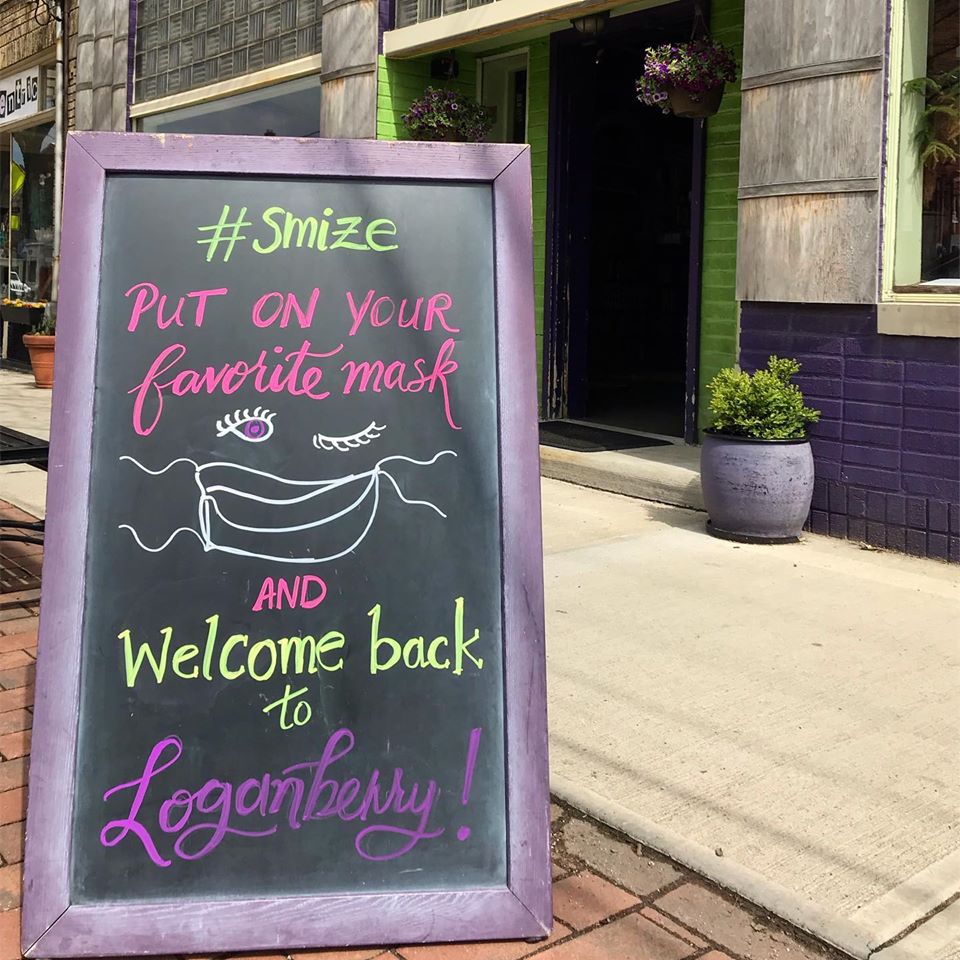 "#Smize," Loganberry Books, Shaker Heights, Ohio, advised returning customers: "We're so excited to see your smiling eyes! But have already realized that loyal customers we've known for years might have to reintroduce themselves, as we're not used to identifying you by eyes alone! Take care, stay safe, and we can't wait to see you when it feels right for you to do so. And we'll keep filling mail and curbside pickup orders, so let us know how we can help. Thank you call for your incredible support that's gotten us this far!"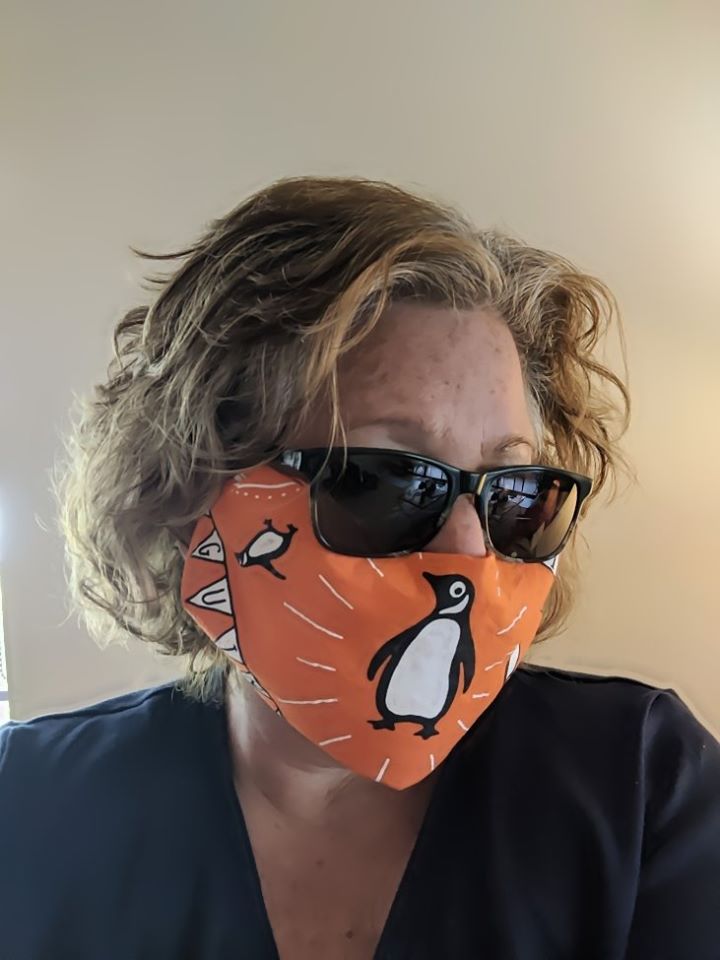 At Shelf Awareness, putting book swag to good use.
We'll be thinking about masks for a long time, I suspect. People have already been hurt and even killed in retail store mask confrontations. As late as February, Fast Company was listing five reasons not to wear a mask during the coronavirus outbreak, calling the trend a "poorly informed craze." This week, the same magazine offered a "four-part plan to wearing a mask all summer." The latest issue of the New Yorker celebrated the masked class of 2020, and fashionistas are apparently turning masks "from 'muzzle' to fashion's object of desire."
"We're doing our best, despite the inconvenience, and we keep our masks on," Francois Chimier, an architect who had been under lockdown in China, observed about returning to work: "Still, there are nagging questions you can't help but think about. Is there a virus on the coffee machine? How do I drink while wearing the mask? Is my colleague smiling or just pretending behind that mask?"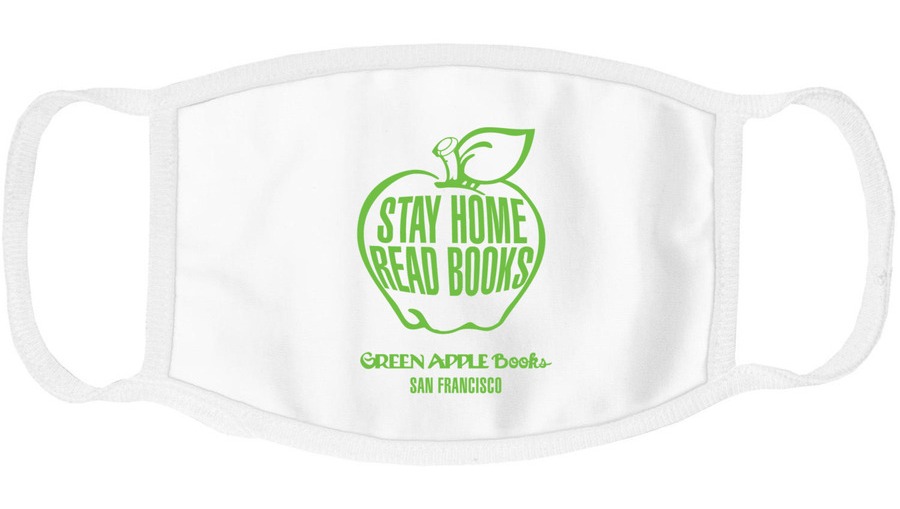 Protection from Green Apple Books, available here.
As states explore the seemingly infinite variations on rules for phased reopening, indie booksellers are once again compelled to reinvent their business model to accommodate new restrictions, including the mask conundrum--to wear or not to wear.
For booksellers, masking up has become commonplace, as seen in social media posts from indies like Wheatberry Books, Chillicothe, Ohio; Heroes and Villains, Tucson, Ariz.; Let's Play Books Bookstore, Emmaus, Pa.; and Atticus Bookstore Café, New Haven, Conn.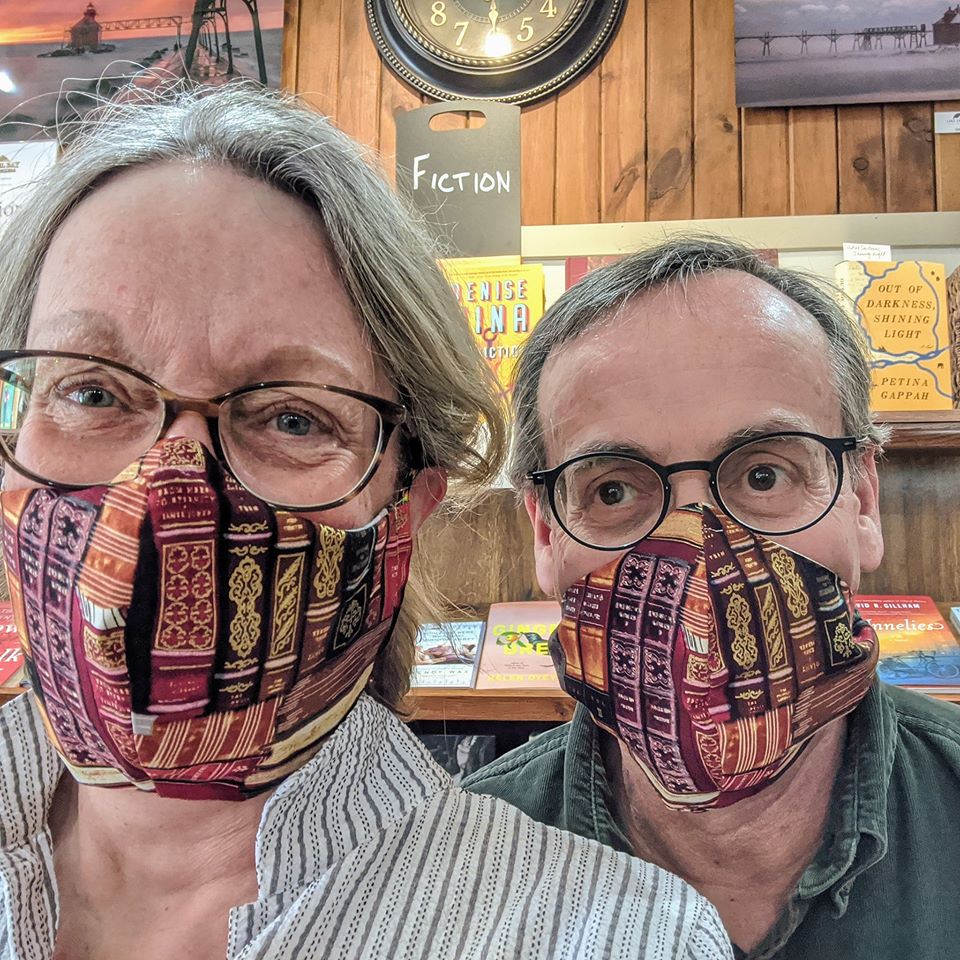 At Novel Bay Booksellers
Now the game changes again. Novel Bay Booksellers, Sturgeon Bay, Wis., reopened Tuesday and faced a new challenge--unmasked customers: "Despite the older man who wasn't wearing a mask and the chatty woman who simply didn't understand social distancing, our first day open was wonderful. The man left and luckily there was only one other customer in the shop who quickly figured out how to evade chatty lady's sweeping orbit. While the state order doesn't require masks, we do and we are thankful beyond words for all the amazing folks who gracefully accept that life has changed and we all need to work together.... We wish this was Fiction, but it's our new normal at the bookstore and any-place-other-than-home. A customer stopped by to browse today and said, 'I used to take all of this for granted. Not anymore.' "
At Enchanted Passage, Sutton, Mass., "Sandy started making kid masks when we couldn't find one for Kristiana to fit. We have given out many to friends, both kids and adults. She is making more! Do you need masks? Let us know. We will leave them in the mask box by the front door for you. They have a pocket to add a filter if you would like to add an extra layer. We are not charging for these masks. We are all in this together!"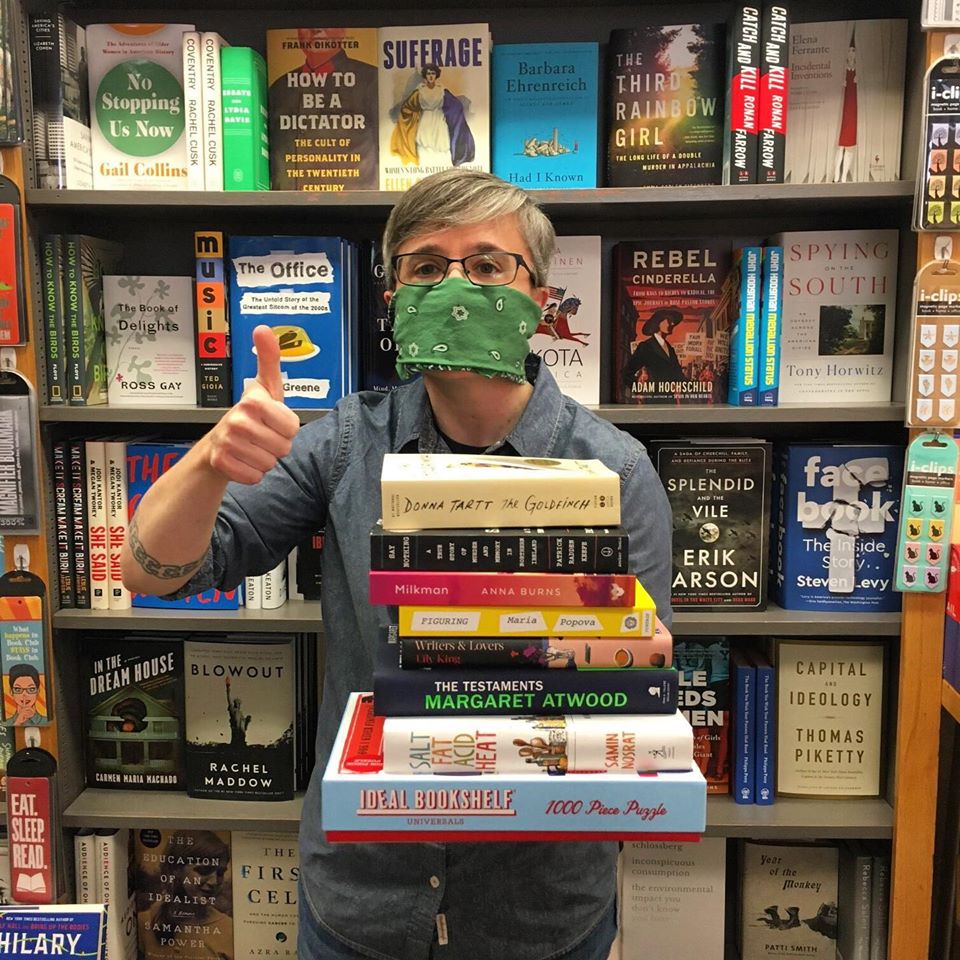 At Atticus Bookstore
Atlas Obscura explored a UCLA Library collection of personal narratives, manuscripts and ephemera from the 1918-1919 influenza pandemic, noting that in that awful time, people "are talking about the inconveniences of theaters and shops being closed, or people wearing masks and how funny, how odd they look. Then it becomes commonplace because everyone is doing it."
As has been the case with so many previous challenges to the book trade, creative adaptation is the prime survival tactic. "Life will show you masks," Ralph Waldo Emerson wrote, "that are worth all your carnivals."