Jan Weissmiller, owner of Prairie Lights in Iowa City, Iowa, has not reopened her store to walk-in traffic, and does not plan to do so until Iowa sees a significant decline in new cases of novel coronavirus. Weissmiller closed her doors on March 19, but she and a small staff of booksellers have been "busy every minute" filling phone and online orders for free local delivery as well as curbside pick-up and free media mail shipping. Only five people are allowed to work in the store at any one time, Weissmiller said, and because the space is 10,000 square feet, it is easy to work safely and distantly.
Should case numbers start to decline over the summer, Weissmiller and her team may offer browsing by appointment. Then, if it looks like the store would be able to reopen safely in the early fall, Prairie Lights would close for a short time to renovate and rearrange the store.
Weissmiller said her furloughed booksellers have all been able to get unemployment benefits, as she closed the store before the state mandate was issued. Even though Iowa has allowed businesses to reopen, Weissmiller doesn't plan to bring back more employees until they feel safe. The store has maintained its health insurance coverage and will continue to do so.
Over the past six weeks or so, Prairie Lights has hosted frequent virtual events. The first was with Carmen Maria Machado and Evan James. Since then the store has done at least one per week, including a very successful event on Mother's Day with Honor Moore reading Our Revolution: A Mother and Daughter at Midcentury. The event was recorded, and Prairie Lights will post an edited version on Facebook. And next week, the store will host a virtual reading with John Grisham.
Weissmiller said the community is very supportive, and while her customers miss having Prairie Lights as a community gathering place, they are "thoughtful, responsible people who understand how imperative it is that we stay safe, and that our economy will be stronger in the long run if we prioritize health and well-being." Calls are coming in every day from people not only in the Iowa City area but also further afield. She added: "We are privileged to live in a community where people read broadly and constantly. Books are a solace we are proud to provide."
---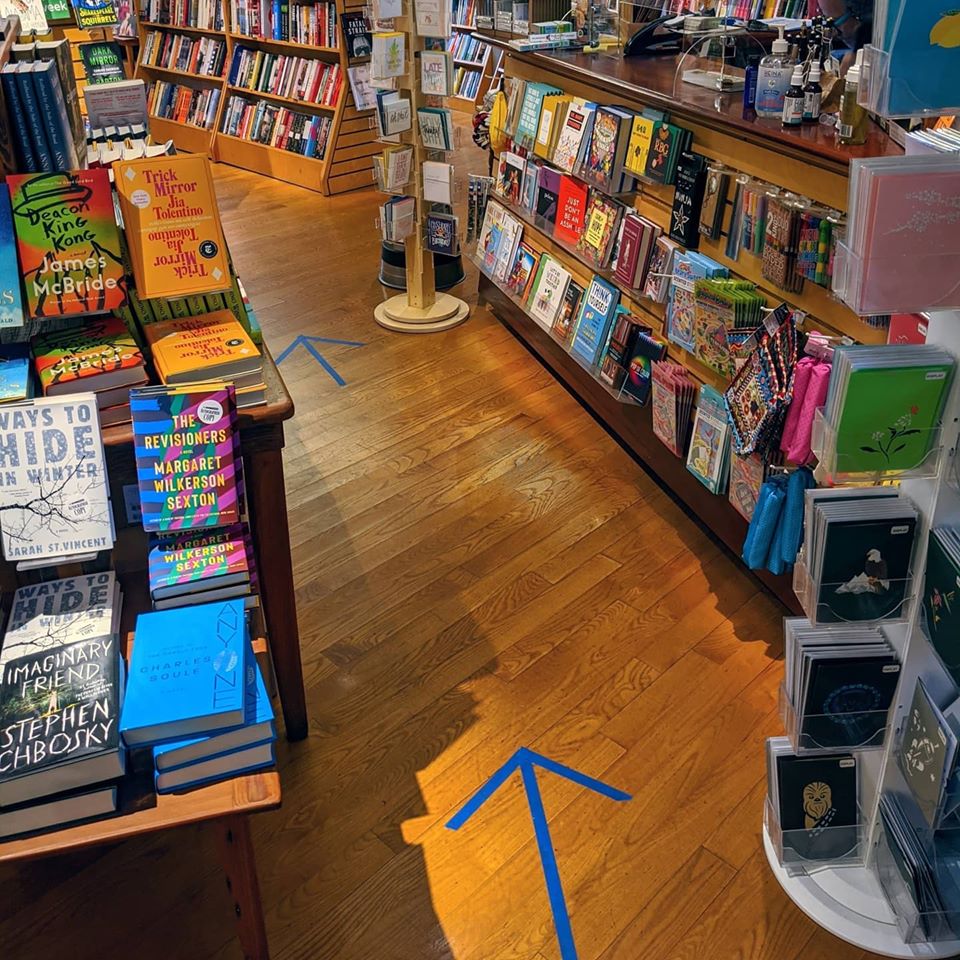 Checkout at Octavia Books
In New Orleans, La., Octavia Books held a soft reopening last Saturday. To enter the store, customers must be symptom free and wearing a mask, and there is hand sanitizer available at the entrance. Co-owner Tom Lowenburg and his team have installed a sneeze guard at the checkout counter, where there is now a lane that goes in only one direction. All booksellers are wearing masks and the store is no longer accepting cash payments. Restrooms are off-limits to customers, the water dispenser has been removed, and they are limiting the number of people in store at a time.
Lowenburg said he's been lucky in that he and his staff have all stayed very busy. When doors were locked and the store could sell books only online or over the phone, all of their jobs became much more labor intensive. They've been doing virtual events as well, including a very successful event last week in partnership with the Preservation Resource Center of New Orleans. It was both a lecture by author/geographer Richard Campanella and a launch party for his new book, The West Bank of Greater New Orleans. Some 500 people participated and the store sold more than 120 copies of the book; the author also stopped by the store the day before to sign stock.
John Barry's The Great Influenza, about the 1918 Spanish Flu pandemic, has been on the store's bestseller list for weeks. Other standouts include locally themed titles like the cookbook Mosquito Supper Club by Melissa M. Martin and the aforementioned The West Bank of Greater New Orleans, as well as nationwide hits like The Splendid and the Vile by Erik Larson and The Glass Hotel by Emily St. John Mandel. Sales of jigsaw puzzles, meanwhile, have "shot through the roof," and it's been a challenge to maintain a good supply.
Lowenburg reported that his community has been very supportive of social distancing and other efforts to flatten the curve, noting that at one point New Orleans had the highest per capita incidences of Covid-19 in the U.S. His customers have seemed very grateful that the store has put so much focus on health and safety, and earlier this week New Orleans Mayor LaToya Cantrell gave Octavia Books a shoutout on Twitter for putting safety first.
---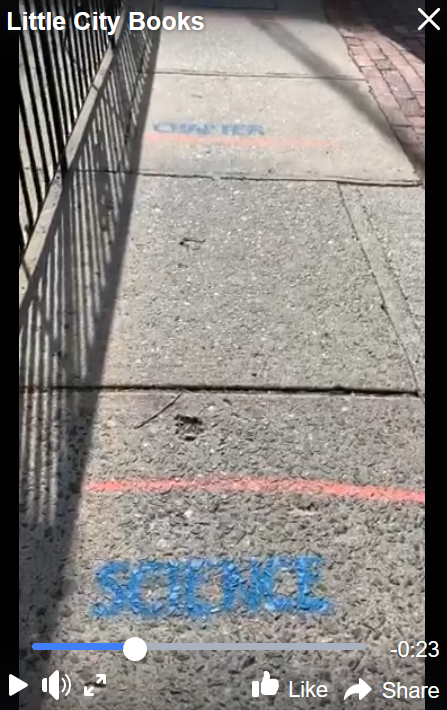 Little City Books in Hoboken, N.J., opened for curbside pick-up earlier this week after being closed since March. Co-owner Kate Jacob and her team are offering pick-up between 9 a.m. and 12 p.m. daily. All orders must be completed online, and bags are then arranged on a table in the doorway for contactless pick-up. Jacob noted that Hoboken is a "walking town," so the store doesn't do actual curbside pick-up. There are also some puzzles and cards displayed outside, along with information about paying via Venmo or Paypal. The Little City team has also painted clever markers along the length of the sidewalk around the store indicating proper social distance, and the markers are labeled Mystery, Cooking, Fiction, etcs., like sections of the store.