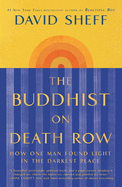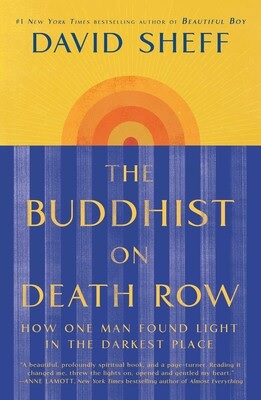 For 30 years, Jarvis Jay Masters has been a resident of San Quentin State Prison's death row, some two decades of them in solitary confinement. As one of 700 inmates currently in that grim status, his story would not be remarkable, but for the fact that during his long imprisonment he's become an esteemed Buddhist teacher, and a confidant of the well-known writer and teacher Pema Chödrön.
In The Buddhist on Death Row: How One Man Found Light in the Darkest Place, journalist David Sheff (Beautiful Boy) renders Masters's story in highly sympathetic fashion, tracing his transformation, and describing the efforts of Chödrön and a growing cadre of supporters to overturn what they believe is his unjust death sentence.
Masters's childhood in the home of a drug-addicted mother who worked as a prostitute and subjected him and his siblings to abuse at the hands of a constantly shifting cast of men set his troubled life on a downward trajectory at an early age. By age 19, in 1981, he was imprisoned at San Quentin, sentenced to 20 years for a series of armed robberies. A few years later, Sheff reports, Masters was implicated as one of the co-conspirators in the murder of a correctional officer. His compatriots, including the guard's murderer, were sentenced to life without parole, while Masters received a death sentence in 1990.
At the suggestion of an investigator hired by his legal team to write a social history of his life in the hope of mitigating his punishment, Masters began to explore the practice of mindfulness meditation. A combination of his diligent application to the practice and some happy accidents--including his connection to Tibetan monk Chagdud Tulku Rinpoche--eventually led him to Chödrön, who became a frequent visitor and a champion of his cause. During his time in prison, Masters has written two books, and has drawn on Buddhism to help his fellow inmates and even a prison guard contemplating suicide--to whom he "radiated a kind of power"--survive in San Quentin's perilous confines.
Though he seems to share a belief in Masters's innocence of the conspiracy charge, Sheff is less concerned with the machinations of his subject's multiple (and so far unsuccessful) legal appeals than he is with the way Buddhist practices have helped him to cope with his dire circumstances. Through his deep engagement with these teachings, he explains, Masters has come to understand that "when his mind was free, he was free," and that many who live their lives outside the walls of a prison are themselves in chains.
For all its hardship and heartbreak, The Buddhist on Death Row is an inspiring story of one man's ability to surmount suffering by applying the power of his mind. Anyone who's been tempted to explore meditation and mindfulness but who hasn't taken the first step should find encouragement in Jarvis Masters's far more difficult journey. --Harvey Freedenberg, freelance reviewer
Shelf Talker: The moving story of a death row inmate who has transformed his life through insights gained from Buddhist teachings and practices.